2020 General Election Preview: 39th Congressional District
California Globe takes an inside look into the 39th Congressional District race
By Evan Symon, October 31, 2020 10:13 am
Located in Los Angeles County, Orange County, and San Bernardino County, the 39th Congressional District is wealthy, suburban, and is probably going to be the home of one of the closest Congressional races this year.
The district is yet another example of an Orange County district that fell to Democrats in 2018 that the GOP wants back. On paper, it seems ideal. The average GDP is around $90,000, there is an almost equal amount of white, Hispanic, and Asian residents, it's suburbia, and the district is home to Yorba Linda, aka, Richard Nixon's birthplace.
But, thanks to the LA exodus into the area, voter rolls have tipped the balance to Democrats here. Currently, they hold a 4 point lead in the percentage of registered voters over Republicans. Both parties have deep ties to suburban districts, meaning both candidates know what exactly makes the district tick.
The 39th had been historically Republican, and even in 2013, it held true. Former Congressman Ed Royce held the district for most of the decade, winning by at least 55% each election. However, Royce's support for many Republican initiatives in Congress, including the Tax Cuts and Jobs Act, hurt him. Polling low, he bowed out of the 2018 race, leading to an extremely active primary that had now-Congressman Gil Cisneros (D-Yorba Linda) facing off against Republican Young Kim. After a wild several months of campaigning, Cisneros came out on top in a narrow 51.6% to 48.4% win. It was so close that ballot counting took weeks.
While the blue wave did leave its mark, the GOP isn't out here. Cox beat Newsom in the district by a few points in the Gubernatorial. And while Clinton did beat out Trump, Obama had failed to win here in 2012. It's still very close here.
This year Kim is back for a round 2 against Cisneros, with both candidates having more than a few tricks up their sleeves here. And with Cisneros sliding in the polls in recent weeks, it might just be another photo finish.
Gil Cisneros – Five years ago, Congressman Gil Cisneros was nowhere even close to being a politician. A former Navy Lieutenant Commander and a Brown University graduate, Cisneros was a Frito-Lay shipping manager until 2010. That year he won the lottery, netting $266 million. With this, he quit his job and became a philanthropist, starting up Hispanic college scholarships at several colleges. A former Republican, Cisneros was upset over Royce voting to repeal Obamacare and ran for his seat when he retired. Against all odds, he came in second in the primary despite a lack of political experience and shocked political commentators when he defeated Kim that November.
Since being elected, Cisneros has largely focused on military and veteran's affairs issues. He's also been a solidly blue Democratic vote in Congress. There's not a lot of middle ground with him. Business groups, gun groups, and other conservative leaning groups give him some of the lowest scores possible, while many environmental, labor union, and other left leaning groups give him 100's across the board. The only things both the GOP has agreed with him was on a few local issues and military issues. That's about it. There's not a lot of reach to centrist voters.
For his sophomore term, Cisneros is continuing to branch out more to the left. He is supporting DACA and other pro-immigration policies as part of his platform, as well as issues than even many Democrats don't touch, like animal rights. He also wants to defend remaining Obamacare policies, expand veteran protections, and stop Medicare and Social Security from shrinking. Needless to say, this has all made Cisneros very polarizing in the district.
Unions ranging from the California Labor Federation to the UAW are coming  out in endorsing Cisneros. Democratic lawmakers are also rushing in force to support him, up to and including former President Barack Obama himself. The Democrats don't want to lose this one and have put out all the stops.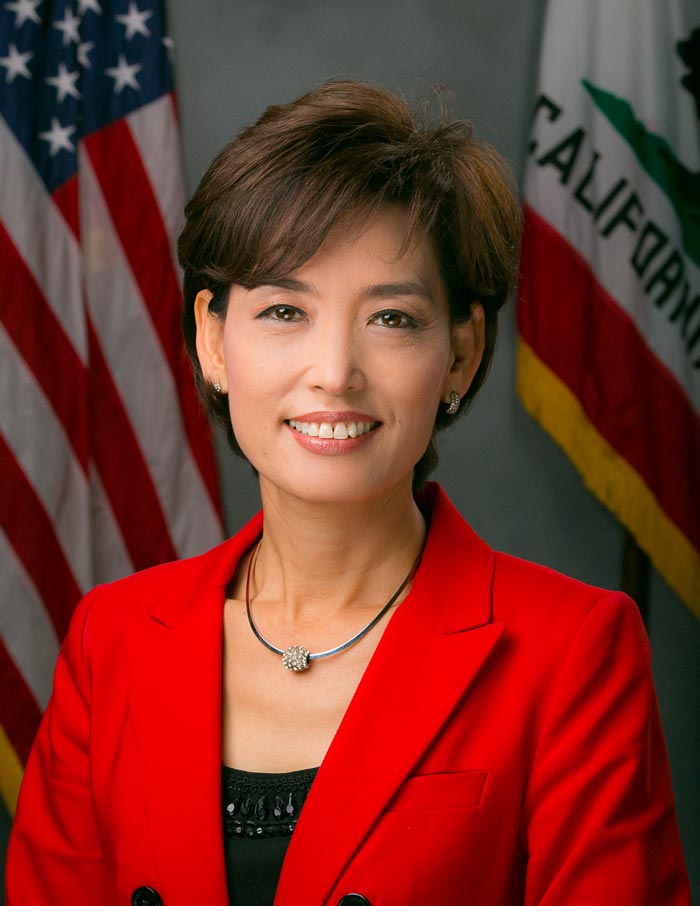 Young Kim – Republican Young Kim is back again in 2020. Originally from South Korea, Kim immigrated to the U.S. as a child, graduating from USC in the early 1980's. After starting her own businesses, Kim got into politics herself, serving a term in the California State Assembly. However, she lost the reelection in 2016 to Assemblywoman Sharon Quirk-Silva (D-Fullerton), and then lost the 2018 race to Cisneros. However, she has honed her political skills, and in 2020, came out swinging.
Kim is shuffling toward the center in 2020.  She's not mentioning Trump a lot and is  loosening her stance on several issues. And it's worked. For example, she has been getting better grades on more lefter leaning issues that Cisneros supports, such as animal rights. Her education policies now include more STEM classes in schools. And, despite being against Obamacare, healthcare organizations have given her decent grades. With business and taxpayer groups, who were tuned out by Cisneros, having a newfound voice in Kim due to her strong support of them, she's doing what she didn't do two years ago – giving the GOP a strong conservative at the same time of appealing to centrist voters.
This year, her platform is designed to dig into Cisneros' campaign. She's bringing up COVID-19 safety measures, becoming one of the few Republicans to actively do so in a race where the Democrat has not. Her job and veteran stances are on par with Cisneros, although she is drastically different on immigration reform, possibly hurting her Hispanic voter appeal. She's also a member of the GOP pushing for homelessness measures, once again confounding the Cisneros' team.
Like Cisneros, everyone in her party knows how close a race this will be, giving her special endorsements. Paul Ryan, Kevin McCarthy, Pete Wilson, and the U.S. Chamber of Commerce are all throwing their support behind her, matching the tenacity of the Democrats.
What does this mean?
Had this been a few months ago, Cisneros would have all but been assured a victory. Despite being close in March, COVID-19, the falling economy, the George Floyd riots, and the push against Trump increased the number of likely Democratic voters voting in the 39th this election.
But Kim has had several things going for her. As a Korean immigrant female running against a Hispanic male, she's drawing a lot more voter group support. A GOP halt on Democratic voter growth in much of the district is also helping.
Kim also won the primary with close to 50% of the vote. Had there been no independent challenger, she would have likely gotten that amount. A few months ago Cisneros had a lead on Kim in the polls. But as it has come to crunch time, voters have been looking into the candidates more, with many centrist Hispanics, whites, and Asians shifting back to Kim. Her centrist efforts have paid off, as she is now ahead in the polls again for the first time in months.
Cisneros needs to push his incumbency, his voting against Trump, and bring out the Hispanic vote if he wants to beat Kim. Kim needs to show the remaining undecided voters that she isn't a typical Republican and is willing to work across the aisle.
It's way too close to call. Polls show Kim is up, but many commentators are expecting Cisneros to come out on top with a voting day surge. Who knows, it may all come down to what middle class voters stand to gain with either candidate.
Correction: California Globe incorrectly stated in the article that Young Kim was married to Ed Royce. She has been married to Daniel Kim since 1986 and met Ed Royce through her husband.

Latest posts by Evan Symon
(see all)