2020 Q1 Campaign Finance: What 4th Congressional District Candidates Raised And Spent
McClintock leads Kennedy despite nearly equal amounts raised and spent
By Evan Symon, May 1, 2020 5:12 am
California's 4th District, which runs in the East-Central part of the state from about Lake Tahoe to Sequoia National Park, came to the closest election finish in years in 2018. Congressman Tom McClintock (R-CA) beat Democrat Jessica Morse 54% to 46%, noticeably lower than previous years where he had won with 60% or more of the total vote. However, since then, the district has generally been going back to the Republican side – so much so that it's now marked as a 'safe' Republican hold.
But in the primary last month, Democrat Brynne Kennedy managed to pull some high numbers in terms of both support and financing. McClintock comfortably won with 51% of the vote to Kennedy's 39.6%. And with fellow Republican Julianne Benzel getting a distant third with 4% of the vote, it seems likely that those voters will also go with McClintock. Still, Democrats haven't given up on this district just yet, and spurred by new funding and a close 2018, they don't seem like they're letting up. Especially when it comes to financing.
Tom McClintock
Longtime Congressman Tom McClintock, who has been a fixture of elected California office since the early 1980's raised slightly more than Kennedy during the first quarter, bringing in $1.18 million. He also managed to spend less during this time with $810,000 in disbursements. The private equity firm Blackstone Group gave the most to McClintock in the first quarter in terms of employee and employee family member donations, giving a total of $11,200. Gaming and casino company Station Casinos gave the second most at $10,976, followed by several PACs, political foundation, financial groups, and industries.
Among individual donor sectors McClintock raised nearly a quarter of his total amount raised through retirees. By far his largest sector of individual donors, they gave nearly $240,000. PACs also gave a significant amount of McClintock's Q1 funding, giving just over $106,000, significantly more than Kennedy's $64,000 in PAC funding. McClintock also raised slightly more in out-of-state donations than Kennedy, 22.9% compared to 13.7%.
Brynne Kennedy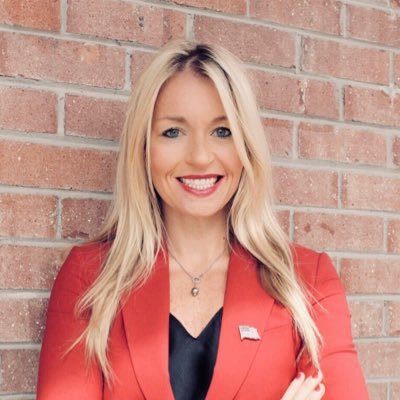 Businesswoman Brynne Kennedy has almost exactly matched McClintock's donation and spending amounts to the letter. Kennedy brought in just under McClintock's 1st quarter donations with $1.07 million in receipts while also slightly outspending him with $845,000 going out. Coming from a business and tech background, most of her big donors also come from that world. Facebook topped employee/family of employee donations for Kennedy, giving $15,100. The online artist and designer marketplace Minted and venture capitalist firm New Enterprise Associates tied for the second most given with $14,000. Nearly a dozen came after with exactly $11,200 in donations.
Surprisingly, the securities and investment sector gave more than any other individual sector, giving Kennedy $106,000. Retirees and Democratic groups only gave a little over half that each. Unions have also been supplying Kennedy with support. While there has been a significant amount given financially, endorsements have  also been a vital non-financial part of her campaign. As the campaign goes into the second quarter with donations slowing down for everyone, block groups of support could prove very useful.
What this means for the 4th
The about even financials has shown that McClintock can win based on just that. The primaries even gave another Republican running and Kennedy spending more, yet McClintock still got over the 50% threshold. Not only does this mean McClintock has the support, especially since many Republicans held back from voting in the primary due to no major Republican presidential nominee battle, but it means that money may not matter that much here.
But money will still be raised. Both candidates main donor groups have very few that have been effected too badly by the coronavirus pandemic, which means they can still give. Neither have really called on the party for a lot of help yet, and both would most likely be willing to give for the district. For McClintock, he just needs to keep doing what he's been doing. Even with fundraisers down, McClintock still has the capacity to raise what he needs – being a incumbent helps with that. Kennedy, meanwhile, needs to find a way to break that 50%. She's been a strong earner, especially for a Democrat in a mostly rural district. That can help her in the latter months.
But with more cash on hand, more support, and the end of the blue wave in sight, McClintock will most likely win albeit with Kennedy probably keeping it close.

Latest posts by Evan Symon
(see all)