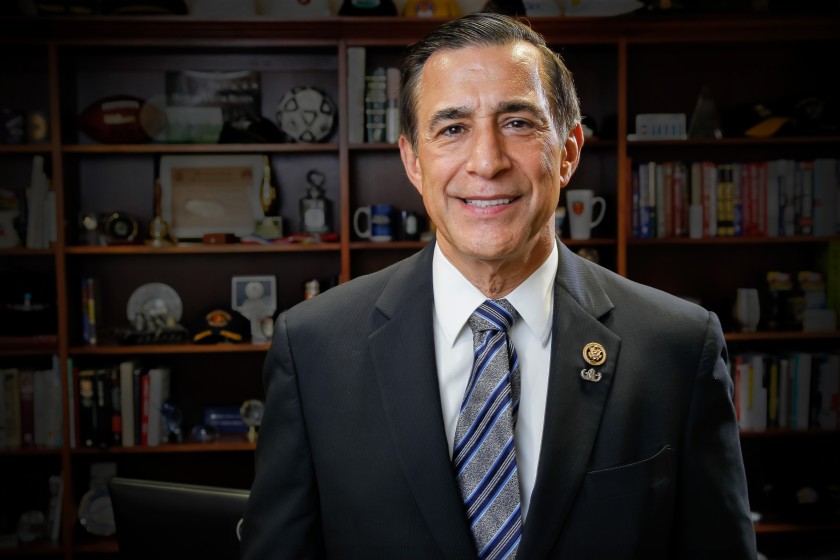 2020 Q1 Campaign Finance: What 50th Congressional District Candidates Raised and Spent
Campa-Najjar leads in out-of-state donations, Issa wins Republican nomination with most spending
By Evan Symon, April 15, 2020 2:06 am
Last year at this time, the 50th Congressional District, a large swath of land that stretches from the San Diego suburbs to the outskirts of the Salton Sea, was considered a lock for former Representative Duncan Hunter. However a scandal involving misused campaign funds, his resignation, and then being sent to prison opened up the slot.
Nine Candidates stepped up to run. As the area is solidly Republican, more Republicans than Democrats entered the race in the hopes of a better chance of a November victory. Former Department of Labor official, former Obama campaign official, and 2018 Democratic candidate Ammar Campa Najjar managed to win the primary by having a split Republican vote, with former Republican Congressman Darrell Issa nabbing the second spot on the ballot over Carl DeMaio and State Senator Brian Jones (R-Santee), with DeMaio coming within 3% of getting the nomination himself.
In terms of funding the major candidates managed to raise and spend millions. The California Globe dug into the major candidates FEC filings for the first quarter, as well as into who some of the top funders were:
Ammar Campa-Najjar
Campa-Najjar received $1.972 million in the first quarter, with $1.271 million being disbursed for his campaign. Alex Balkin and Marisa Calderon, the other Democratic candidates, only raised a combined $150,000 in receipts and spent less than $100,000 combined.
Retirees were the largest sector donating to Campa-Najjar, with individuals donating around $450,000 of the $1.972 raised by Campa-Najjar for the primary. Many groups also donated comparatively large amounts. Stanford University, for example, a University nowhere near his district, gave $13,000.
His largest group donor turned out to give over four times as much as his opponent Darrell Issa's largest donor. J Street PAC gave $43,700 to his campaign. The group is highly controversial. While J Street PAC says that they aim for a peaceful end to the Israeli-Palestine conflict, many have said that the PAC itself is actually anti-Israel.
Campa-Najjar also led the candidates in outside the state funding. He received nearly triple the amount that Issa did, $462,816  to $167,730, despite Issa raising far more in receipts.
Darrell Issa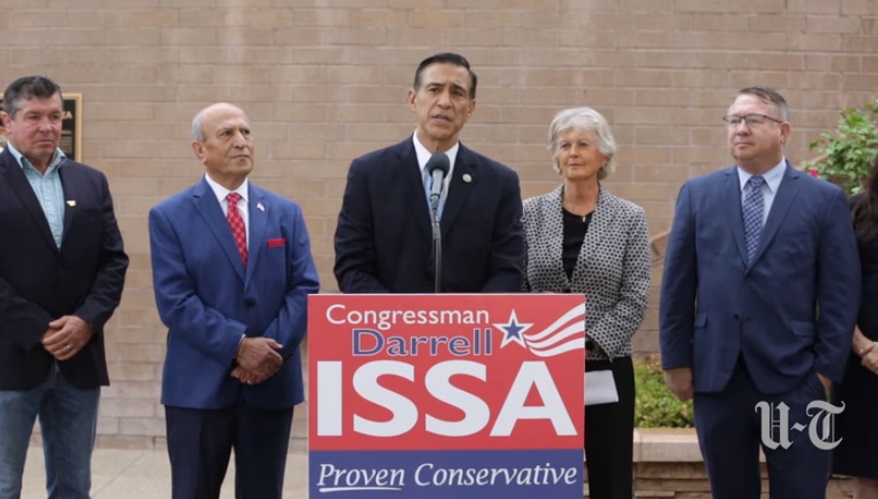 Former Congressman Darrell Issa received the most out of any candidate in terms of receipts, $4.18 million. He also spent the most out of any, with his disbursements coming to a total of $2.758 million in the first quarter. As the campaign to be the Republican candidate in November grew close, other Republicans received a lot of money as well. 3rd place finisher Carl DeMaio raised $2.763 million, with fellow Republican Larry Wilskie raising $461,000. They also spent a lot too with DeMaio spending just over $2 million in the first quarter and Wilskie spending all but $15,000. State Senator Brian Jones received 10% of the total vote but he failed to turn in his financial disclosure form.
Like Campa-Najjar, Issa's largest donation sector turned out to be retirees. He managed to raise $170,000 from retirees, although that figure is notably less than his Democratic candidate.
Among groups, Issa received more donations from industries and technology companies than Campa-Najjar. In addition to $5,000 from noted conservative donors Koch Industries, other companies such as Microsoft and Toyota donated $2,000 each. Issa's largest donations were $10,000 from, respectively, the electronic trade group Consumer Technology Association and House Minority Leader Kevin McCarthy's (R-CA) PAC Majority Committee.
Other candidates also received larger donations, with Jones receiving $5,000 from California Coast Credit Union and DeMaio receiving money from the Super PAC Trump Victory.
What this means for the 50th
The GOP heavily favored Issa based on receipts, especially after State Senator Wilson fumbled his financials. Many top Republican groups and Californian-heavy companies backed him similarly to other GOP candidates in less primary-contentious districts. And if these numbers hold in the coming quarters, Issa will have the funding, support, and recognition to sail into victory, even with the Hunter scandal still relatively fresh in people's minds.
Campa-Najjar does have a chance, but his reliance on outside money and more singular donators, especially in the wake of the coronavirus pandemic, might dampen how much he gets in funding. If polls show him significantly behind by late summer and early fall, his core funding may take a dip as well.
But as for the 1st quarter in the 50th, it clearly shows that a very contentious primary brought in both a lot of donations and a lot of spending. Q2 will be drastically lower due to both the coronavirus and a lull in campaigning, but Q3 and Q4 will very likely tick back up, especially if the race between the two is less than ten points apart.
Note: Brian Jones' filing was announced on April 15th, beating the FEC deadline.

Latest posts by Evan Symon
(see all)