AB 29: How A Bill That Removes A Small Slice Of Freeway Could Set A Major Precedent For Californian Cities
Passage of AB 29 could set a legislative precedent on removing parts of freeways in favor of other transit and new housing.
By Evan Symon, October 2, 2019 6:01 am
Since the 1960's a major thoroughfare of the Los Angeles highway system hasn't been completed: Interstate 710. This construction snag is about to be the main catalyst for something much bigger with possible statewide repercussions. Namely, it could be a brand new way to open up land for new developments across California, as well as help ease the housing crisis.
The 710 Freeway shoots up through northeastern Los Angeles County from East Los Angeles, passing several other major highways on the way up. However, thanks to problems with highways plans and construction dating back for over half a century, the 710 Freeway suddenly stops just short in the suburb of Alhambra before starting up again inside the city of Pasadena several suburbs up north. For years there have been plans to finish up the 'South Pasadena corridor', but after complaints from cities, residents, and even public transportation groups, the 710 always held short. Many neighborhoods even became protected with parks and historic buildings, making construction more and more difficult each passing year.
By the turn of the millennium it began to be seen as a lost cause. In 2009 SB 545 was signed into law by then Governor Arnold Schwarzenegger, that effectively barred any further construction on the 710 from being at grade or above grade. With only tunnels left to consider, this pretty much killed the project dead in its tracks. By 2012 it was back to how it always was: incomplete. In 2018 Caltrans put the final nail in the coffin, reallocating all 710 Freeway funds in Pasadena to local roads.
That leads us to AB 29, sponsored by Assemblyman Chris Holden (D-Pasadena), which came up earlier this year in the State Capitol. The bill states that the section of the 710 between mid Pasadena and the 210 Freeway is to be removed from the California highway system in 2024. After that it's projected to be open for development.
AB 29 passed both houses this year and is currently awaiting the Governor's signature.
For many this is simply a local issue for Los Angeles County that needs approval from Sacramento. But it's also leading to something else: Legislative action stopping highways in favor of regional development.
On one hand this is nothing completely new to California. Heavily used freeways or partially built freeways have been torn down before, most notably the Embarcadero Freeway in San Francisco in the 1990's after earthquake damage.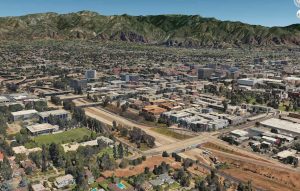 But what makes the failed South Pasadena corridor project and impending deconstruction of the 710 spur unique is that it's being decommissioned and torn down at the behest of the state government through a bill. This is something that is rarely done with highways. Most of the time they are transferred, redesignated, or otherwise deleted with a name change. And since this part of the 710 was supposed to be part of a federal system, the reversion is all the more surprising.
The Globe talked with former city planner Marcus Johnson, who has had to work in highways and off-ramps into some of his city plans he helped develop, on why AB 29 is such a big deal for California.
"This isn't exactly Earth-shattering, but it sends a strong precedent. Other cities with a similar stalled or failed highway are going to be looking to what's happening in Pasadena.
This has happened before, but now, during a time when land is need for housing in a state that is doing everything it can to house people, this is big. 
If this passes, other cities are going to be looking for sudden ends of state highways, or really, any state road that juts in like the 710 does. Like AB 29, you're going to see developers and housing advocates alike support it, and we're going to see a lot more housing come in in the next ten years.
To the layman this is obscure. But to a city or a developer, they're going to reach out to their Assemblyman or their Senator and ask for their own AB 29 if it applies to their city."
And much like how the closure and demolition of the Embarcadero Freeway led to plans to improve the San Francisco waterfront near the Ferry Terminal, the closure of the 710 Freeway spur is setting up to revitalize that part of Pasadena next to the historic Old Town District. Plans have already been drawn up on how to use the new land even before the signing of the bill. Some plans date back to 2017, showing how long AB 29 has been anticipated for. 
"What this can do is essentially be a small backdoor into helping solve the housing crisis," explained Johnson, "You put in some public transportation, make sure it doesn't harm the environment or squeeze city utilities or cause higher danger to pedestrians, and you're in business."
Johnson added: "Like I said, it won't solve the crisis, but any city that has an incomplete or long stalled or unused bit of state highway, there will be bills like this one in the next few years."

Latest posts by Evan Symon
(see all)