CA-25 Congressional Race: LA Times Claims Former Navy Pilot Has No Experience, 'Nice Backstory as the Son of a Mexican Immigrant'
'Wow. Absolute disgrace'
By Katy Grimes, April 23, 2020 7:56 am
The Los Angeles Times editorial board recently published a glowing endorsement of Democrat Assemblywoman Christy Smith in the CA-25 congressional district, now vacant following the resignation of disgraced Rep. Katie Hill. They claim that even though Republican challenger Mike Garcia had a "nice backstory" he doesn't have enough "experience."
Garcia is the son of a legal Mexican immigrant and former Navy F/A-18 fighter pilot.
Assemblyman Christy Smith (D-Santa Clarita), worked for the United States Department of Education as a policy analyst during the Clinton administration, and served two terms as a board member of the Newhall School District. She has no private sector experience.
"Smith's opponent, by comparison, is simply not a good fit for Congress at any moment," the LA Times said. "We can see why Republicans might be attracted to Mike Garcia. The former Navy pilot and Raytheon executive has an unusual resume and a nice backstory as the son of a Mexican immigrant. But having a good origin story doesn't translate into legislative competence."
"And Garcia offers no record to examine for clues. He has never been elected or appointed to office, and his platform consists of vague statements of values."
Mike Garcia a decorated former Navy fighter pilot who flew and led missions in combat. With 20 years of service to this country, Garcia was one of the first Super Hornet strike fighter pilots in the Navy – which takes leadership, experience and fortitude.
There are 96 military veterans in Congress would likely disagree with the LA Times. Vets in Congress like Brian Mast, Brad Wenstrup and Dan Crenshaw have already tweet their displeasure about the LA Times endorsement. Leader Kevin McCarthy retweeted Mast's Tweet.
Thousands on social media took note of the Times' endorsement of Smith and disparaging comments about Garcia, and rallied in support.
"I'd rather have someone with real world leadership skills, than a career politician who has no idea what it's like in the real world," a man Tweeted in reply.
"They are completely oblivious to exactly what 'legislative competence' has done to their state," another Tweeted.
Meanwhile, Christy Smith has a well-documented history of lying to voters to get elected, which the LA Times editorial board didn't mention in its endorsement.
In an April 3 Tweet, Smith denied that she ever laid off teachers and support staff, and cut their pay, when public records show she did.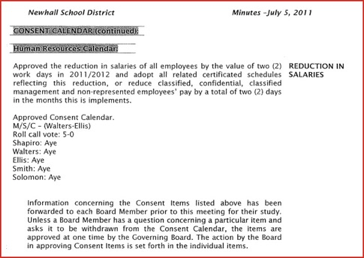 Smith told voters she would wouldn't raise taxes, but she voted for more than $3 billion in higher taxes and fees, according to the California Taxpayers Foundation.
Christy Smith said she doesn't campaign during business hours, but then Tweeted from her campaign account multiple times during business hours.
Garcia said in a California Globe interview he is worried about California's "worst public schools," of which Smith has been entrenched her entire career, and receives support from the California Federation of Teachers labor union as the Tweet below shows.
Garcia says "Smith is as far left as Katie Hill. She's a Socialist like Katie Hill, trying to paint herself as a moderate."
"I am a first generation American who is so proud to have been given the opportunity to serve our country and defend the freedoms we hold dear," Garcia said in response to the LA Times endorsement. "I am thankful to everyone who stood up for me, and all of the other American patriots who wore the uniform in defense of America – I look forward to serving you in Congress."
Following his 20-year military career, in 2009 Garcia was hired by the Raytheon Company, and worked his way up to Vice President of Business Development, and is responsible for $7.5 billion of new business every year, selling radar and large weapons systems to the US military and US allies – something he knows a lot about.
Latest posts by Katy Grimes
(see all)