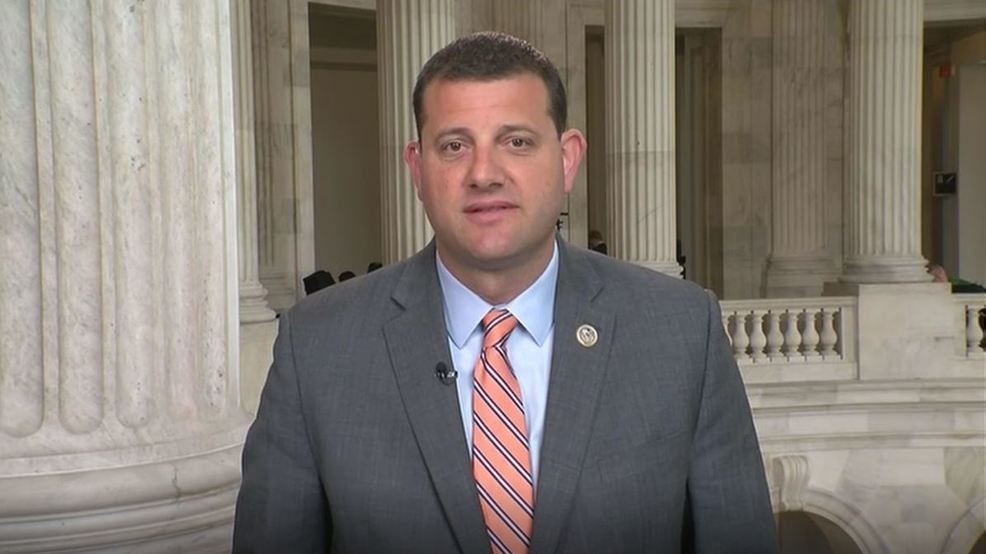 CA Republican Rep. David Valadeo Votes With Speaker Pelosi to Impeach President Trump
Rep. Young Kim introduced a resolution to censure President Donald Trump
By Katy Grimes, January 14, 2021 7:14 am
Two newly elected California Republican members of Congress have sided with House Democrats to impeach and censure President Donald Trump.
Rep. David Valadeo (R-CA) voted with Speaker Nancy Pelosi to impeach President Trump Wednesday.
Rep. Young Kim and five other members of the House introduced a resolution to censure President Donald Trump claiming Trump tried to prevent the certification of the 2020 elections and allegedly incite rioters last week.
Valadeo lost his Congressional seat in the 2018 ballot harvesting slaughter to  TJ Cox.
In 2018, Kim was the Republican Party candidate in the 39th congressional district, and was defeated by Democrat Gil Cisneros, also in the ballot harvesting slaughter of seven congressional seats.
Here is what Valadeo said in a Facebook post about his vote to impeach:
President Trump was, without question, a driving force in the catastrophic events that took place on January 6 by encouraging masses of rioters to incite violence on elected officials, staff members, and our representative democracy as a whole.
Speaker Pelosi has thrown precedent and process out the window by turning what should be a thorough investigation into a rushed political stunt. I wish, more than anything, that we had more time to hold hearings to ensure due process.
Unfortunately, Speaker Pelosi did not afford us that option.
Based on the facts before me, I have to go with my gut and vote my conscience. I voted to impeach President Trump. His inciting rhetoric was un-American, abhorrent, and absolutely an impeachable offense. It's time to put country over politics.
There are 5,400 comments on Valadeo's Facebook post by "friends" critical of his vote and subsequent excuse for it. Several of the comments sum up constituents' reactions:
"Heard you on Trevor Carey's show. Your explanation for voting for impeachment was total BS. The impeachment charge had nothing to do with what Trump was saying for the last 2 months. It accused him of inciting what happened January 6. It is a false charge, yet you voted for it. People like you are the reason democrats get away with trashing our country & constitution."
"I moved into your district from McCarthy's right before the election and made an extra effort to make sure that I was registered. I voted for you. As a fellow farmer, I can't tell you how disappointed I am in your vote to impeach. Did Pelosi make you an offer you couldn't refuse? I defended you when others called you a RINO. Now, you need to either be recalled or face a true Republican primary candidate."
"Courage would have been standing up to Pelosi. Remember, you REPRESENT your constituents, and you should have voted accordingly. You will not be re-elected in 2 years….AGAIN."
On Twitter, Valadeo was no more popular:
President Trump was, without question, a driving force in the catastrophic events that took place on January 6 by encouraging masses of rioters to incite violence on elected officials, staff members, and our representative democracy as a whole.

— Rep. David Valadao (@RepDavidValadao) January 13, 2021
— Roxanne Hoge (@RoxanneForAD46) January 14, 2021
I hope you sit next to @RepMaxineWaters during the process. She'll teach you what incitement of violence really looks like. Of course you know that already though but it doesn't fit the narrative!

— Matt Richter (@MattRichter35) January 14, 2021
and:
"Big mistake David! As someone who phone banked for you and donated to your campaign, I'm terribly disappointed in you. You lost my family's support today."
Here is what Kim says about censuring President Trump, as Breitbart reported:
"The violence that our nation witnessed on Wednesday was abhorrent and resulted in an assault on law enforcement, lives lost and many more put in danger. These rioters must be prosecuted to the fullest extent of the law. The president also misled many Americans to believe that the outcome of the election could change on January 6th, when that simply was not true, and must held accountable for his role. I believe censuring the president after his actions helps hold him accountable and could garner wide bipartisan support, allowing the House to remain united during some of our nation's darkest days. I'm proud to join Rep. Fitzpatrick and others in introducing this resolution today."
She added, "Like many of my colleagues, I came to Washington promising to bridge the divide. I hope both parties can acknowledge our role in perpetuating division and come together to support this effort and move forward for our constituents and the nation."
Commenters weren't happy with the censure either:
"In 'Julius Caesar' it was the Senators, and we already had that happen last week. With this many backstabbers, the line would have been 'Et cetera?'"
"Let's include the rhetoric of their peers in this motion as well as bring up the dozens of demm objections to the EC votes in 2001, 2005, and ,2017. Yet the weak mindz of the GOP still act like we are wrong to dispute the results."
Kim also received criticism on Twitter:
The violence we saw last week was disgusting. Our law enforcement was attacked, lives were lost and more were put in danger. These rioters must be held accountable. Words have consequences and I believe the president should also be held accountable.

— Young Kim (@RepYoungKim) January 13, 2021
However, I believe impeaching the president now will fail to hold him accountable or allow us to move forward once President-elect Biden is sworn in. This process will only create more fissures in our country as we emerge from some of our darkest days. https://t.co/NK1EdO5xoN pic.twitter.com/IJIlb6oGva

— Young Kim (@RepYoungKim) January 13, 2021
"Thanks, Young. No need to seek my vote when you run in 2022, you won't get it."
Still wrapping my head around this from @RepYoungKim:

"I believe the president should also be held accountable.

I believe impeaching the president now will fail to hold him accountable"

Still wrapping my head around @RepYoungKim saying:

Vote her a** out in 2022!

— sarah k (@wordpower2018) January 13, 2021
"One term congresswoman. Cool!"
Latest posts by Katy Grimes
(see all)