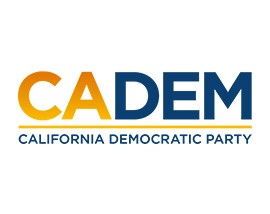 California Democratic Party Gives $250,000 To Gov. Newsom's Anti-Recall Committee
'The California Democratic Party unequivocally opposes the Republican attempt to recall Governor Gavin Newsom'
By Evan Symon, March 16, 2021 2:41 am
On Monday, the California Democratic Party (CADEM) announced that it gave $250,000 to the Governor Gavin Newsom-led Stop the Republican Recall political committee.
The decision to contribute a quarter of a million dollars came only hours after Newsom's campaign against the recall began Monday morning, marking the first large contribution to the campaign that is aiming to keep Newsom in power until at least the scheduled gubernatorial election next year.
CADEM noted that it's decision to contribute was because the party sees the recall attempt as a Republican-led disruption against California's post-COVID-19 recovery and as a way to shift focus from Democrat-led recovery efforts.
"The California Democratic Party unequivocally opposes the Republican attempt to recall Governor Gavin Newsom," said CADEM Chairman Rusty Hicks in a press release Monday. "The Republican National Committee, wealthy Trump donors and right-wing extremists have joined forces to disrupt California's road to recovery. Despite the efforts by the GOP to take us back to some of our darkest days, CADEM is prepared to mobilize our grassroots people power and make it clear to voters that the Democratic Party is the only party focused on protecting the health and safety of all Californians and their families.
"Rather than supporting California's pandemic recovery, Republicans are choosing to shift the focus and attention away from those who need it most. Sadly, chaos is the playbook for the Republican Party – and it's time for Democrats to unite to forcefully reject the Republican recall of our Governor."
However, while the Newsom recall campaign, which recently reached 2 million petition signatures last week and is now widely seen as an inevitability to happen later this year, has been noted by experts to have significant Republican-affiliated backing, it has also been drawing in voters across the political spectrum. Recent polls have found that a significant portion of independents and Democrats support the recall effort, with many petition signees being noted as being non-Republican.
"Everyone is trying to tie the recall efforts with Q-anon believers, those that stormed the Capitol earlier this year, and pretty much any ultra-right wing group," noted "Wayne," an independent political operative in San Bernardino County who has worked for campaigns for both major parties. "The truth is though that that is just the fringes. Any Republican or Democrat worth their salt who sees a contribution check from those kinds of people immediately sends it back to them by same-day mail. They don't want it near them."
"And there are non-conservatives who would do the same. If they really saw these groups being the backers of such an effort, they'd abandon it really quick. This has happened with recall attempts elsewhere. So it's just not true in California. Many see the reasons for a recall as legitimate grievances and reasons to want him out. It's not quite as clear cut as it is with [Governor Andrew] Cuomo right now with his sexual harassment scandal and prominent Democrats calling for him to resign, but for many Californians who suffered during the pandemic and only saw things get worse despite following the rules and doing everything right while Newsom openly broke them, well, it's more than enough."
"That's why CADEM gave $250,000 right off the bat. They know it's going to get ugly this year with the recall election. We all remember 2003 with Arnold and all the 'Total Recall' and 'Governator' jokes. It's the last thing they needed right now."
The Stop the Republican Recall campaign is expected to ramp up efforts in the coming months as the state finishes tallying and verifying petition signatures.

Latest posts by Evan Symon
(see all)