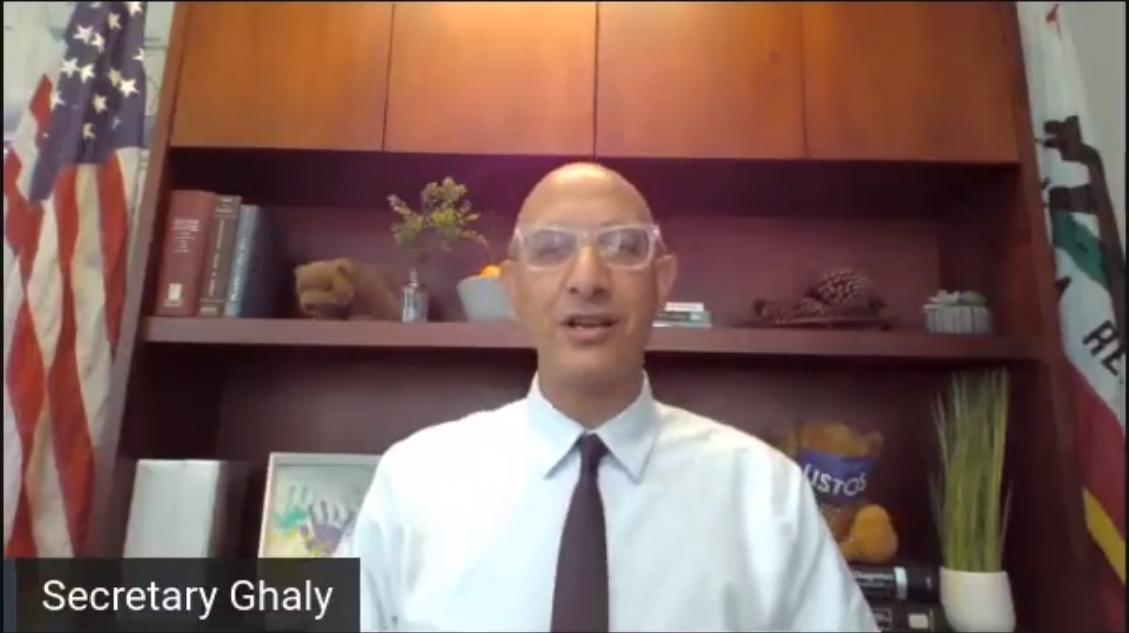 CHHS Secretary Ghaly Announces New Theme Park, Stadium Reopening Guidelines
Parks, stadiums can now reopen at reduced capacity if they meet reopening tier requirements
By Evan Symon, October 20, 2020 2:35 pm
On Tuesday, California Health and Human Services (CHHS) Secretary Mark Ghaly announced new state guidelines for theme park and stadium re-openings, as well as announcing more widespread reopening and county reopening tier changes, during a press conference.
Secretary Ghaly began the briefing by going over what the state has been doing about reopening theme parks and stadiums and how they have been developing the new reopening guidelines.
"We sent teams of state leaders of public health and the the business community to visit with theme park operators to understand what the plans were, how those plans might guide our own decision making and how we are sure to keep both employees and visitors at theme parks as safe as possible," Ghaly said during the press conference. "We also had the opportunity to send a small team to other theme parks in other parts of the nation and they came back with lots of valuable lessons."
The Secretary noted how different parks managed lines, kept groups separate within lines and rides, and generally how they kept guests safe at parks such as Disney World in Florida. He also explained that theme parks were at a higher risk due to more people mixing, and that the CHHS wrote guidance around that.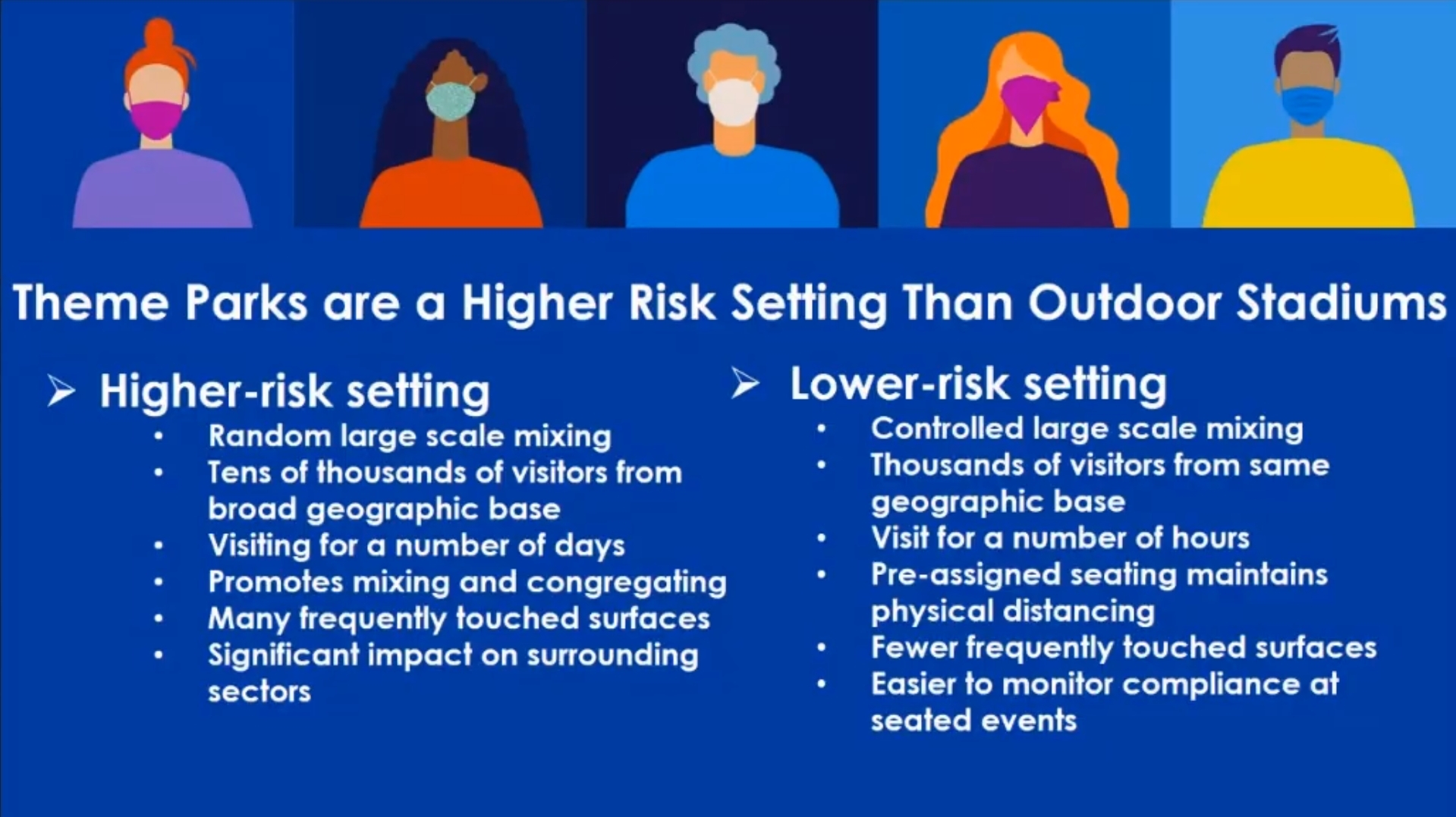 Due to this, theme park re-openings in California will be split between smaller theme parks and larger theme parks.
Smaller theme parks can resume operations in tier 3, or the orange level, of the California county reopening tier system. They will only be allowed a limited capacity of 25% or 500 people, whichever is fewer. Only outdoor attractions will be allowed to reopen however, and ticket sales will be limited to only those living in the county the park is in.
All parks, including larger parks like Disneyland and Six Flags Magic Mountain, can resume operations in tier 4, or the yellow level, at 25% capacity.
In addition, all parks, regardless of size or how early they reopen, must have guests reserve entry with reservations and have all guests be screened before being allowed to enter the park itself. Face coverings are also mandatory unless eating or drinking. Ghaly mentioned that the reservation system would be used as a potential tool for contract tracing by knowing who exactly was in the park and when, as entering the park with a ticket not in their name or buying tickets at the park day-of would not be allowed.
Stadiums would also be allowed to reopen for professional sporting events under similar guidelines. Stadiums can reopen at 20% capacity in the orange tier counties and at 25% capacity in yellow tier counties. Tickets will only be sold to people in a 120 mile radius around the event, with only advanced ticket sales in assigned seating being sold. Eating and drinking will only be allowed in the assigned seats, with face coverings being mandatory at all times, except when eating or drinking. Tailgating will be prohibited at all events. However, parking is mandatory for arriving at the stadium.
Modifying guidelines, other re-openings in California
All guidelines can also be modified, depending on new information and data.
"These are all modifications and requirements that we've worked hard on both on the theme park side as well as the professional sporting events side with our industry partners and labor partners to come up with something that we believe at this time really supports the blueprint, the slow, stringent approach and giving us an opportunity to give us more time for even more information," added Ghaly.
Earlier this month, Ghaly announced that theme park reopening guidelines were imminent after months of requests and layoffs by theme parks. However, the very next day, Governor Gavin Newsom had announced a halt to guidelines and that theme parks would not be opening soon. This led many theme parks and Californian citizens to respond negatively, fueling a renewed push for park re-openings. The Governor soon relented, allowing state teams to visit other parks and the guidelines to continue being developed. On Monday, Newsom said that the new guidelines would be announced soon, with Ghaly's press conference occurring only 24 hours later.
Ghaly also announced other re-openings during his briefing on Tuesday. Tattoo parlors, massage parlors, and other personal care services can now open indoors with modifications across all counties regardless of tiers.
Several counties were also announced to have shifted reopening tiers. Butte County and Napa County have both moved down to the orange tier, while San Francisco County reached the lowest tier possible, the yellow tier. However, two counties also relapsed, with both Riverside County and Shasta County moving back to the purple tier, the highest tier in the system.
"San Franciscans have done a good job following public health guidance and making smart decisions to keep our community safe, and we're now assigned to the state's yellow tier," said San Francisco Mayor London Breed in a statement at around the time of Dr. Ghaly's conference. "This means we can continue making progress on reopening, but we must remain vigilant."
More counties are also expected to move tiers next week due to declining COVID-19 cases and positivity rates, as many barely missed the reopening maximums for the next lowest tier this week.

Latest posts by Evan Symon
(see all)