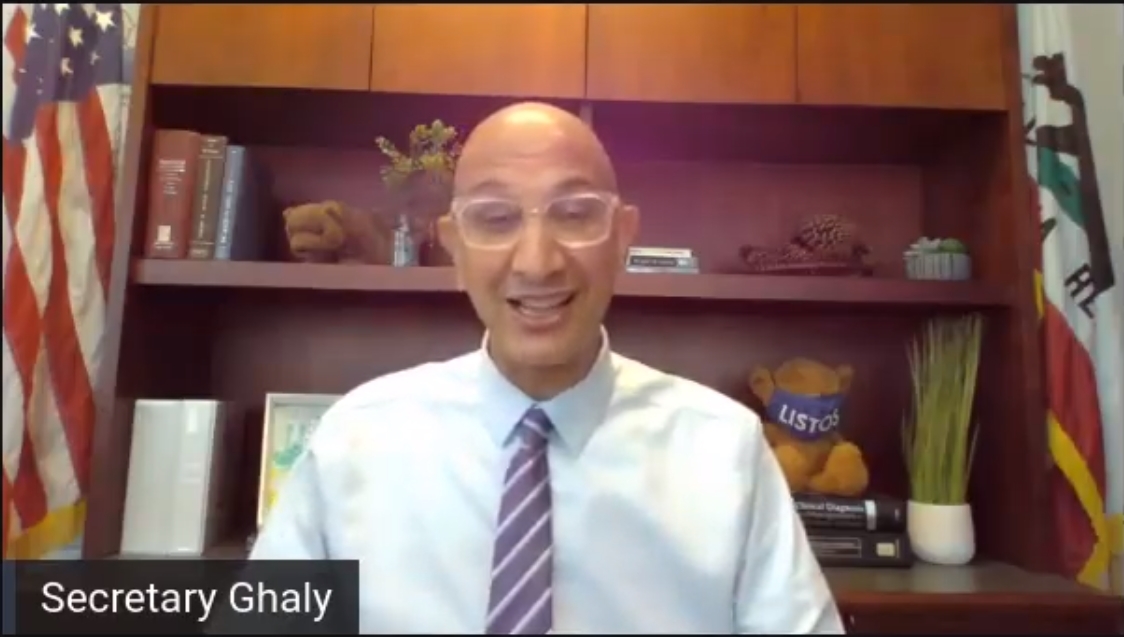 CHHS Strongly Discourages Traditional Halloween Events During Weekly Conference
Theme park reopening updates, new county tier changes also announced
By Evan Symon, October 13, 2020 3:06 pm
During a press conference Tuesday, California Health and Human Services (CHHS) Secretary Dr. Mark Ghaly announced that traditional Halloween events such as parties and door-to-door trick or treating were strongly discouraged this year due to high risk of spreading COVID-19.
Ghaly noted that methods of COVID-19 detection and tracking, such as contact tracing, would be very difficult to implement if an infected person had visited several dozen houses during the night.
"Covid-19 continues to impose an important risk as we say time and time again, so some of the traditional Halloween celebrations such as parties, door-to-door trick-or-treating, we know pose a high risk of spreading COVID and are therefore strongly discouraged," said Ghaly on Tuesday. "But we suggest families should plan now on safer alternatives. We also know that state guidance will be supplemented and local guidance and health departments may have additional restrictions."
Ghaly then noted several low COVID risk activities that families and others could do for Halloween, Dia de los Muertos, and other upcoming holidays.
Health experts have noted that if trick or treating was to occur, it could be nearly impossible to properly track the disease.
"It would be a nightmare," said Tim Guthrie, a COVID-19 contact tracing case investigator, to the Globe. "Say you have one person passing out candy on a block who has COVID-19, and they're giving out Snickers or some other popular candy that a lot of others have. It would be nearly impossible to zero in on who all went there, as so many other places gave that out. Or, even worse, if a kid has it, and they go to dozens of houses or apartment complexes during the night. So many people could be infected. And with maybe hundreds of people filtering through all night, some coming from out of the area, tracing is impossible.
"Now imagine that all over. It's not quite as cut and dry as how I put it, as there are tons of variables, but in general that's what we could have faced. We're looking at a lot of Southern states and other states out East who aren't stopping Halloween trick or treating, and it's scary. We're already being asked if we could help out in more Eastern states when this happens.
"A lot of people may not like this, but we gotta do what we gotta do. California's just nipping this in the bud now."
Theme park reopenings, new county reopening tier changes
In addition to the Halloween announcement, Secretary Ghaly also announced that they are still working with theme parks on how to have them reopen properly, and that reopening guidelines were also still in the works.
"It will come out when we're ready. We are working closely with our industry partners," added Ghaly. "We will continue to lead with public health and look at our data. We will be slow and stringent, moving forward."
"The team visited Florida theme parks. We wanted to find out in action how a park and the community surrounding it functions in a time that we're facing Covid transmission, and how it plays out not just in the park, but beyond."
Finally, Ghaly also announced that several counties would be shifting to new reopening tiers. Ghaly noted that no counties were moved to the most restrictive purple tier this week and that more, larger population counties were showing more and more reduced positivity rates and overall cases.
Colusa, Kern, Kings, San Benito, Stanislaus, and Sutter Counties are to be moved to the red tier this week. Meanwhile Alameda, Placer, and Santa Clara Counties were moved to the second-lowest orange tier, with Sierra County reaching the lowest tier, yellow.
Cities and counties are expected to release more detailed Halloween and other holiday guidelines in the next few weeks in response to the CHHS announcement.

Latest posts by Evan Symon
(see all)