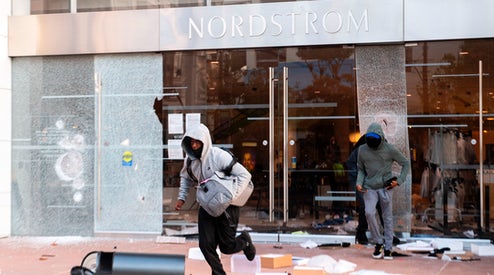 Coronavirus Cases May Spike Amid a State of Emergency Over George Floyd Protests
Protesters and looters have failed to maintain social distancing and use face coverings
By Evan Symon, June 1, 2020 6:23 am
As protests continue a week after the death of George Floyd and a State of Emergency being declared in Los Angeles County by Governor Gavin Newsom, major Californian cities, as well as cities nationwide, face a new threat: a projected spike in coronavirus cases.
An expected rise in coronavirus cases
Protesters and looters in Los Angeles, Santa Monica, Oakland, San Francisco, and other cities in California have not been meeting proper social distancing amid the days of chaos, with many choosing not to use face masks and other protective covering. Experts say that this will lead to spikes in coronavirus cases, as well as deaths from coronavirus, in the next two to three weeks.
"They have the right to protest," said Dr. Michelle Thomas, a doctor in Long Beach who has worked on coronavirus cases. "But what I've seen in the past several days in Los Angeles and elsewhere is amazingly callous."
"Many of the protesters come from communities that have been especially affected by the outbreak. So when they were on the streets that close, some without masks, they have probably been quickly transmitting it. It may not have happened in Long Beach, but bigger protests will undoubtedly bring a huge rise in new cases by the middle of June. Los Angeles, New York, Minneapolis and other places for sure."
Other health experts in hard hit areas agree.
"It makes me cringe on a number of levels," noted Dr. Katie Passaretti, the medical director for infection prevention at Atrium Health. "It's a setup for further spread of COVID. It's heartbreaking. And it's concerning on a number of fronts, amid multiple horrible situations. It's hard to step back and believe all this is going on at the same time."
California health experts had warned of a larger coronavirus transference before the weekend.
"Show respect for each other by putting on that face covering so that your respiratory droplets aren't unintentionally getting into somebody else's mouth, nose or eyes," stated Los Angeles County Public Health Director Dr. Barbara Ferrer on Friday.
Protests throughout California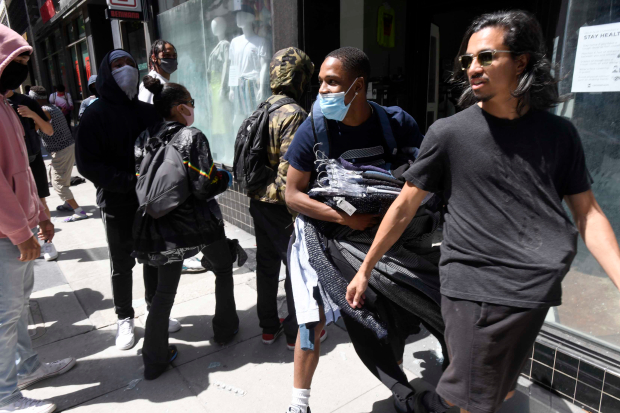 However, during the weekend, thousands of protesters gathered in different parts of Los Angeles, with large violent protests also occurring across the state in Oakland, San Francisco, San Jose, Bakersfield, La Mesa, Pasadena, and Visalia. While the levels of injuries and property destruction varied between them and other cities, the high turnouts have ensured numerous effects in the coming weeks.
"If they're high enough, we could see some stages of the lockdown fall back because of rates jumping up again," continued Dr. Thomas. Since early May we've been worried about protesters over reopening transmitting COVID-19 to a greater extent. But this is involving so many more people, and many more not practicing safe distancing."
"I'm concerned about the riots, and the destruction, and yes, over George Floyd's death. But this is going to cause the most suffering in the coming weeks, just as we turned a corner and doctors and nurses started to relax a bit again."
"We always said that we couldn't risk a large-scale resurgence again. Thanks to the protesters and looters out there, it looks like we did."
Many, including the Mayor of Atlanta, have also noted that anyone who took part in the George Floyd protests should be tested because of the likelihood of virus spread.
"If you were out protesting last night, you probably need to go get a COVID test this week," explained Atlanta Mayor Keisha Lance Bottoms in a statement on Sunday.
Protests over the death of George Floyd are expected to continue in California cities on Monday, with cities and counties taking extra measures, such as calling in National Guard troops, to protect against looting.

Latest posts by Evan Symon
(see all)