DA Chesa Boudin Files Complaint Against NYE Hit-and-Run Parolee but Leaves Off Strikes
The law mandates ALL strikes be filed
By Katy Grimes, January 6, 2021 2:20 am
San Francisco District Attorney Chesa Boudin just filed a complaint against parolee Troy McAlister, who on New Years Eve, while high on methamphetamine, in a stolen car with a stolen gun, killed two pedestrians, Elizabeth Platt, 60, and Hanako Abe, 27, in downtown San Francisco.
The 45-year-old parolee held for the New Year's Eve hit-and-run deaths was facing a Three-Strikes life prison term until he was freed last year under DA Chesa Boudin, NBC Bay Area reported Monday evening.
We also discovered that McAlister is a parolee who remained free despite being arrested several times in the city in recent months. According to San Francisco police, Troy Ramon McAlister was well known from past arrests as a really violent guy who committed robberies, and most recently on December 20th (below). He should not have been free.
And, Chesa Boudin was his Public Defender at one time.
Here is where it gets weird: San Francisco District Attorney Chesa Boudin gets elected and enters the DA's office in 2019, drops all the strikes and gives McAlister credit for time served, according to sources. McAlister gets out of prison in April 2020. He then gets re-arrested multiple times including a few days before he kills the two women in San Francisco. Charges include Penal Code Section 10851, Grand Theft Auto. Chesa Boudin again refuses to prosecute. Until Monday.
California Globe sent a request to the San Francisco District Attorney Monday evening asking for a copy of the complaint against Troy McAlister. We suspected Boudin did not allege McAlister's prior strikes in the complaint, despite that McAlister has a record a mile long including two separate robbery cases, and possibly, three prior robberies. He also had the carjacking conviction and a slough of prior prison terms for various crimes.
We didn't hear back Monday, but received the complaint Tuesday morning after filing a second request, and guess what? Boudin alleged only one strike…despite McAlister having at least 3-strikes.
This makes DA Boudin even more compromised than originally thought, because the law mandates ALL strikes be filed in the complaint.
We assume Boudin only wanted to file one strike because he doesn't want McAlister to get life in prison under 3 strikes. What else could his motive be?
This is such hypocrisy from a "criminal justice reformer." But why?
Here is the law requiring all strikes to be filed:
21. First, the Special Directives violate the Three Strikes Law by prohibiting prosecutors from pleading and proving prior convictions in new cases. In adopting the Three Strikes Law, the People of California determined that increased punishment for repeat offenders was so vital to effectuate the goals of sentencing and to protect the public from violent criminals that it made the prosecutor's duty to seek the Three Strikes enhancement absolute. In cases where the Three Strike Law applies, the prosecutor has no discretion to refuse to seek the enhancement— he or she is bound by law to do so. Thus, while generally "the selection of criminal charges is a matter subject to prosecutorial discretion . . . the Three Strikes Law limits that discretion and requires the prosecutor to plead and prove each prior serious felony conviction." People v. Roman, 92 Cal. App. 4th 141, 145 (2001) (emphasis added); see also People v. Gray, 66 Cal. App. 4th 973, 994 (1998). Accordingly, prosecutors have a ministerial duty to allege all prior convictions under the Three Strikes Law. Respondents have refused, and are refusing, to perform this duty. Further, Respondents have ordered County prosecutors to violate the law by prohibiting them from pleading prior strikes in accordance with their duties under the statute. See Cal. Bus. & Prof. Code § 6068 ("It is the duty of an attorney to do all of the following: (a) To support the Constitution and laws of the United States and of this state.").
Boudin did file a strike, but not all three…which is not only a flip and a flop, but is obvious appeal to the angry mob demanding justice.
Law enforcement specialists say what makes this such blatant public policy hypocrisy by this DA is his policy on NO strikes from Feb 2020…claiming that  "Status sentencing enhancements are a legacy of California's 'tough on crime' era"….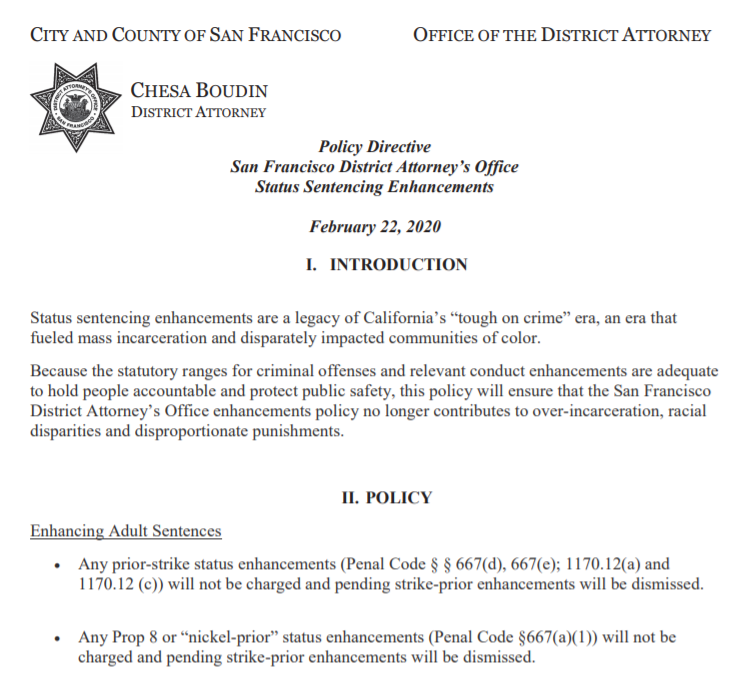 After initially querying some law enforcement specialists, most say there are still questions if Boudin did file strikes:
Why then did Boudin drop all the strikes for the 211 violent felony case in 2018?  He appears to be flip flopping and violating his own policy.  If he had followed predecessor DA George Gascon's prior decision to seek 3 strikes on the Robbery case, then this killer would not have gotten out.  Why is he filing "Tough on crime" enhancements now when he didn't follow through before…or on other cases?
In the current complaint-which seems to charge every conceivable crime (I am sure to act tough on crime), He charges the guy w/ Felony transportation of meth and he alleges the strikes that make then sentence possible max of 8 years.  On the 12/20/20 arrest, they arrested him for a stolen car (felony) and meth.  I am not sure if he was caught with the meth while driving but WHY wouldn't he charge with w/ 11379 then like he is now?
If he is charging all the strikes now, why is he violating his own policy?  He's a hypocrite.
This is a hot mess in San Francisco, and needs immediate attention.
Latest posts by Katy Grimes
(see all)