Do the Numbers in the Coronavirus Outbreak Justify Tanking the Economy?
With 8 billion people on earth, a total of 13,590 have died from Coronavirus
By Katy Grimes, March 22, 2020 10:15 am
Perusing the daily headlines alerting readers about the Coronavirus outbreak could make anyone want to self-quarantine. But the numbers aren't the entire story when broken down.
Deliberate omissions of important information tell the full story: Coronavirus is spreading, and more people are dying. The virus primarily attacks the elderly who have underlying health issues.
But the increase of positive cases don't mean those individuals are sick – just that they tested positive.
This headline is at first alarming: Coronavirus Update (Live): 315,267 Cases and 13,590 Deaths from COVID-19 Virus Outbreak – Worldometer
How many people are on earth? Because this is the total number of coronavirus cases and deaths in the entire world.
The total population on earth is nearly 8 billion – That's 7,772,618,730 as of this writing. There are 315,267 positive cases tested, not sick, and 13,590 who have died as a result of the virus.
This next headline is about Santa Clara County, with a population of nearly 2 million: SJMN: Number of COVID-19 cases in Santa Clara County jumps by more than one-third in 24 hours.
As of 2018, the Santa Clara population count was 1,933,383. "Santa Clara County saw 67 new cases of coronavirus in a single day, a jump of more than 33 percent from Friday, which brings the total amount of known cases to 263, county officials announced Saturday" the San Jose Mercury News reported. Guess why Santa Clara saw a jump in new cases of Coronavirus?
They now have more tests and the ability for rapid responses to the tests. An honest headline might have read: "The increase in Coronavirus cases is in large part due to a greater testing capacity."
Buried in the article is the actual number of deaths: "The death toll in Santa Clara County remains at eight."
Brown Shirt Alert
Maybe more disturbing than the disingenuous SJMN headline and article is the subtitle: "District Attorney asks citizens to report non-essential businesses."
"Though officials say the sharp increase in cases could be in part due to a greater testing capacity, it has prompted the Santa Clara District Attorney to ask residents to report people and businesses that are in violation of the county's shelter in place order."
Stories abound on social media of people posting photos of businesses open, then being publicly shamed on Facebook, Twitter and Instagram into closing. This is Brown shirt activity if ever.
Los Angeles County
The headline in the Los Angeles Times Sunday: California coronavirus death toll rises to 27, including four in L.A. County.
Los Angeles County is home to 10 million residents. The state of California has 40 million residents. There are four dead in Los Angeles County from Coronavirus, and 27 dead in the entire state of California.
The LAT reported "the individuals who died were both older than 65 with underlying health conditions."
Orange County
The Orange County Register headline: Orange County's number of coronavirus cases jumps by 13, now up to 78. With more tests being conducted and processed quicker, more are testing positive for coronavirus, as Dr. Anthony Fauci said would happen. Fauci is an American immunologist who serves as director of the National Institute of Allergy and Infectious Diseases and as a member of the White House Coronavirus Task Force.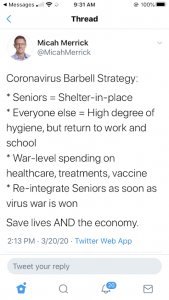 There are more than 3 million residents of Orange County.
It's not a stretch to say the Orange County Register reported this way in order to sound dire: "As of Friday, Los Angeles, Orange, San Bernardino and Riverside counties altogether reported 394 cases and six deaths coming from COVID-19."
However, there are no deaths from coronavirus in Orange County or San Bernardino County; the deaths are in Los Angeles County (4) and Riverside County (5).
San Bernardino County and Riverside County each has a population of more than 2 million.
California Gov. Gavin Newsom sent a letter to U.S. President Donald Trump Thursday, claiming, "California has been disproportionality impacted by the repatriation efforts over the last few months," and 56% of Californians will contract the coronavirus.
"In some parts of our state, our case rate is doubling every four days. Moreover, we have community acquired transmission in 23 counties with an increase of 44 community acquired infections in 24 hours," Newsom said.
Using the dubious statistic, Los Angeles Mayor Eric Garcetti went on the Today Show and claimed, It's "absolutely plausible."
'Save Lives and the Economy'
Meanwhile, the California economy is tanking as most businesses have been forced to shut down under orders from Gov. Newsom and city Mayors, calling these "non-essential" businesses.
Many of these businesses will not rebound back.
The California Public Employees' Retirement System lost $69 billion, according to the Fresno Bee, and the California State Teachers' Retirement System is expecting similar losses.
California officials should focus their efforts and quarantining on the known vulnerable – the elderly, those in nursing homes and hospitals, and anyone known to have lung diseases or serious illnesses.
The numbers can't possibly justify politicians tanking the economy because of a need to publicly virtue signal to the media. Many business owners are wondering if the haste with which government took over and forced the closure of commerce across this state and country was really about saving lives.
Latest posts by Katy Grimes
(see all)