Former Congressman Duncan Hunter Pardoned By Donald Trump
Hunter pardoned only weeks before he was scheduled to report to prison to begin his sentence
By Evan Symon, December 24, 2020 10:02 pm
On Tuesday, President Donald Trump issued a wave of presidential pardons, including former Californian Congressman Duncan Hunter.
In 2018 and 2019, Hunter, the Congressman for the 50th Congressional District in the San-Diego area from 2013 to early 2020, along with his wife Margaret Hunter, were indicted on numerous charges, including campaign fund misuse, wire fraud, and conspiracy. Prosecutors in the case had found that many expenditures the couple had made came directly from campaign funds. Among some of the more lavish expenses found to have been bought with campaign money included over $250,000 to pay for rounds of golf, plane tickets, expensive household items, and a vacation to Italy. While some items were as small as groceries, Lego sets, and Playdoh,  it also included unusual purchases including plane tickets for the Hunter's pet rabbits Eggburt and Cadbury.
The campaign fund investigation also uncovered extramarital affairs by Duncan Hunter with aides and lobbyists from 2009 to 2015, with some misused funds being tied there.
In December of 2019, the Hunters faced more than 60 criminal counts. However, after resigning from office in January, Duncan Hunter only pleaded guilty to one count of violating campaign finance laws in March as part of a plea deal, being sentenced to 11 months in prison. Hs sentence was to begin next month at a Texas prison after being delayed since May due to the COVID-19 pandemic.
According to the White House, his pardon was signed by President Trump "at the request of many Members of Congress." As further points for the pardon, the White House said that the trial should have been undertaken by the Federal Election Commission instead of a criminal court and that he had given much of his life to public service, including stints with the Marine Corps in Iraq and Afghanistan.
Support for pardon largely split
Support for the pardon was split, with many Californian Republicans specifically siding with and against the pardon.
Many against the pardon noted that Hunter had been convicted in a court of law and had pleaded guilty but will now not spend even one day in jail for his crimes.
"Put me down as opposed to all of these," tweeted former California GOP Chairman Ron Nehring on Tuesday. "Especially Hunter, who was my Congressman. Our elected officials should be held to a higher, not lower, standard than the average citizen, who would never have been pardoned for similar crimes.
"We have so many great, honorable Republicans who wish to serve for all the best reasons. We don't have to put up with any crooks in our own party. Toss the bums out. Make room for the honest and honorable ones. Strong party. Stronger country."
Put me down as opposed to all of these. Especially Hunter, who was my Congressman. Our elected officials should be held to a higher, not lower, standard than the average citizen, who would never have been pardoned for similar crimes. https://t.co/obpkHQA9sL

— Ron Nehring (@RonNehring) December 23, 2020
Others, including Hunter's former Republican Congressional challenger Carl DeMaio, gave similar positions.
"The pardon sends absolutely the wrong message that politicians can break the law, but can easily avoid any punishment when they do," noted DeMaio on Wednesday. "This will simply reinforce the clear impression that ordinary citizens have that Washington DC Swamp Creatures protect themselves, receive special exemptions, and enjoy double standards."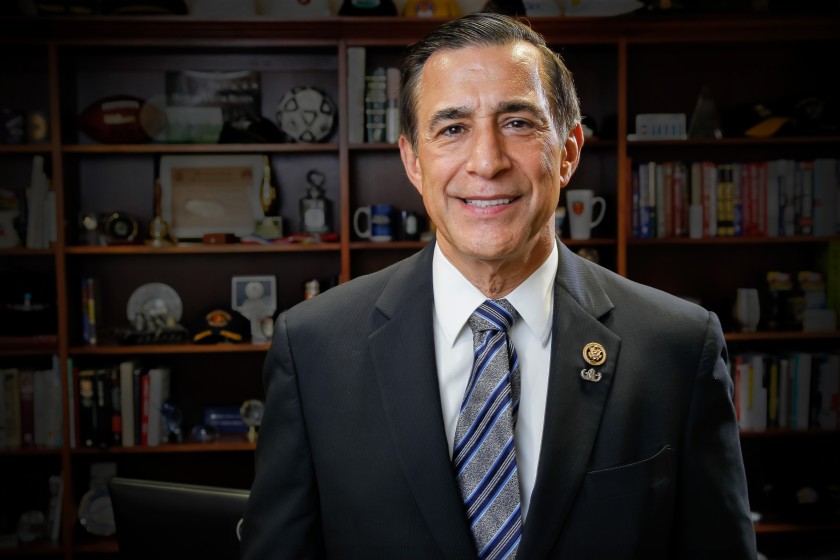 However, other, such as Congressman Darrell Issa (R-CA), who took Hunter's seat after his resignation, noted that he deserves a second chance and that the COVID-19 pandemic served as sort of a prison for him.
"I'm pleased that all of the Hunter family can spend this Christmas together with a fresh outlook on life," said Issa on Tuesday.
Others said that while Hunter may be pardoned, he's done with elected office.
"As good as he was in office, he's not coming back," explained Imperial County campaigner Candace McComb to the Globe. "The affairs, spending campaign money like that. That is unforgiveable.
"But the thing, the big thing, is buying plane tickets for his pet rabbits from misappropriated campaign funds. Even his defenders don't know where to begin with that one. You know how Ismelda Marcos is now a persona non grata to the Philippines for having a room full of shoes while the people starved? It's the same principle. That image of the shoes can't get out of your head, and for Hunter, buying plane tickets for rabbits fills that void."
President Trump continued issuing pardons on Wednesday, including pardoning past campaigners and backers such as Roger Stone and Paul Manafort.

Latest posts by Evan Symon
(see all)