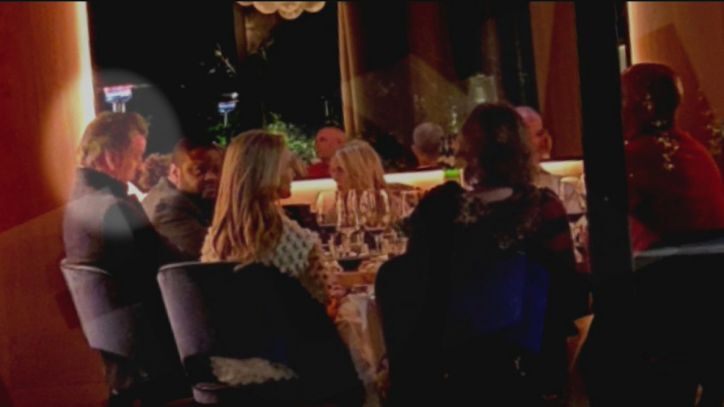 Gov. Newsom and State Lawmakers Obviously Don't Feel Threatened by COVID; Why Should Anyone Else?
Gov. flouts dining with 20 people indoors, spurns face masks, his kids are in school
By Katy Grimes, November 18, 2020 3:22 pm
Gov. Gavin Newsom was caught last week dining in Napa Valley at a large dinner party at the French Laundry, violating his own COVID stay-at-home orders. Monday at his press briefing, he issued a duplicitous apology, arguing that Napa was in the orange, less restrictive tier, and the party was outside… as if that minimized his personal breach.
By Tuesday, photos hit the Internet showing Newsom and his wife at an indoor dinner party at the restaurant, sitting closely to other guests, not a mask in sight, making it obvious to all that the governor and his wife, and everyone at the party, do not feel they are in any physical danger at a "gathering" of more than 10 people, as his recent orders direct the people of the state to obey.
Along the same level of hypocrisy, members of the California Legislature traveled to Maui, Hawaii for an all-expenses-paid lawmaker junket. Somehow they are avoiding the Hawaii quarantine all other travelers are ordered to follow.
As the Globe reported, Hawaii's travel restrictions are very clear:
"Effective March 26, 2020, and until further notice, there is a quarantine restriction for all in-bound visitors to the Hawaiian Islands. Hawaii Governor David Ige mandates all visitors arriving in the Hawaiian Islands to self-quarantine for 14 days, meaning all passengers traveling to Hawaii (visitors and returning residents) must self-quarantine for 14 days following their arrival."
These two in-your-face acts of Bolshevik-level political elitism should provide California residents all the evidence needed to refute, rebuff, rebuke, and reject the governor's rules for "gatherings" during the holidays. Gov. Newsom's new guidelines by the California Department of Public Health released in October, did allow for small gatherings, but no more than three households, due to the certain higher risk in spreading COVID-19.
Additionally, Gov. Newsom's four children returned to school in-the-classroom at the beginning of November at a private school in Sacramento County, while the California Teachers Association labor union continues to prevent teachers from going back to work and public school openings. Your kids and grandkids are still stuck at home, depressed, "learning" in front of a computer screen.
Gov. Newsom Monday ordered 41 California counties back into the most restrictive level of statewide lockdown, claiming his orders are not punitive. And he is also now threatening to impose a curfew across the state in time for holiday "gatherings" and celebrations, along with more specific "holiday" rules.
Despite claiming that "compliance is not punitive," his increasingly authoritarian orders are, despite more than 20 million Californians testing negative for coronavirus.
Here are the current California COVID-19 numbers:
21,068,895 Californians have been given COVID-19 tests
1,029,235 total Californians have tested positive for COVID-19
20,039,659 total Californians have tested negative for COVID-19
18,263 deaths attributed to COVID-19
The numbers of deaths today are a conflation of Coronavirus, regular flu, and those "presumed" to have been infected.
Early in March, Gov. Gavin Newsom told Californians to stay at home in order to flatten the curve of coronavirus outbreaks in order to not overwhelm our hospitals. But hospitals in California were never overwhelmed. Emergency rooms and medical practices have been largely empty for months, and the state's 422 hospital ICUs have never been overwhelmed with coronavirus patients – most report only a few patients at a time.
Many don't realize that 780 people die each day in California from other causes: cancer, motor vehicle crashes, suicides, homicides, drug overdose, and coronary heart disease is the top killer.
While California politicians and the news media are still breathless and hysterical over the coronavirus, it's as if the annual seasonal flu never happened this year. Yet the seasonal flu is also deadly nearly every year, while the media and politicians show little to no concern. And for the 2019-2020 flu season, the vaccination was only 47% effective.
Meanwhile, more than 4 million Californians are out of work, and many of those haven't received unemployment benefits.
A colleague who has been keeping a spreadsheet of the Coronavirus data in California reported this to the Globe Monday:
"The COVID situation statewide hasn't changed much at all. Our death rate is at its lowest level ever 1.79%. The hospitalization rate, though it ticked up in the past 19 days, is only .36% of those receiving a positive test. More testing = more "cases," or more accurately, more positive tests. No justification for draconian lock-downs or keeping schools and other vital societal enterprises shuttered in my opinion."
It appears that the governor cracks down on the people each time he is proven wrong. If California did not have such a "compliant" media, the governor would be grilled at each press briefing the way President Donald Trump is. The media would also examine the science and data he claims to use, and demand proof and justification of his orders.
As the Globe has reported for months, Republican Assemblymen James Gallagher and Kevin Kiley filed a lawsuit against Gov. Gavin Newsom for his "one man rule," and greatly overstepping his Emergency Services Act authority, bypassing the Legislature to create laws himself through the use of Executive Orders, having nothing to do with his management of the COVID crisis.
They have won this lawsuit.
Friday, Sutter Superior Court Judge Sarah Heckman issued her final ruling finding that Gov. Gavin Newsom abused his authority during the COVID crisis by creating state laws using executive orders, in violation of the California Constitution.
Buckle up.
Latest posts by Katy Grimes
(see all)