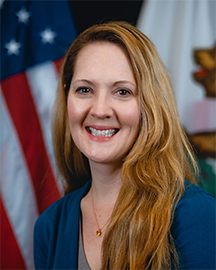 Gov. Newsom Appoints Lindsey Sin As New Secretary of Veterans Affairs
Top CalVet position has been vacant since January
By Evan Symon, May 30, 2023 5:05 pm
Governor Gavin Newsom appointed Lindsey Sin as the next Secretary of Veterans Affairs over the weekend, filling a long standing vacancy at the California Department of Veterans Affairs (CalVet).
Sin began her career in the Navy in 1997, serving though 2005 as an Arabic Linguist and Mission Supervisor. Leaving as a Petty Officer First Class, she next graduated from CSU-Sacramento before becoming the Lead Veterans Coordinator at American River College in 2008. In 2010 she left for a short stint at another Veterans position at CSU until finally being hired by Cal Vet in 2011.
Her first position at CalVet was Deputy Secretary for Women Veterans Affairs, a position she held through December 2020. During this time she also gained an MBA from Drexel University and held double duty as the Acting Deputy Secretary of Communications between 2018 and 2020. In December 2020, she was moved over and made the permanent Communications Secretary, being head of one of the most important departments in CalVet.
For much of the time she served under the CalVet Secretary Dr. Vito Imbasciani. Originally appointed by then-Governor Jerry Brown in 2015, Imbasciani was expected to continue to serve as Secretary for a long time. However, in January of this year, Imbasciani was appointed to be the new Chair of the California Institute for Regenerative Medicine (CIRM), the state agency created by voters in 2004 to invest in stem cell and regenerative medicine research and treatments.
Now with the vacancy, the position remained open the last several months until the weekend where, just before Memorial Day, Governor Newsom appointed Sin to the position.
"Lindsey is the definition of a public servant – never losing sight of who she is serving, and tireless in pursuing her mission," said Governor Newsom in a statement during the weekend. "She has dedicated over two decades of her career to our country and this state as an officer in the US Navy and a leader for veterans. She has delivered unprecedented resources to the California veterans' community, with a particular focus on equity and inclusion for the needs of our women veterans. Lindsey's unwavering care and compassion will make her a trusted leader to serve as CalVet Secretary, representing the largest population of veterans in our country."
However, the appointment itself isn't quite done just yet. As this is the head of an agency position, and it pays $232,858 annually, Sin will need confirmation from the Senate. And, despite her extensive history in veterans matters, some in the Senate could question if she is ready.
"Sin seems like a good candidate, and Veterans Affairs is one of the few departments where political leanings are usually dropped at the door because of the subject matter," explained J.T. Crawford, a veterans assistance planner, to the Globe on Tuesday. "She was a lead Veterans coordinator for a few years at a small college and was Deputy Secretary  for a long time. But there is still a question of readiness. Remember, it took her two years to be chosen as the next Communications Deputy before finally being appointed. It took her five months to be appointed here. Next in line people are usually brought up fairly quickly. Why the delay with her, you know?"
"She'll probably get in with no problem, but there are questions that need to be asked."
The vote on Sin is expected to take place soon in the Senate.

Latest posts by Evan Symon
(see all)