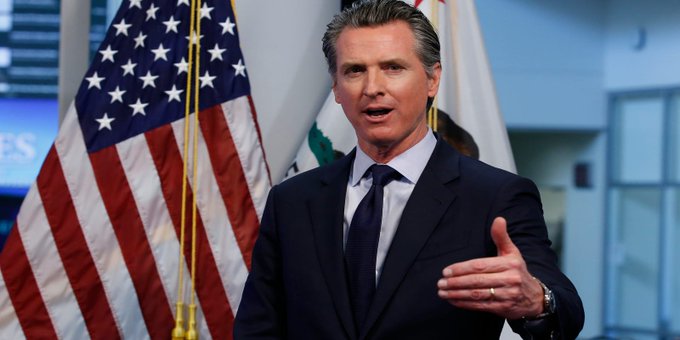 Gov. Newsom Issues Another COVID Statewide Business Lockdown
With 5.2 million testing negative for COVID in CA, what do the numbers mean?
By Katy Grimes, July 13, 2020 4:19 pm
California's Gov. Gavin Newsom has issued an order for the entire state to again close indoor businesses: Fitness centers and gyms, churches, offices, hair and nail salons and barbershops, shopping malls, restaurants, bars, museums, zoos and movie theaters are all subject to the latest lockdown. While businesses are forced to close again, the governor is also planning on letting another 8,000 inmates out of prison by the end of the month.
The governor says, "#COVID19 is not going away anytime soon and Californians must adapt to new behaviors to slow the spread." However, California's mortality rate attributable to COVID-19 is quite low in a state of 40 million residents, compared to other much smaller states. 
But what are the numbers, and why is Newsom shutting businesses back down so quickly after they recently re-opened? With testing for COVID-19 going up exponentially, positive tests are also going up, but negative tests are showing up in much higher numbers. Newsom continues to focus on the "surge" and "spike" in positive test results, which according to physicians don't actually mean that much.
Many in the state are critical of how Newsom has used the coronavirus to change society and destroy the state's economy, all while shredding the Constitution. It is inevitable that this business lockdown has become more and more political when you look at who is controlling politics in California, an Epidemiologist told California Globe. Every Constitutional officer in the state is a Democrat. The Legislature has a super super Democrat majority, and the governor is a Democrat who admitted that he was using the coronavirus to advance the left's agenda.
Effective immediately, CA is closing some indoor business operations statewide and additional indoor business operations in counties on @CAPublicHealth Monitoring List for 3 consecutive days.

📍Find the updated list of counties here: https://t.co/snYe5v55Rw pic.twitter.com/W3wBJp2ap5

— Office of the Governor of California (@CAgovernor) July 13, 2020
Just the facts
California has administered 5,544, 365 total COVID-19 tests.
329,162 Californians tested positive for COVID-19.
There have been 7,040 total deaths in California attributed to COVID.
This also means 5,215,203 Californians have tested negative for COVID-19.  But you won't find that number in media reports.
July 1st, California Globe reported, "Ahead of the July 4th weekend 'with numbers surging,' Gov. Gavin Newsom says he will tighten coronavirus restrictions and look to more strictly enforce them. There were over 100,000 Californians who tested negative for COVID-19 in one day. California for the month of June shows more than 2 million negative tests. That is up from May where we only had 1.2 million negative tests."
The same is true today – with more testing for COVID-19, there are also far more negative tests than positive, according to Johns Hopkins.
Looking around the state, the positive and negative testing numbers are similar.
San Francisco County
San Francisco City and County reports 187,600 total COVID-19 tests given.
4,590 San Franciscans tested positive.
There have been 50 deaths in San Francisco County attributed to COVID-19.
That leaves 183,010 San Franciscans who have tested negative for COVID-19.
San Francisco County's population is 879,166.
Los Angeles County
Los Angeles County reports 1,336,681 total COVID-19 tests given.
133,549 Los Angeles residents have tested positive for COVID-19.
There have been 3,809 deaths in Los Angeles County attributed to COVID-19.
That leaves 1,203,132 Los Angeles residents who tested negative for COVID-19.
Los Angeles County's population is over 10 million.
Due to increased transmissions statewide and rising hospitalization numbers, CA is taking action to slow the spread of #COVID19. https://t.co/dRjuRhDQdu

— Office of the Governor of California (@CAgovernor) July 13, 2020
Sacramento County
Sacramento County reports 125,350 total COVID-19 have been given.
5,714 Sacramento County residents have tested positive for COVID-19.
There have been 83 deaths in Sacramento County attributed to COVID-19.
That leaves 119,636 Sacramento County residents who tested Negative for COVID-19.
Sacramento County's population is over 1.5 million.
Physicians Sound Off
An emergency room physician who spoke with California Globe said even doctors are having a difficult time getting good data through their hospitals. He said trends are far more important numbers than raw numbers to study, as it gives more context. He also said while they are seeing more 20-50-year olds testing positive, they are not being admitted to the hospital.
A recent article in Off-Guardian found "the virus—like every virus in the history of mankind—is running out of people to infect."
"In this article on the CDC's new data, they also highlighted how the cascading declines in IFR has removed all the fears of doomsday:
That 'best estimate' scenario also assumes that 35 percent of infections are asymptomatic, meaning the total number of infections is more than 50 percent larger than the number of symptomatic cases. It therefore implies that the IFR is between 0.2 percent and 0.3 percent.
By contrast, the projections that the CDC made in March, which predicted that as many as 1.7 million Americans could die from COVID-19 without intervention, assumed an IFR of 0.8 percent. Around the same time, researchers at Imperial College produced a worst-case scenario in which 2.2 million Americans died, based on an IFR of 0.9 percent."
The author reported "COVID-19 virus is on its final legs, and while I have filled this post with graphs to prove everything I just said, this is really the only graph you need to see, it's the CDC's data, over time, of deaths from COVID-19 here in the U.S., and the trend line is unmistakable:
"If virologists were driving policy about COVID-19 rather than public health officials, we'd all be Sweden right now, which means life would effectively be back to normal."
The United States
John Hopkins statistics report 40,282,176 total tests for COVID-19 given throughout the country.
There are 3,291,969 confirmed positive tests.
The United States has 135,000 deaths attributed to COVID-19 as of Monday.
That leaves 39,990,207 total Negative tests in the U.S. for COVID-19.
New coronavirus 'cases' shouldn't be focus —  hospitalizations and deaths matter says Stanford doctor
Dr. Scott Atlas of Stanford University's Hoover Institute, has been doing a superior job of explaining why Americans shouldn't be fearful of the increase spread of coronavirus.
"When you look all over at the states who are seeing a lot of new cases, you have to look at who is getting infected because we should know by now, that the goal is not to eliminate all cases, that's not rational, it's not necessary, if we just protect the people who are going to have serious complications," Atlas told KUSI in San Diego recently. "We look at the cases, yes there's a lot more cases, by the way they do not correlate in a time sense to any kind of reopening of states. If you look at the timing, that's just a misstatement, a false narrative. The reality is they may correlate to the new protests and massive demonstrations, but it's safe to say the majority of new cases are among younger, healthier people."
Dr. Atlas also said that there's been too heavy of a focus on an uptick in cases, "especially in places where governors either have reinstated or have further enforced restrictions," Fox News reported. "When we see this focus on more cases, it doesn't really matter how many cases — it only matters who gets the cases. We know that the infection-fatality rate for people under 70 is 0.04 percent — that's less than or equal to the seasonal flu," he said.
Johns Hopkins has a comparison of the states:
| | | | |
| --- | --- | --- | --- |
| Alabama | 10271 | 1063 | 22.8 |
| Alaska | 19442 | 188 | 2.3 |
| Arizona | 9537 | 1672 | 30.0 |
| Arkansas | 12265 | 925 | 10.6 |
| California | 13337 | 806 | 17.8 |
| Colorado | 6775 | 642 | 30.3 |
| Connecticut | 15624 | 1324 | 121.7 |
| Delaware | 13867 | 1318 | 53.5 |
| District of Columbia | 17659 | 1538 | 80.9 |
| Florida | 11621 | 1195 | 19.7 |
| Georgia | 10123 | 1088 | 28.5 |
| Hawaii | 6493 | 84 | 1.3 |
| Idaho | 6975 | 599 | 5.8 |
| Illinois | 15267 | 1209 | 57.8 |
| Indiana | 8341 | 763 | 41.2 |
| Iowa | 11671 | 1098 | 23.7 |
| Kansas | 7480 | 642 | 10.1 |
| Kentucky | 9800 | 428 | 13.9 |
| Louisiana | 19838 | 1648 | 73.0 |
| Maine | 8848 | 263 | 8.4 |
| Maryland | 10414 | 1199 | 54.8 |
| Massachusetts | 13711 | 1614 | 120.4 |
| Michigan | 12746 | 764 | 63.2 |
| Minnesota | 13225 | 741 | 27.4 |
| Mississippi | 11195 | 1186 | 41.2 |
| Missouri | 7746 | 451 | 17.8 |
| Montana | 10671 | 158 | 2.7 |
| Nebraska | 10566 | 1088 | 14.8 |
| Nevada | 11246 | 884 | 19.5 |
| New Hampshire | 9753 | 444 | 28.8 |
| New Jersey | 18648 | 1964 | 174.3 |
| New Mexico | 19260 | 705 | 25.9 |
| New York | 23594 | 2052 | 165.5 |
| North Carolina | 11326 | 808 | 14.6 |
| North Dakota | 15900 | 558 | 11.4 |
| Ohio | 8410 | 549 | 26.0 |
| Oklahoma | 10647 | 502 | 10.7 |
| Oregon | 6972 | 283 | 5.5 |
| Pennsylvania | 7124 | 775 | 53.9 |
| Puerto Rico | 6324 | 293 | 5.2 |
| Rhode Island | 15762 | 1637 | 92.3 |
| South Carolina | 9600 | 1076 | 18.7 |
| South Dakota | 10157 | 845 | 12.4 |
| Tennessee | 14876 | 901 | 10.9 |
| Texas | 8465 | 886 | 10.9 |
| Utah | 12823 | 913 | 6.7 |
| Vermont | 11980 | 205 | 8.9 |
| Virginia | 9232 | 819 | 23.0 |
| Washington | 8871 | 520 | 18.9 |
| West Virginia | 11287 | 230 | 5.3 |
| Wisconsin | 11793 | 614 | 14.1 |
| Wyoming | 6909 | 318 | 3.6 |
Latest posts by Katy Grimes
(see all)