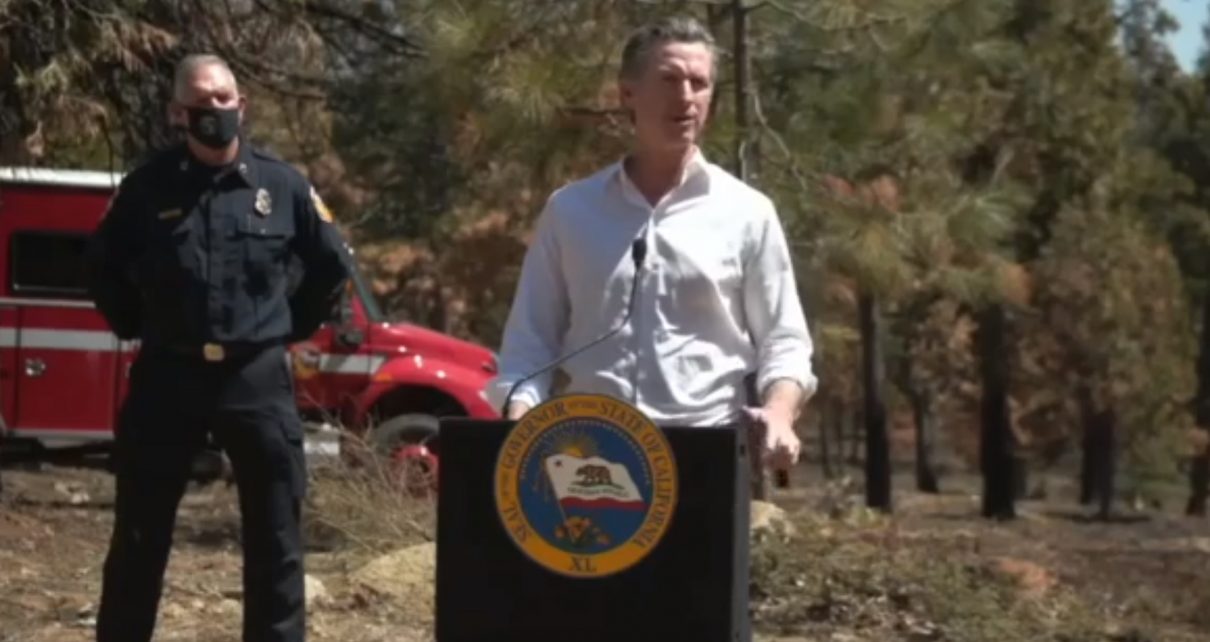 Gov. Newsom, Legislature Reach $536 Million Deal for Wildfire Prevention
'This is a big, serious issue and while we're doing something it just isn't enough'
By Evan Symon, April 8, 2021 5:45 pm
Speaking from Shaver Lake in Fresno County and surrounded by California Conservation Corps members, Governor Gavin Newsom announced that he had reached a deal with the state legislature to allocate $536 million for forest management and wildfire reduction projects on Thursday.
The deal, confirmed by both Assembly Speaker Anthony Rendon (D-Woodland Hills) and Senate President Pro Tem Toni Atkins (D-San Diego), triples the current $200 million yearly spending on wildfire prevention when paired with the recently authorized $80 million allocated to hire 1,400 additional California Department of Forestry and Fire Protection (Cal Fire) fire fighters.
Newsom and both houses approved of the large spending increase due to the increasing risk of wildfires across the state and to prevent massive human and monetary losses due to wildfires in the coming wildfire season. The $536 million would fund forest maintenance, tree thinning, home hardening, and other wildfire prevention measures.
"With California facing another extremely dry year, it is critical that we get a head start on reducing our fire risk," said Newsom, Senator Atkins and Assemblyman Rendon in a joint statement Thursday. "We wanted to move forward more aggressively to immediately allocate more than half the $1 billion that he had sought to spend starting in the second half of the year. That will get these projects moving so we're prepared for this upcoming wildfire season."
In a separate statement, Senator Atkins added that for every dollar put into prevention, the state saves  nearly $7 in damage reduction.
"For every dollar we spend on wildfire prevention, our state saves $6 to $7 in damage. But it's not just about saving money – this is about saving Californians' lives, their homes, and their livelihoods," Senator Atkins said. "We've already had a wildfire break out in the San Gabriel mountains this month, and we're heading into a summer of hot, dry weather with another drought upon us. This is an investment that is needed now more than ever, and I appreciate my colleagues' hard work on this effort, as well as the partnership of Speaker Rendon and Governor Newsom."
The $536M Wildfire Prevention and Resiliency package is an investment that is needed now more than ever.

Every $ spent on prevention saves CA $6-7 in damage. But, this is about more than money. It's about lives, homes, and livelihoods.

Find details: https://t.co/ZLZTe4vpzK pic.twitter.com/PSSMvRHTCQ

— Senator Toni Atkins (@SenToniAtkins) April 8, 2021
Many lawmakers, experts say that additional funding is not enough to combat wildfire threat
However, the decision was far from unanimous. Many lawmakers noted that Newsom's $536 wildfire spending boost isn't enough and doesn't direct enough funding to rural areas, which are usually the most vulnerable areas.
"The Governor's efforts, while appreciated, are quite simply not enough and do not recognize the urgency of the situation," said Assemblyman James Gallagher (R-Yuba City) after the Governor's announcement.
Others noted that climate change itself isn't being tackled in the allocation.
"The science is clear: Warming winter temperatures and warming summer temperatures are creating more dangerous and challenging wildfire conditions," explained California Natural Resources Secretary Wade Crowfoot on Thursday. "Clearly much more needs to be done on a proactive, upfront basis to reduce the risk of catastrophic wildfire."
"We can't sugarcoat the fact that this summer is going to be challenging. We are just getting out of our second consecutive dry winter."
Firefighters also reacted to the $536 million allocation on Thursday with mixed feelings.
"I'm glad more is going into this and that we're putting more guys out there," wildfire fighter Steve Key told the Globe on Thursday. "But this is going to be one of the driest years on record. We've been begging for more help for years too. We need more frankly. It's not a greed thing. This is a big, serious issue and while we're doing something it just isn't enough."
Additional funds, similar to the added $80 million for more firefighters, may be added thanks to a large budget surplus before the new state budget needs to be approved by the end of June.
"I know that is rainy day money," added Key. "Especially after a COVID-19 year and just spending and lost money everywhere. But it's the lack of rain that is making us ask for more. It's dry day money we need."

Latest posts by Evan Symon
(see all)