LA City Council To Vote on Public Homeless Encampment Prohibition Ballot Measure
New poll finds 64% of Los Angeles residents support Councilman Joe Buscaino's plan
By Evan Symon, November 23, 2021 11:53 am
The Los Angeles City Council will decide on Tuesday whether or not to pass a motion that would place an initiative on the June 2022 primary ballot to prohibit all homeless encampments in public areas in the city if they had been offered shelter first.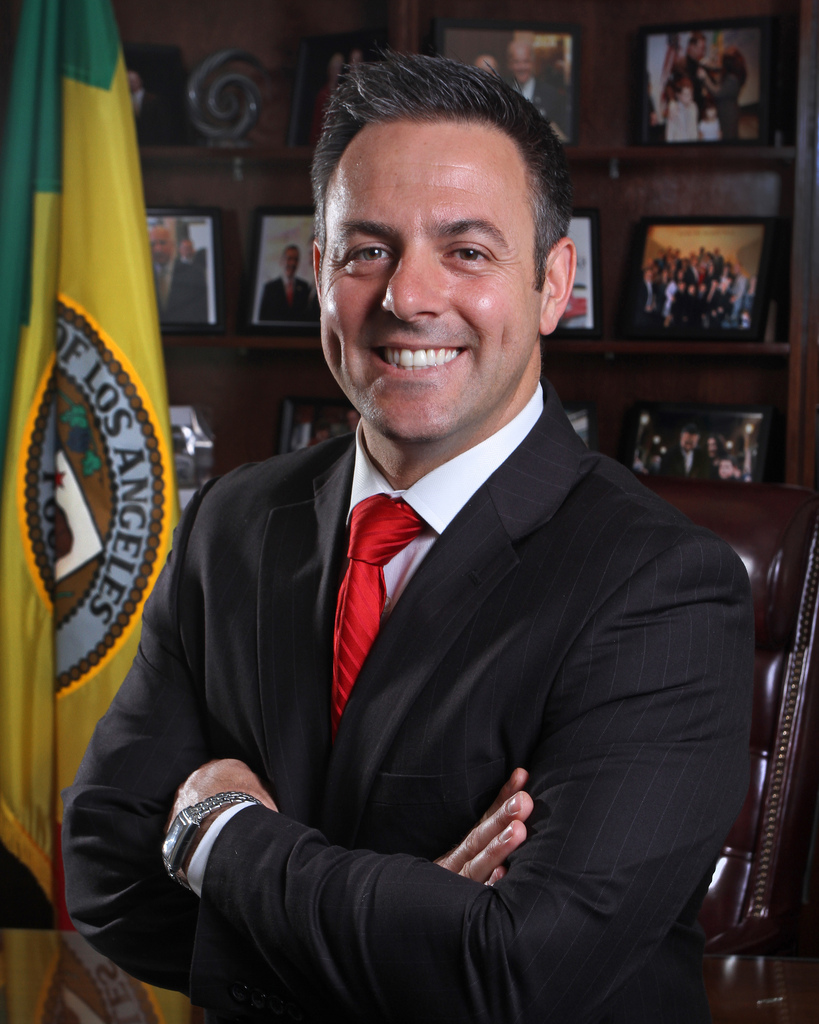 The proposal, made by Councilman and mayoral candidate Joe Buscaino, would significantly expand upon the homeless encampment limiting laws passed by the Council earlier this year in July and October. Specifically, Buscaino's proposal would reprioritize city homeless funding for temporary shelters over long-term housing, with the Mayor being given additional power to build more emergency homeless housing. The biggest part of the proposal, however, would be to create the ordinance that would ban all "camping" in public areas if shelter space was offered.
Buscaino, who has been a major proponent over removing homeless encampments in public areas to increase public safety and restore public areas overrun by homeless encampments for public use, wants a "FEMA-like" response by physically housing people with interim housing to expand shelter options rather than limit options with other approaches.
Last week, an ALG Research poll found that 64% of Los Angeles residents support Buscaino's plan, with above 50% support coming from across the political spectrum, and across every major group of voters based on race, gender, and age.
"New polling shows my homelessness ballot measure has 64% support citywide," tweeted Buscaino.
New polling shows my homelessness ballot measure has 64% support citywide. https://t.co/7pXZ5QOkUK pic.twitter.com/boEogA2qCf

— Joe Buscaino (@JoeBuscaino) November 19, 2021
Buscaino has also gotten support from many fellow Council members, including Councilman John Lee, who seconded the ballot measure motion.
"I believe the city needs to address root causes of homelessness, but while we do, we need to get people off the streets because being on the streets will only exacerbate the challenges our unhoused residents face," Lee said last week.
Support for, opposition against homeless encampment ballot measure proposal
While there is much support for Buscaino's proposal, two Councilmen, Mike Bonin and fellow mayoral candidate Kevin de Leon, lead the opposition against it.
De Leon said on Monday in a statement that he opposes the proposal because of the cost to taxpayers and because a lack of longer-term housing would not alleviate the problem, only forcing homeless residents into more of a shelter-to-street sort of cycle.
"Since the City Council is actively moving forward policies to address homeless encampments through strategic outreach and housing for people in need, a ballot measure seems the wrong approach," said de Leon on Monday. "The fact is that a ballot measure would be extremely costly to taxpayers and would likely result in a continuation of the litigation merry-go-round that's kept the city from implementing real solutions."
Meanwhile Councilman Bonin, who was formerly homeless himself and was one of two Councilmembers to vote against the initial homeless encampment ban ordinance in July, said last week that permanent housing needed to be the focus to end homelessness, as relying on a temporary shelter system and outlawing tents would only keep up the homeless crisis in the city.
"Everyone in L.A. will win when we help unhoused people move off the streets permanently through housing and needed services," said Bonin in a statement on Friday. "Everyone in L.A. will suffer if we keep promoting failed, expensive strategies that rely on enforcement and a broken shelter system. Outlawing tents doesn't end homelessness. Housing people does."
In a tweet this weekend, Bonin added that "We can make LA a place where everyone has a home — and we must fight the failed policies that make homelessness worse and push encampments from block to block."
Political experts noted that despite being a potentially major piece of city legislation over one of the main issues in Los Angeles today, much of the fight has to do with the upcoming Mayoral election, as the proposal would place the vote over the measure on the June primary voting day – the same day as the LA Mayoral primary.
"You do have a lot of passed ordinances this year and the beginning of removing encampments from many public places," noted Los Angeles social expert and political advisor Robert Cruz to the Globe on Tuesday. "But the timing of it all, well, it's just too coincidental. Many voters would vote by association, because you bet Buscaino would use this in advertisements leading up to the primary. I can't say that this was intentional on his part, but what I can say is that having that homeless measure on the ballot would help him out significantly."
"Right now the race in June is essentially who can get enough to face [Congresswoman Karen Bass (D-CA)], as she is the current frontrunner and has the most name recognition. Buscaino would be seen as a major proponent of removing homeless encampments  in LA, while many other candidates oppose it. And as we've seen in polls, most people prefer the encampments being prohibited in public places if they were given a choice first."
"Plus, a lot of voters have not seen where that $1.2 billion from Proposition HHH 5 years ago went to to boost homeless housing. They want a different approach now, especially with the Olympics less than seven years away now. So Buscaino can kill two birds with one stone in June and maybe even pull a darkhorse victory come next November."
"There's a lot more riding on the Council vote today than just putting the homeless encampment measure on the ballot next year."
According to the Los Angeles Homeless Services Authority, the city currently only has enough shelter beds for about 39% of the homeless population in the city.

Latest posts by Evan Symon
(see all)