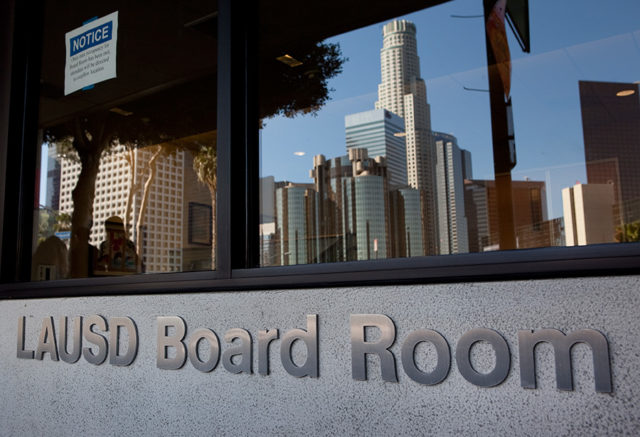 LA School District Board Votes That District Can Sue State Over Gov. Newsom's Reopening Plan
COVID-19 levels, unfair funding incentives, LAUSD cites as concerns
By Evan Symon, January 13, 2021 6:09 pm
On Tuesday, the board of the Los Angeles Unified School District (LAUSD) voted unanimously to sue California if the state decides to continue on with Governor Gavin Newsom's reopening plan.
Announced in late December, Governor Newsom currently calls for a $2 billion plan to be put into action. The plan would open up kindergarten through second grade classrooms as soon as early February, with all other grades 3-12 having in-classroom instruction by early Spring.
However, school superintendents from some of the largest school districts have opposed the plan, noting that poorer areas and larger districts with higher than average COVID-19 rates would likely not be ready. Many districts have also recently put out press releases saying that a slow vaccine rollout, in addition to COVID rates continuing to climb in many counties, would keep people in danger until at least mid-2021.
The LAUSD board agreed. With the state now possibly forcing the schools districts hand due to more incentives by the state to open back up despite great public health risk, the board voted 7-0 to give the district the right to sue the state at any time.
"The Board of Education authorized litigation against the state of California, state entities and public officials related to the California Safe Schools for All framework," said LAUSD board executive officer Jefferson Crain on Tuesday following the closed session vote.
A follow up statement by the LAUSD clarified that the vote was not meant as an immediate declaration to sue and that they hoped to avoid court.
"We hope to avoid the need to seek legal action," said the LAUSD on Wednesday.
Issues with remote learning, other LAUSD problems
Advocates for in-school classes returning have noted that remote learning has been largely ineffective, with studies and surveys finding that it didn't work last spring semester when it was instituted. Advocates also point out that Governor Newsom is not forcing schools to reopen, especially in harder hit areas, and only wants the $2 billion program as an incentive to bring all schools that are ready back to in-class learning.
"It's a disaster," Bakersfield teacher Tiffany O'Malley told the Globe. "A lot isn't sticking, and it's impossible to control smart phone usage, internet issues, and other factors. They need to be back in the classroom, because that's simply the best place to teach. Kids also need to socialize, especially now after almost a year of isolation."
However, districts like Los Angeles are countering that reopening sooner could only increase the spread of COVID-19, and that Governor Newsom's incentives would only apply to schools ready to open, which are often in wealthier districts or in more rural counties.
"Safe Schools for All – there's a contradiction of terms," Los Angeles coach and teacher William Barkley said in an interview with the Globe. Our hospitals are barely operating now with so many cases, new COVID hotspots are spreading this like wildfire, and our kids have learned a new normal. So now they want us to either risk illness and death to reopen schools and get needed funding, or skip out on the funding and remain closed but also stay healthy. There's no good option here. I want what's best for children, but what is it? Bring them back to normal schooling or keep them and their families safe from COVID?"
In a non-partisan study, the Legislative Analyst's Office found that Governor Newsom's timeline is "likely unfeasible" due to current COVID-19 rates across the state and every district have a mix of hard hit by COVID-19 areas and areas that have been mainly infection free.
Complicating matters is additional possible litigation approved on Tuesday over getting back money over paying for meals for students during the pandemic out of pocket, a service that is usually funded in part by the state.
"Yeah, it's not just getting kids back to school," added Barkley. "We also want money back for feeding them remotely too. Free school lunches are still in there by law, because for some kids, this is their only meal of the day. And if they stayed home, well, I don't like to think about it.
"We're literally asking for money for keeping kids alive when the state dropped the ball."
As of Wednesday, the Governor nor the state has responded to the possible LAUSD litigation. In-person classes in some schools in grades K-2 are still scheduled to reopen as early as February 16th.

Latest posts by Evan Symon
(see all)