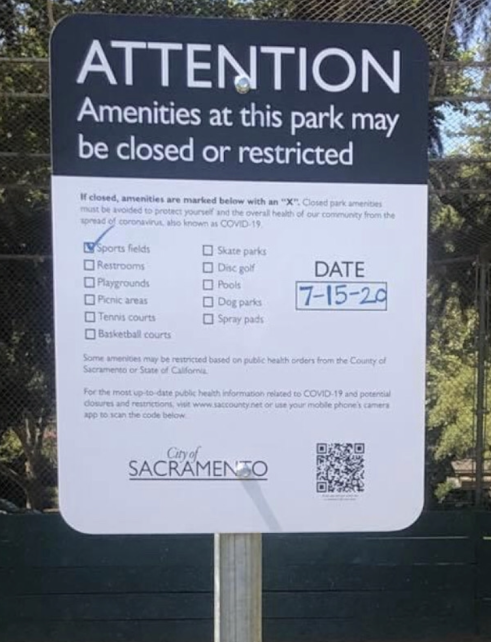 Mayor Darrell Steinberg's Sacramento Cancels Little League
'Many teams and leagues used the fields safely'
By Katy Grimes, July 17, 2020 12:17 pm
Just when Sacramento residents thought a little bit of normal was back with little league teams practicing, the City has shut it down.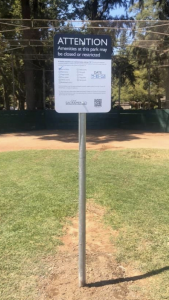 But it wasn't just shut down, and the kids sent home to play another day… the City cemented big metal signs into each mound of the baseball diamonds in William Land Park's Dooley Field announcing that the sports fields were closed.
A parent posted a message on social media showing just how vindictive the City of Sacramento is:
"City of Sacramento ended all baseball games and practices at William Land Park as of yesterday. They literally cemented this sign into every mound. My son's travel ball team has been utilizing the fields since March without any issues. Many teams and leagues used the fields safely. Apparently, the neighbors got together and pressured the city to take action. Talk about making a statement. Our boys were devastated at practice today. Let the kids play!"
There have been neighbors who incessantly complain about the congested parking around the regional park during baseball season, leaving some to speculate that they seized the COVID crisis to shut down baseball and parking near their streets and homes. Other neighbors say it is a group of busy-body mask-wearing "Karens" who pressured the City into closing the ball diamonds.
Whichever it is, this is Sacramento Mayor Darrell Steinberg's Sacramento. Sacramento County Health Services Director Dr. Peter Beilenson, along with the City and Mayor, have been encouraging neighbors to rat out other neighbors and local small businesses for not wearing masks or complying with state, city and county COVID orders.
Sacramento "health" orders have been restrictive. Even exercising outdoors is limiting – although ironically it says nothing about public park baseball facilities:
CAN I GO OUT TO EXERCISE?
Yes, certain outdoor recreation activity is allowed, including, by way of example and without limitation, walking, hiking, biking, running or equestrian activities, in compliance with social distancing requirements. However, use of recreational facilities that encourage gathering, including, but not limited to, playgrounds, outdoor gym equipment, picnic areas, barbecue areas, tennis and pickle ball courts, rock parks, climbing walls, pools, spas, shooting and archery ranges, gyms, disc golf and basketball courts is prohibited outside of residences.
This absurd edict is reminiscent of actor Alan Rickman's Sheriff of Nottingham in the 1991 movie Robin Hood: Prince of Thieves, when he says, "Cancel the kitchen scraps for lepers and orphans, no more merciful beheadings, and call off Christmas."
Here are some of the other FAQs the City of Sacramento lists from its April orders:
I. THE STAY-AT-HOME ORDERS
WHAT DO THEY DO?
Basically, the orders require everyone to stay at home as much as possible so we can maintain a physical distance from one another. This means that everyone is required to stay at home, except when it is necessary to get food, services, supplies, care for a relative or pet, get health care for yourself or a family member, engage in limited outdoor activity, or go to work for certain essential businesses. It's OK to order food from restaurants for pick-up or delivery.
This also means that when you are not at home, you must practice social distancing by staying at least six feet away from other people, even when outdoors.
Read the full Sacramento County Public Health Order.
Read the full State of California Order.
WHY ARE WE DOING THIS?
This is necessary to reduce and slow down the spread of the coronavirus in our community.
Now is the time to do everything we can to prevent the situation from getting much worse. We need and appreciate the cooperation of everyone who lives and works in Sacramento to act immediately.
If everyone works together, we should be able to adjust to the new rules over the next few weeks. We know that there will be a lot of questions and concerns. This is a major step being taken to protect public health.
Please be patient and kind to one another. Together, we will get through this, and our community's health will be protected.
HOW LONG WILL WE NEED TO STAY HOME?
We will need to stay at home as long as it is necessary to meet public health challenge before us. State and County public health officials will notify the public when the stay-at-home orders are no longer needed.
WHERE DOES THIS APPLY?
The State order is in effect across all of California; the County of Sacramento also issued an order for the county.
IS THIS MANDATORY OR IS IT JUST A RECOMMENDATION?
Yes, it is mandatory. These are legal orders issued under the authority of California law. You are required to comply, and it is a misdemeanor crime not to follow the order (although the intent is not for anyone to get into trouble; the goal is to protect the community from the spread of COVID-19).
The Sacramento Police Department and the Sacramento County Sheriff's Department have said they are not making traffic stops, or stopping individuals, solely for the purpose of determining where they are going or if people are conducting essential business.
Nevertheless, it is critical for everyone to follow the orders to prevent the spread of COVID-19 and protect themselves, their loved ones, friends, neighbors and the entire community.
All persons, businesses and other entities are required to comply.
II. GUIDANCE FOR RESIDENTS
WHAT CAN I DO UNDER THE ORDERS?
First of all, please continue to do the following:
Wash your hands with soap and water for at least twenty seconds or use hand sanitizer, as frequently as possible.
Cover your coughs and sneezes (into your sleeve or elbow, not into your hands).
Clean frequently touched surfaces regularly.
Do not shake hands.
CAN FRIENDS AND FAMILY COME IN FOR A SOCIAL VISIT?
No. For your safety, their safety, and the safety of the community, everyone should stay at home to slow down the spread of COVID-19 and avoid people outside of your household.
CAN WORKERS COME IN TO DO REPAIRS TO MY HOUSE?
Yes, plumbers, electricians and exterminators may keep working and providing their services to the public, provided such services are necessary for the operation of your home.
CAN I GO OUT TO GO SHOPPING?
Yes, but only to go out to get food and essential supplies.
Stores that sell food are allowed to say open. This includes, grocery stores, farmers' markets, food banks and convenience stores. You can also order food for delivery or takeout from restaurants that provide it.
You may also go out to stores that sell household consumer products such as cleaning supplies, personal care products and hardware.
While you are out, practice social distancing by staying at least six feet from other patrons while shopping and waiting in line.
CAN I GO TO MY PLACE OF WORSHIP?
No. For your safety and the safety of your fellow worshippers, we need to help each other fight the spread of COVID-19 by staying at home. Places of worship can offer remote access to services, such as by emails, video streaming or teleconference.
Be sure to add under restricted activities, "Anything fun."
Latest posts by Katy Grimes
(see all)