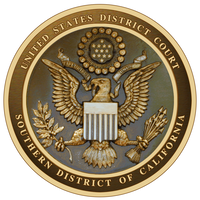 More Than 45 San Diego County Business Sue Gov. Newsom, State Over Lockdowns In New Lawsuit
Businesses also argue that the COVID-19 state of emergency is illegal
By Evan Symon, April 1, 2021 6:28 pm
A lawsuit filed by more than 45 small business in San Diego County filed a lawsuit on Wednesday against Governor Gavin Newsom and other state and local officials to end enforcement on all COVID-19 restrictions, essentially ending state of emergency orders.
The plaintiffs, led by the Re-Open San Diego Small Business Coalition and the named client, Pine Valley House Resort, argue that the COVID-19 restrictions against restaurants, gyms, and other small businesses violates the California Constitution, as well as the 1st, 5th, and 14th Amendments of the U.S. Constitution, specifically naming violations of the due process and equal protection clauses of the 14th Amendment. They also argue against the state of emergency itself, saying that it is illegal and should be ended.
"The goal of the lawsuit is to obtain an injunction for relief, barring enforcement of all COVID restrictions by the county of San Diego, city of San Diego and state of California," explained the plaintiff's lawyer, Gary Kreep, on Wednesday. "We believe that the emergency proclamation was never properly issued. We believe that when a judge who is willing to base his or her ruling on the Constitution reads this, they're going to issue an injunction and force the state to come up with some pretty dang, good evidence why these restrictions should continue. That could happen in as little as 30 to 60 days, hopefully a lot sooner."
Like most other cities across the U.S. and the world, small businesses in San Diego have been hit hard by lockdown and restrictions resulting from the COVID-19 pandemic last year. The decimation of the tourism industry alone has cost businesses most of the $11.6 billion annually spent by tourists in the city, and has taken away most of the $885 million in state and local taxes generated by the industry. Major draws, such as the MLB's San Diego Padres and Comic-Con, did not draw anyone last year due to crowd restrictions, with the Padre's Petco Park becoming a vaccination center and the San Diego Convention Center, which hosts Comic-Con annually, becoming a homeless shelter and, later, a migrant holding center.
State, county expected to argue for restrictions because of continued COVID-19 public health concerns
However, state and local officials, such as state public health representatives and San Diego Mayor Todd Gloria, are expected to argue in favor of the state of emergency due to the overwhelming health risks of the COVID-19 pandemic.
"Every lawsuit that has come up, whether it was for business reopenings or for bringing kids back to school or whatever, public health has been the main argument. Every time," explained  Diane Mooney, a legal advisor who has advised small businesses on complying with state and local health laws when reopening, to the Globe. "California has lost over 55,000 to COVID-19 deaths, with millions more being infected. All the defense has to do is point out what the current rates are and how reopening would increase deaths and people contracting it.
"There's been a few successes for reopening early, but it's been very few, with most being overturned within a week or two. It's hard to argue against an increase of deaths, even with entire industries on the brink of going under."
Similar reopening lawsuits in San Diego County in November 2020 and in February failed largely because of the risk of more people contracting COVID-19 should the lockdown and restrictions end. While a December lawsuit was successful in allowing restaurants to open up again that month, a higher court quickly overturned the ruling.
However, unlike the numerous previous rulings which were held in state courts, Pine Valley House Resort, LLC et al v. Gavin Newsom was filed with the United States District Court for the Southern District of California. Lawyers for the plaintiffs noted that political pressure often put upon state judges would not be a factor to federal judges who are appointed for life.
"We think we'll get a better review of the constitutional issues that are involved in the case. That's number 1," added Kreep. "Number 2, state court judges have to run for election every six years, so they're subject to political pressure from politicians and special interest groups, whereas federal judges are appointed for life."
Pine Valley House Resort, LLC et al v. Gavin Newsom is expected to be heard in U.S. District Court later this year.

Latest posts by Evan Symon
(see all)