PG&E Warning More 'Public Safety Power Shutoffs' in Northern CA
None of the nine Bay Area counties are included
By Katy Grimes, October 9, 2020 9:03 am
Pacific Gas & Electric Co. announced Thursday that "Public Safety Power Shutoffs" would take place Sunday and Monday in northern California and Sierra foothills.
However, not one of the nine Bay Area counties are included, MSN reported, despite that CalFire reports that the Glass Fire in Napa County is still "active," with 67,484 Acres destroyed, 280 structures damaged, 1,545 structures destroyed, and only 74% containment.
PG&E explains: "A warming and drying trend will then commence next week as high pressure builds across California. This pattern could also lead to the development of offshore winds around the middle of next week and will be monitored closely. Although the cooler weather and potential for precipitation this weekend will allow fuels to recover some moisture, fuels are expected to quickly dry out once warmer conditions return next week. Fire danger remains seasonably high."
What is interesting about this is the excessive caution PG&E currently exhibits whenever winds are predicted.
However, and perhaps even more interesting is how PG&E currently mitigates hazards near their power lines.
Recently PG&E cut several trees down on my property in El Dorado County (below). These trees had been marked for removal because PG&E deemed them too close to their transmission lines.
But, PG&E left the downed trees on my property. They used to remove the downed trees so as not to contribute to the excess vegetation in the forest. Now they are contributing to it, despite taking measures to prevent transmission lines from being downed by trees.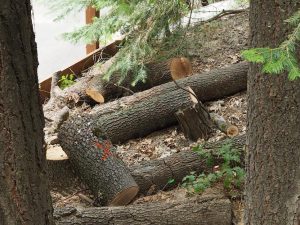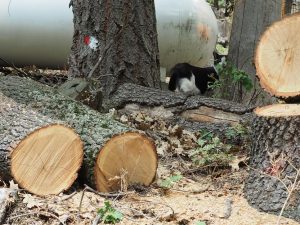 PG&E's map allows you to type in a location and see how windy it is.
What is a Public Safety Power Shutoff?
According to PG&E, "High temperatures, extreme dryness and record-high winds have created conditions in our state where any spark at the wrong time and place can lead to a major wildfire. If severe weather threatens a portion of the electric system, it may be necessary for PG&E to turn off electricity in the interest of public safety. This is known as a Public Safety Power Shutoff (PSPS)."
Latest posts by Katy Grimes
(see all)