Republican Veteran Aja Smith Running For Congress Against Democrat Incumbent Mark Takano
Omar, Tlaib and Ocasio-Cortez are not the face of American women
By Michelle Mears, September 16, 2019 2:15 am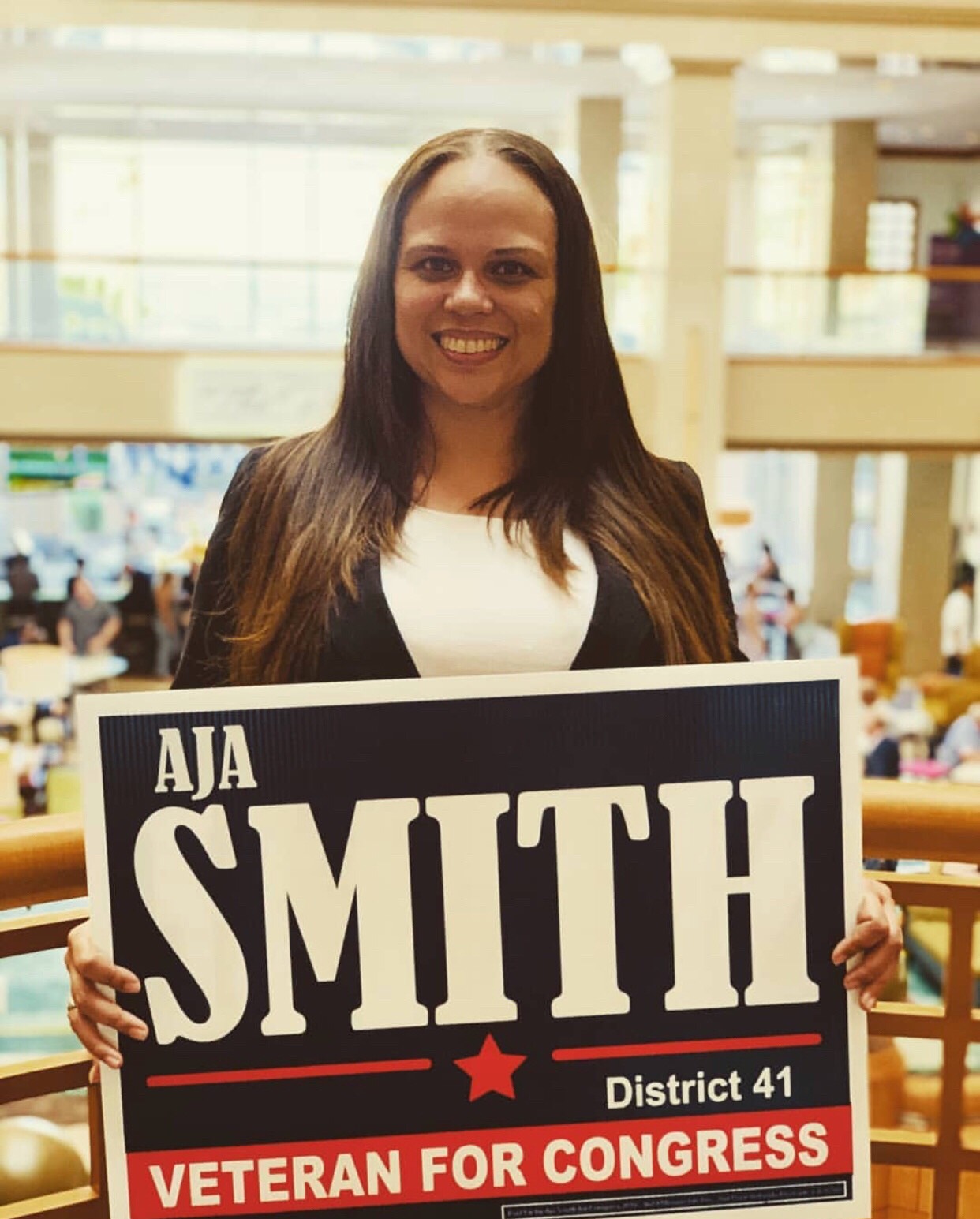 Air Force veteran Aja Smith is seeking a rematch in 2020 against incumbent Rep. Mark Takano (D-Riverside). Smith, a Republican who grew up in Moreno Valley formally announced her candidacy in the 41st Congressional District, with the California Globe at the CAGOP Convention in Indian Wells.
In 2018, when Smith first ran for congress she was new to the political scene and admits name recognition was her biggest hurdle.
Takano has been in office since 2012 and in 2018 he won with 66 percent of the vote.
"In 2018 I was building momentum in the polls it was a great experience. But, we were blindsided by the ballot harvesting," said Smith who reported in the primary she had 41 percent of the votes, but in November Takano took 66 percent of votes.
Ballot harvesting affected many races in 2018 and took the Republican Party by surprise. Ballot Harvesting is a practice where organized people collect absentee ballots from certain voters and drop them off to polling places. It is a controversial practice banned in most states and some consider it election stealing or opening the election system up to fraudulent votes.
Ballot Harvesting was made legal in California in 2016 by the California Legislature and Gov. Jerry Brown who signed into law a change to Section 3017 of the Election Code. This change allows anyone to collect mail-in ballots. Prior law allowed only relatives or those living in same household as voter to turn in the ballots.
Smith said her campaign today is better prepared to battle against Takano. As a veteran, Smith's military training taught her that losing a battle doesn't mean you lose the war and she is back, ready to fight for her country.
"National security and public safety are the two biggest reasons I am running for congress," said Smith.
"Takano is ignoring the real issues in our district. We need to focus on the homelessness, lowering taxes, fixing our borders and supporting our local military community," said Smith. "Takano is committed to wasting resources trying to impeach Trump."
In August, Takano announced in a video statement his plan to move forward with an impeachment inquiry against President Donald Trump.
"This campaign we plan to reach out to the churches, not just the mega churches, but the smaller churches… we need to start talking to them," said Smith. 
"The church community is large in my district — we have over a hundred. Christian rights are being taken away such as pro life, as the democrats support infanticide. Then there is the sex education, and the push for drag queen story hours," said Smith. "Because of these issues the churches need to be involved. They are conservative in values and our religious freedoms can be taken away."
California took away a religious right in 2015 with the passing of SB 277 banning vaccine medical exemptions based on religion. The state also passed laws in 2019 allowing schools to teach sex education that conflict with religious views.
Smith is also outraged that Takano was promoting Drag Queen story hour in his district. Smith, whose great uncle was a Tuskegee Airman, believes Congressional leaders should be encouraging children to learn about historical figures that can be inspirational, and not sexual.
Smith also said her experience in the Air Force allows her to better represent the district. Smith pointed out that Takano is not a veteran, yet serves in a district that is home to March Air Reserve, and he serves on the the House Committee on Veteran Affairs. 
Smith feels her military experience will help her achieve success with Veterans affairs in congress, "We still have a high rate of suicide among our veterans. I have had friends commit suicide. I want to get to the core of the problem so they wont check out like they have," Smith said. She said she wants to also increase the accessibility of outside services for veterans.
"National security is my top federal concern. Our borders are open – we must secure our borders," Smith said." My opponent supports open borders. He doesn't fight enough for legal immigration. He wants everyone to bypass the system. This supports sex trafficking, drugs, gun runs, it harms the community. His stance on immigration harms our children."  Smith has a background in anti-terrorism.
When asked about working with the Democrat women in Congress, and in particular those who President Trump nicknamed "The Squad," Smith said, "I am an American. We need to look at American values. What congresswomen Omar, Tlaib and Ocasio-Cortez support goes against our Constitution and values as Americans. Those women are not the face of American women. They are the face of an agenda that goes against western values," added Smith.
California's primary will be March 3, 2020. The top two candidates regardless of party will advance to the November Election.
Latest posts by Michelle Mears
(see all)