Sacramento Citizens' Group Calls for Investigation into Council Member Katie Valenzuela's 'Slush Fund'
'Council member Valenzuela is using her slush fund to benefit her political allies, staff and herself, not our neighborhoods'
By Katy Grimes, August 2, 2022 7:46 am
"For a Better Sacramento," a citywide citizens' group, called on Sacramento city officials Monday to investigate Councilwoman Katie Valenzuela's possible misuse of taxpayer dollars in her city office account.
According to information obtained in a California Public Records Act request of Valenzuela's expenses, she used taxpayer funds to pay for multiple donations to a group that promoted a "Fuck the Fourth" rally on July 4th(Instagram),  "plants for the Office to create a peaceful environment," and "compensation for the unhoused" who the councilwoman says "met with our office to conduct interviews."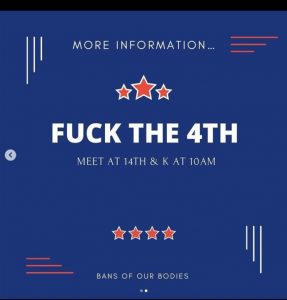 "Council member Valenzuela is using her slush fund to benefit her political allies, staff and herself, not our neighborhoods," For a Better Sacramento's John Frias Morales said in a statement Monday. "These discretionary funds of taxpayers are intended to be used to improve our city, not carry out her political agenda."
According to the public records, Valenzuela made multiple donations of $1,360, $500, and $430 to the NorCalResist fund. The group's Instagram feed includes promotion of events criticizing law enforcement as well as the "Fuck the Fourth" rally held in Sacramento on July 4th. See NorCal_Resist Instagram.
NorCalResist says they are "community members organizing for a better world. We're building infrastructure against oppression and empowering our communities through shared resources and support." They advocate on immigration issues: "We're equipping impacted communities with the tools they need to fight immigration injustice."
Valenzuela's expense report shows she also spent $115 on gift cards to "provide compensation to unhoused people who met with our office in order to conduct interviews."
For a Better Sacramento says no detail was provided on what the interviews with homeless individuals were for.
She also used her office account to pay for staff gifts and $391.50 for office plants, and multiple funds used categorized as "recreational expenses" to staffer Skyler Henry, as well as hundreds more in expenses lacking detail to her former Chief of Staff, For a Better Sacramento says.
The group called on the City Attorney, Mayor Darrell Steinberg, and the City Manager to audit Valenzuela's account and seek reimbursement for questionable funds.
For a Better Sacramento is a grassroots citywide citizens group which organized to advance the recall of Councilwoman Valenzuela:
"Katie Valenzuela is failing to carry out her responsibilities on the Sacramento City Council. Our city is in trouble, yet she has turned her back on our urgent requests to address the growing problems of crime and lawlessness. She instead pursues policies that worsen our homelessness problem, while doing nothing to keep neighborhoods safe and clean. During her first year in office, she has defended homeless who break into vacant homes, located homeless encampments in residential neighborhoods against our wishes, and seen local crime increase 61%."
For a Better Sacramento is collecting recall petition signatures for because:
"The problems of crime and homelessness are reaching crisis levels, and our next chance to change our city council representation is nearly three years away. Residents and businesses face an imminent threat to personal health and safety, as well as the destruction of private property, loss of personal and business income, and a real hit to the local economy."
"Councilwoman Katie Valenzuela has given us no choice but to declare our intent to recall her from office."
Valenzuela's detailed expense spreadsheet is here: D4 Detail FY22 thru 04222022 highlighted plants gifts
Latest posts by Katy Grimes
(see all)