Sacramento City Council Pressured by Residents to Get Homeless off the Sidewalks and Streets
Huge homeless camps block sidewalks, businesses and even school entrances
By Katy Grimes, August 22, 2022 11:04 am
The Sacramento City Council announced that it will discuss at Tuesday's council meeting whether to bar homeless encampments from blocking sidewalks and building entrances.
There are huge homeless camps blocking sidewalks, businesses and even school entrances. And business owners are fearful and feel helpless with no city support. The homeless in Sacramento are pretty much allowed to live wherever they want in encampments and open air drug markets blocking sidewalks and business entrances. One local group says "police do not prioritize the enforcement of infractions, but if obstructing sidewalks becomes a misdemeanor, the police will start to intervene."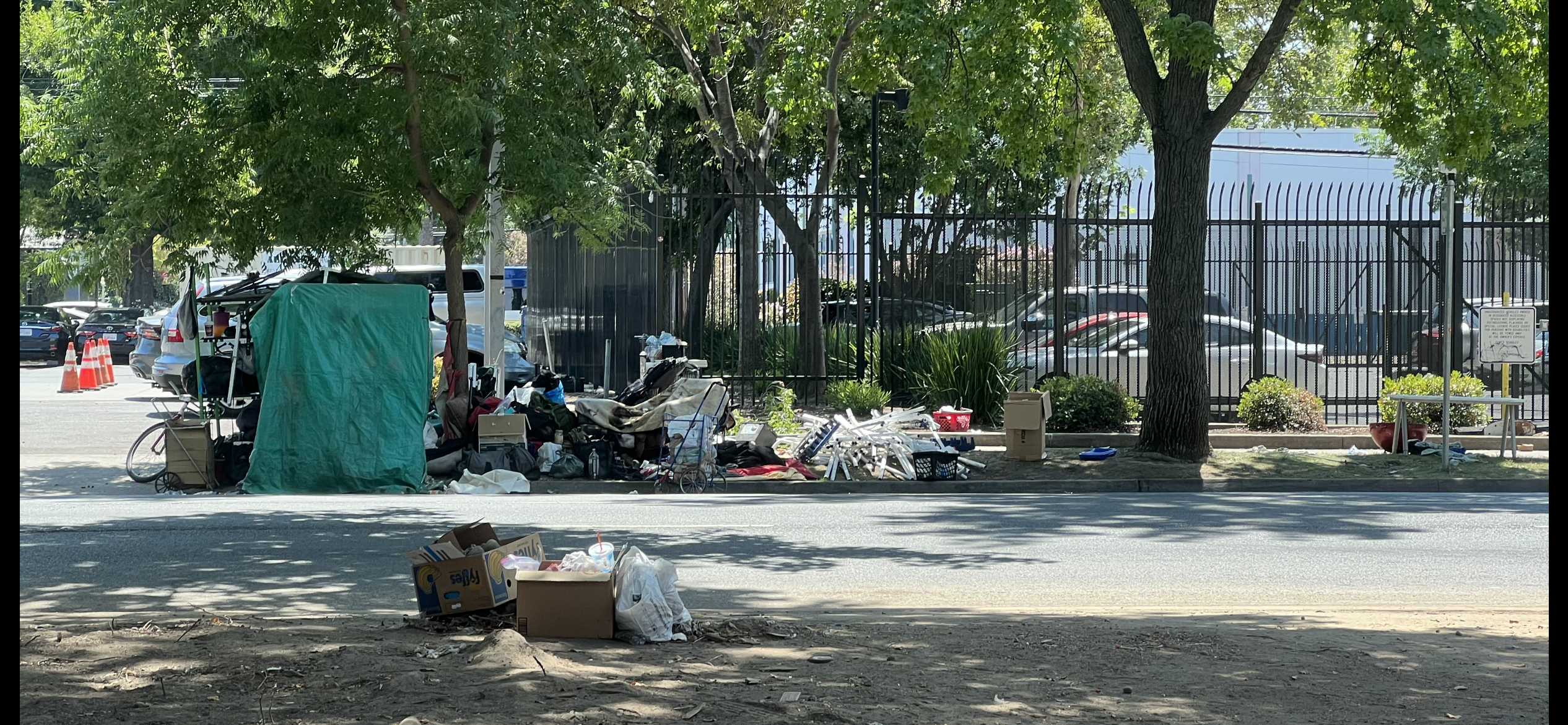 A city ordinance would allow the city to order people to move if they are blocking building entrances or if they are preventing a four-foot wide path on sidewalks, the Sacramento Bee reports. "For the city's smaller sidewalks, that would ban camps entirely."
The Council and Mayor Steinberg are feeling the heat from residents to do something about the growing homeless population, who live on Sacramento's streets, in front of businesses, under freeways, along rivers, in public parks, along golf courses, and increasingly, along sidewalks.
Sacramento County officials killed a long-planned proposal to create a downtown shelter that would have housed 300 homeless people, the Sacramento Bee reported Monday.
Some say the shelter proposal was far too expensive: $50 million — just for the real estate purchase and rehab of the facility for this use, and would only accommodate up to 300 beds.
That's $166,666 per bed, just for the property purchase. Add in the costs to build and the $3.3 million a year operating costs for the downtown site, and the per-bed price escalates.
And again, there are over 11,000 homeless living in Sacramento. County and City officials may have their differences on how to handle this crisis, but as they quibble, the homeless population  and related crime continues to grow.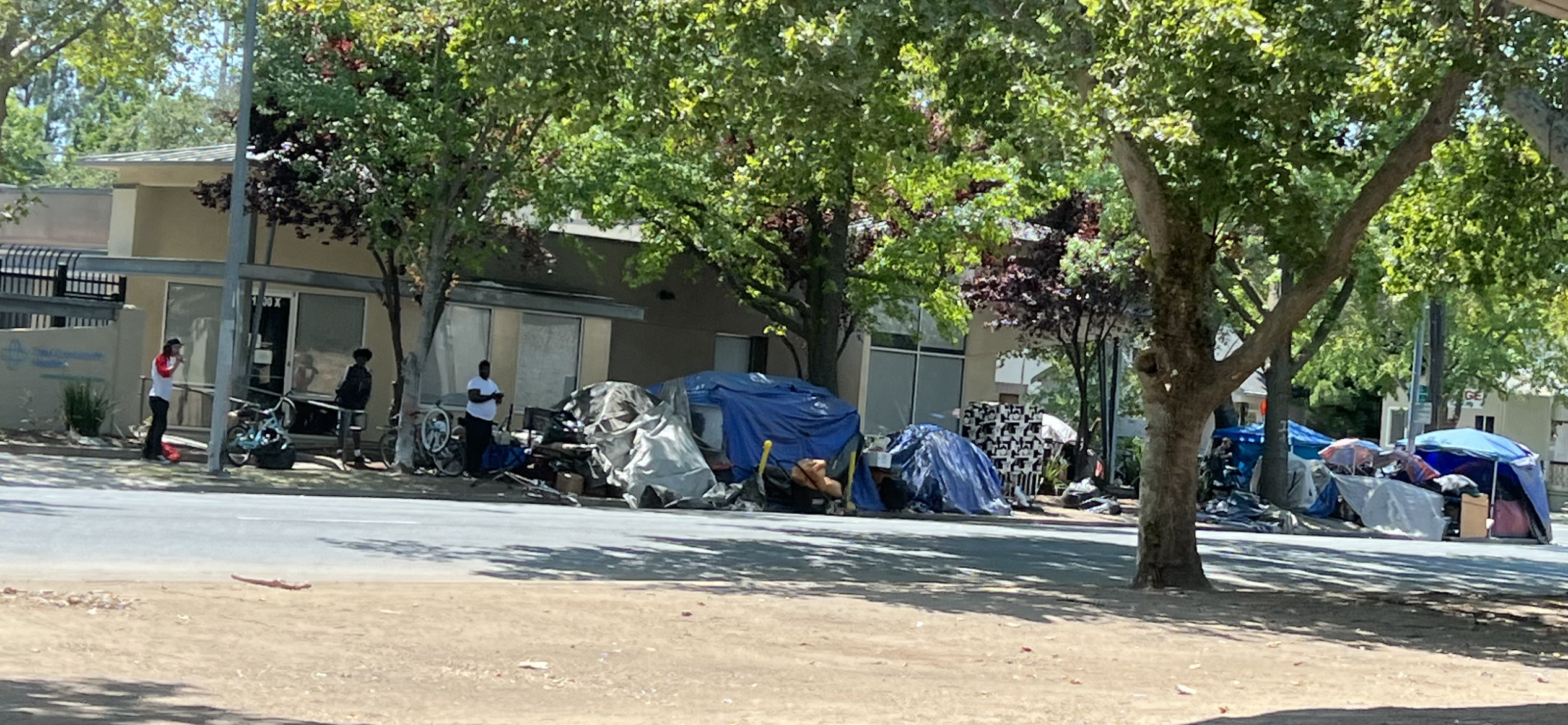 Mayor Darrell Steinberg follows the failed Obama-era "housing first" policy, rather than the successful "triage-first" policy of the San Antonio Haven for Hope policy. "Housing first" spends millions of taxpayer dollars on motel renovations, tiny homes, renovated apartments, rather than diagnosis and mandatory treatment.
"This was was something we worked on for months," City Councilwoman Katie Valenzuela, who represents downtown, said during a council meeting last month. "We did site visits … we had funding plans developed, we were working on strategy," the Bee reported.
As for Valenzuela, she's targeted for recall by residents in her former and current council districts. "For A Better Sacramento, A Committee To Recall Katie Valenzuela 2022" has been gathering signatures over some very specific beefs with Valenzuela.
"Why recall council member Katie Valenzuela?" they ask. "Katie Valenzuela's solutions have been just to move encampments from one place to another throughout our neighborhoods like Miller Park, Sutter's Landing and many others, bringing with them drugs, crime, human fecal matter, rats, debris and highly communicable diseases such as Hepatitis A. Under Valenzuela's watch, our streets, sidewalks, parks and overpasses have only become more dangerous for our most vulnerable, even resulting in an assault on a mother in a park and the murder of a woman and her two dogs in her home, her home then set ablaze."
And there is more from the recall group:
"Please join us in helping Katie find a new job where she isn't responsible for protecting Sacramentans from crime," For A Better Sacramento said.
Touché.
Latest posts by Katy Grimes
(see all)