San Bernardino County Sues Gov. Newsom Over Lockdown in CA Supreme Court
County officials say that Gov. Newsom's lockdown orders are unconstitutional
By Evan Symon, December 16, 2020 2:54 pm
On Tuesday, San Bernardino County filed a lawsuit against Governor Gavin Newsom in the California Supreme Court over the legality of the statewide stay-at-home order.
The lawsuit, which also names California's acting public health officer Dr. Erica Pan and the Director of the California Public Health Department Tomas Aragon as defendants in addition to Newsom, says that the stay-at-home orders given by the Governor earlier this month are unconstitutional. Specifically, the County says that the Emergency Services Act is being violated as Newsom created both a new penal code and new laws, neither of which he can legally do under the Act.
The County also argues that counties  should have the right to create health orders due to every county being different in terms of population and density, not the Governor or state officials. Other possible violations, including Newsom breaking state procedural rules by not filing changes with the Secretary of State, were also mentioned in the lawsuit.
"Returning this power to local authority rather than leaving it in the hands of the respondents that are 400 miles away is critical to combating this pandemic," the lawsuit says. "The Respondents subjectively decided that these services were secondary to the enforcement of their Stay-At-Home laws, requiring the SBPH (San Bernardino Public Health) to enforce Respondents' legislative acts instead of allowing SBPH to provide important services to County residents."
The lawsuit goes on to say that the San Bernardino County Sheriff's Department has spent 117,281.5 regular hours and 24,356.5 overtime hours on COVID-19 related incidents across the County, time which could have been used for more pressing needs.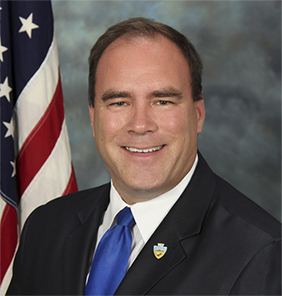 County officials have argued that the lockdown comes with no legal authority, and that enforcement, such as wearing masks at home where the spread is greatest is impossible. They also argue that it then carries over and disproportionately hurts businesses.
"We feel that we in local government have a better feel for what would work in our communities," said San Bernardino County Board of Supervisors Chairman Curt Hagman on Tuesday. "When you say people can't go to restaurants, stores, churches, you're basically forcing people indoors."
Analysts have noted that while the lockdown has been put into place to stop the spread of COVID-19, it has come at a great cost to small businesses, unemployment figures, and the economy.  And if the detrimental effects are worked in during the case as side effects of a unconstitutional law, it may help their case.
"Passing laws unconstitutionally or illegally is one thing, but when those laws also cause mass unemployment and hurts countless businesses, then you can't really argue that no harm was done," rural community economic analyst Lindsay Walsh explained to the Globe. "California's stay-at-home orders are in place to save lives, but the figures, economically, are just as brutal on the other. And the lawsuit even points out the sheer high number of man hours from law enforcement alone. It's an important part to press when arguing against the lockdown. Not only were the orders against the law, they ended up putting the County in a worse position than before."
County Flexibility, State worry over COVID-19 rates
SB County Supervisor Dawn Rowe also pointed out that the County wants, at least, more flexibility over how to handle shutdowns, arguing  that more rural communities don't need the same type of lockdowns as bigger cities and more populated areas do.
"We wanted the flexibility to implement his rules on a region-by-region basis because I'm a strong proponent of local control," Rowe said on Tuesday.
While Governor Newsom's office has yet to respond to the lawsuit, other Californian officials  have remained adamant that halting all gatherings except for protests and religious gatherings, as well as shutting down many businesses and reducing the capacity at essential businesses, is the way to go to halt the spread of COVID-19. The current stay-at-home order was enacted, according to the Governor, to stop the spread, especially regarding the declining number of available ICU beds in hospitals.
'We are at a tipping point in our fight against the virus and we need to take decisive action now to prevent California's hospital system from being overwhelmed in the coming weeks," said Governor Newsom at the beginning of the month. "By invoking a Stay at Home Order for regions where ICU capacity falls below 15 percent, we can flatten the curve as we've done before and reduce stress on our health care system. I'm clear-eyed that this is hard on all of us — especially our small businesses who are struggling to get by. That's why we leaned in to help our small business owners with new grants and tax relief to help us get through this month. If we stay home as much as possible, and wear masks when we have to go to the doctor, shop for groceries or go for a hike, California can come out of this in a way that saves lives and puts us on a path toward economic recovery."
However, SB County officials noted that while COVID-19 was still very serious, the surge had little to do with business factors such as stopping outdoor dining.
"Our beds are full at the hospital right now," added Hagman on Tuesday. "This is a dangerous time right now. It's related to things we're doing in our homes, with our family and our friends, not related to outdoor dining. Those are punitive measures that we want to stop."
The County is asking for a court decision by December 28th, the day the stay-at-home order is set to expire. A decision is expected in the coming weeks.

Latest posts by Evan Symon
(see all)