San Diego Convention Center To Be Used As Emergency Facility To House Unaccompanied Immigrant Children
Former California Attorney General Xavier Becerra personally asked the city to house the unaccompanied migrant children
By Evan Symon, March 24, 2021 3:09 am
On Monday, San Diego Mayor Todd Gloria and San Diego County Board of Supervisors Chairman Nathan Fletcher announced that the San Diego Convention Center will be used as a facility to house unaccompanied immigrant children in this country illegally.
According to San Diego officials, the Department of Health and Human Services (HHS) will make the convention center a migrant shelter for only three months. It will house around 1,500 unaccompanied migrants at any time during this period, with migrants expected to only stay between 30 to 35 days. All minors will not be allowed to leave unless they are released to a family member or guardian.
Basic services such as food, showers, medical care, a place to sleep, and outdoor recreation are to be given to all children coming into the center. Many of the expected migrant children will be coming from the California-Mexico border, with many others being flown in to alleviate the large crunch of migrants on the border in Texas.
Officials have also said that city, county, and state funds will not be funding the temporary convention center shelter, but rather the HHS Refugee Resettlement Program, with help from the Federal Emergency Management Agency (FEMA) and the Centers for Disease Control and Management (CDC).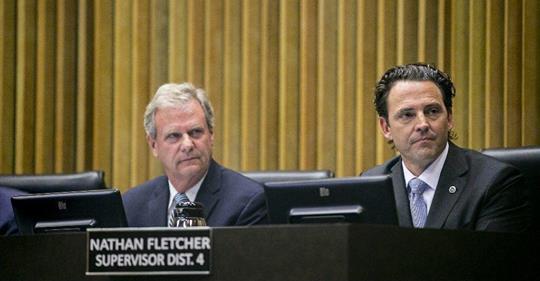 Both Gloria and Fielder acknowledged Monday that newly minted HHS Secretary and former California Attorney General Xavier Becerra had personally asked the city for assistance in rehousing the unaccompanied migrant children.
"When HHS Secretary Xavier Becerra requested our help to house some of the unaccompanied minors at the border, we knew it was the right thing to do," said Mayor Gloria and Supervisors' Chairman Fletcher on Monday in a joint statement. "Over the weekend, we agreed to open our Convention Center to the federal government for use as a temporary shelter. The City and County will support this federally funded effort by providing vital services to these vulnerable children who came to our country seeking safety. We are working closely with our federal partners to finalize the details for preparing to receive these young people and provide them with care, compassion and a safe space to transition while they are reunited with families or sponsors.
"The children will be provided with food, medical care, a place to sleep and showers. A safe and secure recreation area will also be created on the exterior of the facility. The children are not permitted to leave the convention center until reunification occurs."
Spikes in migrants at the US-Mexico border
In recent months, a spike of Central American migrants, spurred by a belief that the Biden administration is changing immigration policy and continued gang violence in Central America, have been rushing to the US-Mexico border in the hope of being admitted.
Sine President Joe Biden's inauguration two months ago, the number of migrants trying to get in has increased by 168%, with the number of unaccompanied children growing by 63%. According to NBC News, Customs and Border Protection now encounter an average of 565 unaccompanied children a day, lost in the shuffle and commotion of the busy border entry points, with 4,200 currently being held in border patrol facilities. 2,000  of these children are currently being housed in a location similar to the one in San Diego, the Kay Bailey Hutchinson Convention Center in Dallas.
The temporary migrant shelter is only the latest emergency use for the San Diego Convention Center since March 2020. Following the COVID-19 outbreak, thousands of homeless were moved into the Convention Center to help halt the spread of COVID-19, costing the city $6,000 per person per month. However, earlier this month the city began clearing out the homeless inside to create a mass vaccination site. The city had almost completed this task in recent days, with only a few hundred remaining to be moved by Monday. But the migrant crisis had changed plans again, ensuring that the Convention Center will remain a temporary migrant center into the summer.
Since opening in 1989, the San Diego Convention Center has been one of the marquee convention centers in the country, hosting the world-renowned Comic-Con each year since opening, as well as historic events such as the 1996 Republican National Convention. The disruption by COVID-19, as well as the new migrant center, has caused recent strife for those hoping to use the center following the emergency uses.
"We've been using the Convention Center for years," explained one anonymous industry event booker to the Globe. "We actually had to have people from the government explain to us for two years in a row, first city then federal, that we couldn't book here, even with COVID rates going down.
"I get using these big buildings as different things during emergencies. Dodger Stadium is a vaccine site. The Astrodome held Hurricane Katrina victims for a time. A lot of stadiums and halls were used as emergency hospitals or shelters during the world wars. But what we and a lot of others wanted was to start bringing back conventions. Economically the city, like most, are hurting, and big events like Comic-Con really bring in a lot of economic activity.
"Any convention center really can gain right now. They can be big, like car or boat shows. They can be more corporate, like focusing on the tech industry or outdoors activities. It can even be niche. You would not believe how much some of these conventions focusing on things like sports memorabilia or guns or even more out of left field things like cartoon conventions or furry conventions can bring. There's a reason that even the stranger ones keep getting asked to come back: they bring in a lot of money, especially if neighboring hotels get in on it.
"But stopping the San Diego Convention Center for this, when Texas has a lot of available places, as well as other places in California, well, I don't think it's a good call. It will add to the history of the place, but right now what the city is doing is extending one crisis by dealing with another crisis, while shooing out another crisis, all the while not allowing another crisis to be alleviated inside."
As of Monday, there is no firm date on when migrants are expected to arrive, although it is likely to begin admitting migrants by next month.

Latest posts by Evan Symon
(see all)