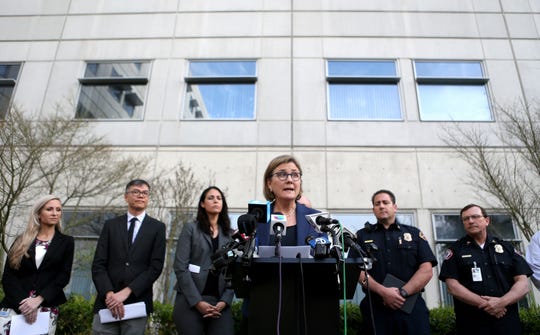 Santa Clara County Bans All Gatherings of More Than 1,000 People
Ban comes after the first recorded death in the county
By Evan Symon, March 10, 2020 5:28 pm
On Monday evening, Santa Clara County officials formally announced a ban on events and gatherings with more than 1,000 people in attendance for the rest of the month to curtail the spread of the COVID-19 coronavirus.
The ban in Santa Clara County
The ban was largely in reaction to the revelation that the county had its first coronavirus death during the weekend, in addition to six more cases being discovered in the county. Currently the county is at 43, with officials expecting that number to grow in spite of the ban. Officials on Monday said that 21 of the cases in the county were due to community contact.
"Today's order and new recommendations will reduce the number of people who develop severe illness and will help prevent our healthcare system from becoming overwhelmed," said Santa Clara County Health Officer Dr. Sara Cody at a press conference in San Jose. "This is critically important for anyone with healthcare needs, not just those most vulnerable to serious illness from COVID-19."
"This is a big decision to issue a legal order such as this," added Dr. Cody. "We needed to carefully consider it. I think over the last five days, the uptick in cases, particularly those where we found no link to travel or other cases. That is a tipping point for us and it's time to issue an order."
The order by the county is set to begin on Wednesday and is the first such county-wide ban in the nation.
While the ban comes after the Democratic Presidential Primary in California, it will most likely affect several planned athletic events. At least three San Jose Sharks NHL games, 1 MLS San Jose Earthquakes game, and the NCAA women's basketball tournament in Stanford are at risk of being canceled, moved, played on the road or at a neutral site, or needing to be played with no fans in attendance.
"We will be reviewing each scheduled event due to take place for the rest of the month and provide an update in the coming days," said a representative from the San Jose Sharks in a statement. "We appreciate the understanding and patience of our fans, guests and partners during this unprecedented time."
County and media hype
The ban was enacted despite the vast majority of people with coronavirus making a full recovery. While both the World Health Organization (WHO) and the Centers for Disease Control and Prevention (CDC) have only given common sense, non-hysterical advice such as some travel restrictions, Santa Clara County took an unprecedented step that, as of Tuesday, no other County in the United States has taken. The ban also comes at a time where the number of infected people are very low, and don't warrant the hype from the media.
Dr. Emilio Reyes, a Los Angeles-based doctor who is currently on the watch for the disease in the LA area, explained to the California Globe about Santa Clara's situation.
"They're freaking out over one death," said Dr. Reyes. "It is sad, and people should still be careful and wash their hands. But what they did was basically play into people's fears. When a large area does that with such low numbers of infected people like that it's usually a reaction to a lot of hype and a public way to make people feel better that they won't get infected."
"There are 43 cases there of a virus that, while it does kill, it mainly kills those with weaker immune systems or the elderly. There have been worse outbreaks of the flu in the last decade in LA County."
"Just use common sense precautions. Washing your hands after every time you go out does over half the battle. By shutting down sports games and large group meetings like that, you're only worrying people more and playing into their fears."
647 Americans have been infected with COVID-19 as of Tuesday, with the number dying currently at 25 according to the Center for Disease Control.

Latest posts by Evan Symon
(see all)