Senate Democrats Kill Sen. Moorlach's Proposal to Include California in a 34-State Nursing Compact
Addressing medical care shortages by increasing access to medical care providers falls on deaf ears
By Katy Grimes, May 18, 2020 4:51 pm
The Senate Business, Professions and Economic Development Committee Monday killed Senate Bills 1053 and 1054, authored by Senator John M. W. Moorlach (R-Costa Mesa), which would have increased access to medical care providers by allowing for multi-state licensing for nurses and physical therapists.
The two measures would have joined California into the Nurse and Physical Therapy Licensure Compacts. "I am deeply disappointed with this decision as five Democrats lack the vision to improve healthcare for Californians in need. SB 1053 would have been a huge step forward in preparing for future surges in COVID-19 and other potential emergencies," Sen. Moorlach said in a press statement. "In addition, SB 1053 and SB 1054 would have greatly eased barriers for military spouses, increased access to tele-health in underserved communities, and reduced costs in our healthcare system. I am committed to continuing this fight for mobility and flexibility in California's healthcare system."
SB 1053 would have entered California into the Nurse Licensure Compact (NLC), an interstate agreement that provides licensing reciprocity for Registered Nurses in California. As a member of the NLC, Nurses in other compact states (currently there are 34) would be eligible to practice nursing in California and California's Nurses would likewise be eligible to practice in those states, Moorlach's bill summary explains.
"Senate Bill 1053, which would include our state in a 34-state nursing compact. It's a sensible reform, especially in these dire times," Steven Greenhut wrote in the Orange County Register. "If the Legislature were serious about assuring that we have enough trained staff to deal with coronavirus patients, they ought to pass this measure as soon as possible. Remember this when you hear lawmakers complain about health-care shortages."
Moorlach's legislation had plenty of meaningful support with a broad coalition of stakeholders, listed below, including the California Hospital Association, the California Physical Therapists Association, the California Association of Health Facilities, the United States Department of Defense, the AARP, and the California Telehealth Network.
SB 1054, the Physical Therapy component, did not receive any formal opposition and SB 1053, the Nursing component, only received formal opposition from the California Nurses Association. Nonetheless, five Democrats on the committee voted to oppose both measures.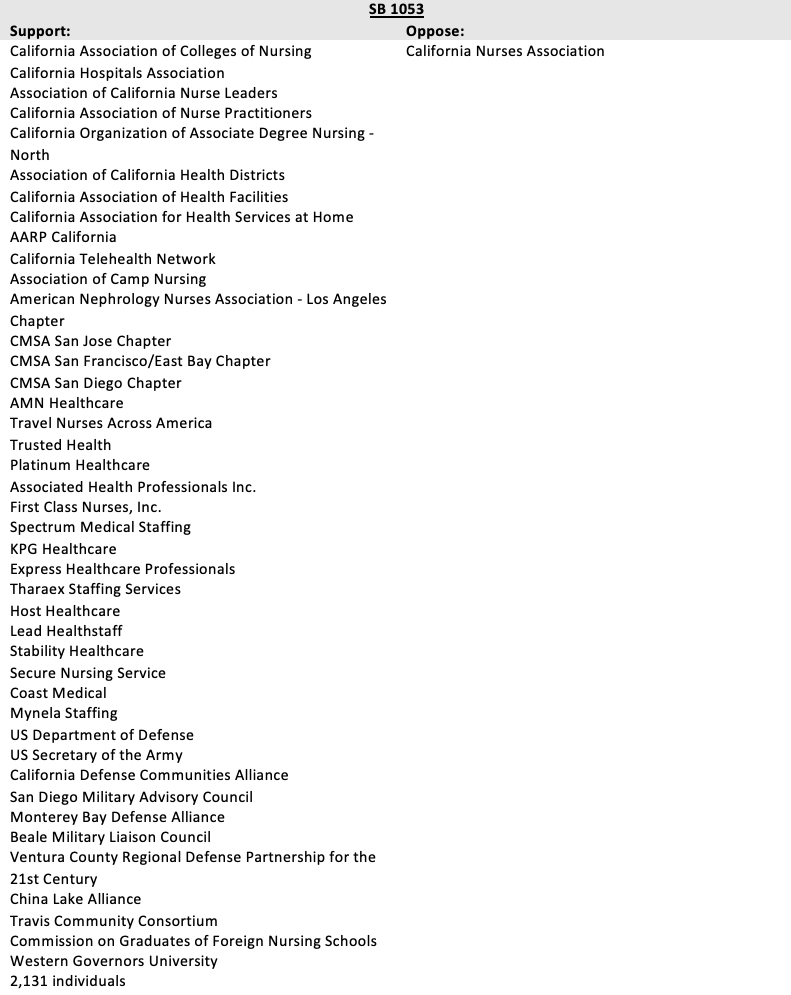 "After presenting both bills, the elephant in the room was the California Nurses Association public employee union," Sen. Moorlach wrote in his update today. "The Committee consultants' reports for both bills was fraught with errors. But, using the incorrect information allowed the union to get an unfair toehold. But, both bills did not die a bi-partisan death. In fact, Democrat Senators Dodd and Galgiani voted for both bills. But, it was not enough. Both bills died on 4-5 votes."
"For your benefit, we acquired a long list of organizations who supported SB 1053, including the Red Cross, which came on board over the weekend," Moorlach said. "In spite of strong backing, five Democrat members of the committee towed the line with the union and deferred to the sunset clause for the applicable oversight boards, which occurs next year."
"I am very appreciative of my Democratic colleagues, Senator Cathleen Galgiani and Senator Bill Dodd, who put patients before union pressure and supported these proposals," Moorlach said.
The members of the Senate Business, Professions and Economic Development Committee are:
Senator Steven M. Glazer (Chair)
Senator Ling Ling Chang (Vice Chair)
Senator Bob Archuleta
Senator Bill Dodd
Senator Cathleen Galgiani
Senator Jerry Hill
Senator Connie M. Leyva
Senator Richard Pan
Senator Scott Wilk
Latest posts by Katy Grimes
(see all)