Sonoma County Health Officer Claims Day Cares and Schools 'Infected'
Announcement came a day ahead of a re-open schools demonstration planned for Santa Rosa
By Katy Grimes, September 20, 2020 9:56 am
Sonoma County's public health officer Dr. Sundari Mase claims there are Coronavirus outbreaks at 13 Sonoma County preschools and home-based child care centers that have infected 62 people.
The Press Democrat reports "The infections involve 25 children, mostly age 6 and younger, 27 of their family members and 10 workers at the preschools. None of the individuals diagnosed with the highly contagious infectious disease have needed to be hospitalized, county Health Officer Dr. Sundari Mase said."
Sonoma County population is 493,334. There have been 114 deaths attributable to Coronavirus in Sonoma County.
Sonoma County has conducted 160,418 coronavirus tests, with only 6,998 positives. That means of the 160,418 Sonoma County residents tested, 153,420 tested negative.
Of the 67 available ICU beds in the county, 15 are being used.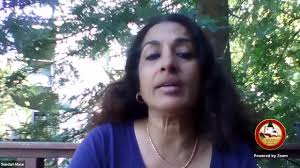 "Her startling announcement came a day ahead of a demonstration planned for Thursday in downtown Santa Rosa to urge the resumption of classroom teaching at the county's public schools," the Press Democrat reported. "In March after the onset of the pandemic, all public school districts closed campuses and switched to remote instruction."
"Now district leaders countywide are considering sticking with online classes through the end of 2020 or longer, as the virus lingers in the community."
That sounds like a motive.
Dr. Sundari Mase, who came to Sonoma County from Santa Clara County, began serving as the County's Health Officer in March, appears to have a pattern of issuing orders restricting activities to keep the county in a modified shut down. She's done what Gov. Gavin Newsom and his HHS Secretary Dr. Mark Ghaly have done – shifted the focus to "cases" or "infections," rather than the very ill, those in the ICU, and the number of deaths.
"Cases" and "infections" don't mean much since most people are asymptomatic. And as the Globe has reported, there are studies showing that the virus stops with children.
As the Globe reported in August, children are not COVID vectors. The Guardian reported:
The largest study by the University hospital in Dresden, Germany analyzed blood samples from almost 1,500 children aged between 14 and 18 and 500 teachers from 13 schools in Dresden where there were coronavirus outbreaks.
"Of the almost 2,000 samples, only 12 had antibodies, said Reinhard Berner, a professor of paediatrics at the hospital, adding that the first results gave no evidence that schoolchildren played a role in spreading the virus particularly quickly."
"'Children may even act as a brake on infection,' Berner told a news conference, saying infections in schools had not led to an outbreak, while the spread of the virus within households was also less dynamic than previously thought."
Dr. Scott Atlas, Senior Fellow at Stanford's Hoover Institution & former Stanford University Medical Center Chief of Neuroradiology, has explained numerous times why people should not be concerned over the increasing "coronavirus infection rate" across America, and instead said the focus should be on the hospitalizations and death rates, which are decreasing amid an increase in positive cases. Atlas also notes the risk of significant illness from seasonal flu is far greater in children than serious illness from Covid-19.
"After the worst outbreak infected 16 children, county public health officials two weeks ago temporarily shut down the unidentified preschool in north county, Mase said. The source of each of the 30 infections connected with this child care site appears to be a single child."
Dr. Sundari Mase "spent three decades in medicine, most recently at WHO, and the Centers For Disease Control And Prevention before that," the Press Democrat reported in June.
"The WHO's actions in response to COVID-19, in part, stemmed from its overly deferential stance towards China, which is its second-biggest financial contributor among 194 member states," Reason reported in an article titled "How China Corrupted the World Health Organization's Response to COVID-19."
Alignment With State
September 15, Sonoma County Health OfficerDr. Sundari Mase announced "the Sonoma County Department of Health Services today will be changing the methodology it uses to tabulate the number of COVID-19 tests conducted as well as the County's testing positivity rate."
"The consistency of these two metrics is vital because, under Gov. Gavin Newsom's new "Blueprint for a Safer Economy" for reducing COVID-19, they determine how soon counties will be able to move from one tier to the next."
"Once implemented, these changes will result in the posting of new data on the County's COVID-19 dashboard. The new methodology, which will be applied retroactively, will show an overall increase in testing volume as well an associated decrease in Sonoma County's testing positivity rate."
Latest posts by Katy Grimes
(see all)