Student Loan Consumer Protection Bill Brought Back Up To Senate Committee
'If this passes, a lot of loan companies might not offer as much in California'
By Evan Symon, August 17, 2020 3:54 pm
This week, a recently resurrected bill that would add consumer protections for student loan borrowers and establish a Student Borrower Bill of Rights in California is expected to be heard in the Senate Appropriations Committee, one of the last hurdles towards passage.
AB 376 and the overhaul of the student loan industry in California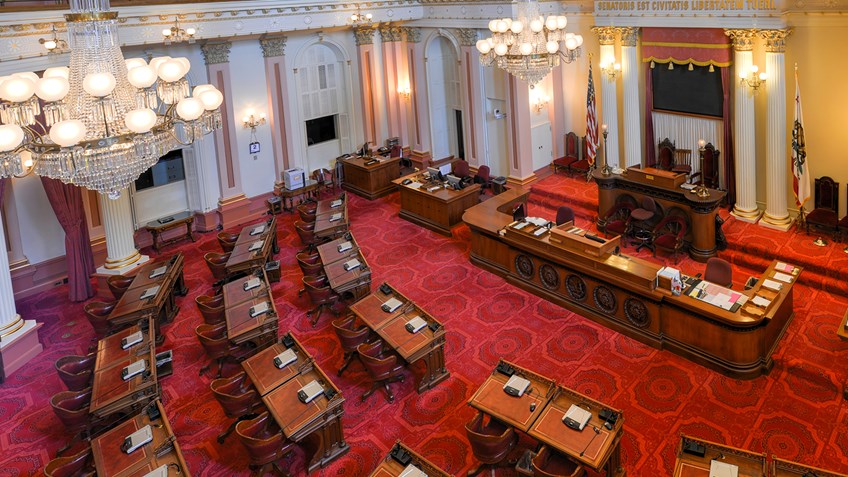 Assembly Bill 376, written by Assemblyman Mark Stone (D-Scotts Valley), would add new requirements for those giving student loans including timely posting, processing, and crediting of student loan payments. "Abusive" practices, such as overpayments and late fees, would also be overhauled, with new standards being put in place to make sure that those giving loans are properly trained and records are accurately kept. Those with loans who have been wronged by the new rules can also sue a loan provider, as long as notice is given beforehand so they could fix whatever part of the bill is being violated.
A student loan Ombudsman position would also be created by July of 2021 to over see the new perimeters given by AB 376, as well as oversee all complaints. They would work with the Department of Justice and the Office of Student Assistance and Relief in addressing and referring complaints, as well as refer complaints and report requirements for any part of AB 376 broken by loan companies.
The Commissioner of Business Oversight would also monitor the risks for consumers in the student loan industry and collect data on the industry by July 2021. The commissioner would also need audited financial statements from larger loan companies with a net worth of more than $250,000 owned by a private holding company to confirm student loan licenses.
Supporters of AB 376
Assemblyman Stone and supporters such as Consumer Reports and student loan advocates are in favor of the bill because of the numerous crackdowns it would bring on the student loan industry, specifically targeting predatory loan providers, as well as new standards for the industry that would make it harder for many loan companies to operate in California.
"We have seen the federal government refuse to protect student borrowers and California has led the charge to fulfill this role," said Assemblyman Stone last year. "California will keep pushing increased consumer protections because we understand that student loans not only affect the lives of borrowers, but have radiating negative effects throughout the economy.  Establishing clear servicing standards will ensure that California borrowers are treated fairly and have the best chance possible at paying off their debt."
Other supporters noted that many inaccuracies in loans and loan information would also be made accurate under AB 376.
"Multiple investigations have shown that loan servicers routinely lose paperwork, misapply payments, provide borrowers inaccurate information, and even steer them into more costly repayment options with virtually no accountability," explained Consumer Reports senior policy counsel Suzanne Martindale. "At a time when the U.S. Department of Education has refused to set loan servicing standards to help borrowers, it's critical for states like California to lead the way and address these longstanding abuses."
Support of the bill has also extended into the legislature, with the bill last year passing many Committees and the Assembly itself by wide margins, including 59-15 in the Assembly.
Opponents of AB 376
However, student loan providers, largely represented by the Student Loan Servicing Alliance, have been largely against the bill from passing, arguing that only the federal government should have the power to change the student loan industry and that any drastic changes could make it much harder for students to get loans.
"Student loans are a very tricky thing to regulate," former student loan processor and current loan company advisor Russ Kelly told the Globe. "Financial companies give loans, any kind of loan, to those who need a lot of money in a short period of time to be paid back in a longer period of time, with a bit extra to pay for facilitating costs. It's the same for any loan when you get to the nuts and bolts of it."
"This bill California is trying to pass disrupts that. It wants to target companies taking advantage of hose kids who need student loans, but in the process it puts a collar on everyone, including many companies who have been outstanding and only charging minimal interest for student loans."
"And I'm not arguing against common sense regulation. Some companies give such long term loans that people in their 40's and 50's are still paying, with other specifically going after military veterans. That's wrong. But a lot of larger loan companies are usually the only option for students, especially in poorer areas. Banks don't want to take a risk there, and many residents don't trust the government with loans, so what's left are larger lenders. The same thing happens in rural areas and many different communities."
"If this passes, a lot of loan companies might not offer as much in California, and that may students without loans for college or trade schools. This is a consequence that people never bring up with this bill, but it is very real."
AB 376 had been on hiatus for nearly a year before being brought back and amended earlier this month in a push to get it passed and signed by the end of the session, largely due to the COVID-19 pandemic and the economic downturn.
AB 376 is expected to be heard once again with new amendments in the Senate Appropriations Committee in the coming weeks.

Latest posts by Evan Symon
(see all)