Will Moorlach Overcome Anti-Party Group on Tuesday?
Party unity is threatened in Tuesday's special for the Orange County 2nd Supervisorial District
By John Seiler, March 7, 2021 6:32 am
The California Republican Party, down but not out, in recent years realized only unity could lead to victory against the ruthless and repressive Democratic dominance. The resurgence began under state party Chairman Jim Brulte, and commendably has continued under current Chairwoman Jessica Millan Patterson.
In Orange County, in major races the party decided to endorse one candidate, instead of standing aloof from a circular firing squad. That reform was essential to last November's upset victories in the House elections of Michelle Steel and Young Kim over Democrats Harley Rouda and Henry Cisneros, respectively. Elsewhere in the state, Mike Garcia reprised his victory in a special election in May and held on in November; and David Valadao reclaimed a seat lost in 2018.
But party unity is threatened in Tuesday's special election to fill the seat for the 2nd Supervisorial District of the OC Board of Supervisors. The OC GOP backed former supervisor John Moorlach, who last November lost a state Senate seat to a public-employee-union-backed functionary. This time, his main opponent, as I described in my previous column, is Costa Mesa Mayor Katrina Foley, also held aloft by the strings of the unions.
But this time, two Republican candidates also are opposing Moorlach: Newport Beach Councilman Kevin Muldoon and Fountain Valley Councilman Michael Vo.
Neither candidate has a chance to win. Every vote for either will diminish Moorlach's chances of beating Foley. A Foley win also would put Democrats within one seat of controlling the five-member Board. If they take charge, they will quickly turn OC into LA.
The unions owning Foley – the OC Employees Association and the Association of Orange County Deputy Sheriffs – have run against Moorlach the most lying, disgusting hit pieces I've ever seen. And I've been watching elections since 1964.
Vo was a major force behind a recent assault on taxpayers. That was Measure HH, a 1 cent sales tax increase, making Fountain Valley less competitive with its neighbors. The money, of course, only will go to union pensions, precluding tough but necessary reforms. No wonder for his 2018 re-election he won the cheering endorsement of the Fountain Valley Police Officers' Association.
Muldoon is a more substantial sabotage candidate because he's being backed by an Anti-Party Group in the local GOP. Here's a flier he sent out to voters: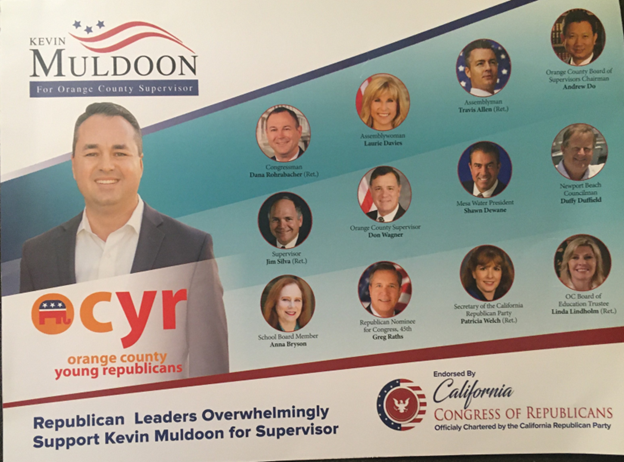 It reads: "Republican Leaders Overwhelmingly Support Kevin Muldoon for Supervisor." That's refuted by a statement the OC GOP released on January 29: "The Republican Party of Orange County is solidly behind and will use all resources at its disposal to elect its endorsed candidate Senator John Moorlach…."
"We condemn the selfishness of Mayor Michael Vo of Fountain Valley and Councilman Kevin Muldoon of Newport Beach. They have let their egos be played by public service unions and political consultants all hoping to profit from this race. Polling was shared in particular with Mr. Muldoon that showed that his best result was to be a spoiler and not a victor.  He told many that he would not be a spoiler, and yet he still decided to run."
Why did the Anti-Party Group sign up against Moorlach? Three of the names:
Ex-Rep. Dana Rohrabacher obviously remains sore because Moorlach endorsed Scott Baugh, the former OC party boss, in the 2018 primary 48th Congressional District. Dana then lost that November to Rouda.
But the fact was his own mistakes led to his demise. Everybody remembered Dana first ran in 1988 on a plank including term limits, promising to stay in office only 12 years. He stuck around for 30.
And after Trump took office in 2017, Dana somehow thought he could become Trump's secretary of state. But he was playing Henry Kissinger instead of pounding the pavement of his district in what he knew would be a close race.
After losing, the Surfin' Congressman moved to Maine, became a D.C. lobbyist and doesn't live here anymore. What does he care about OC?
Don Wagner, now a supervisor, also is a sore loser because he lost a 2015 race for state Senator to Moorlach, even though Don's union cronies heavily outspent Moorlach. As the Orange Juice detailed in 2015, "Don't Be Alarmed: ONLY 69.42% of Don Wagner $266,775.36 in IEs Comes from Public Safety Unions."
In the 2016 race, Moorlach's strength early chased Wagner out of a challenge. Now Wagner wants revenge, even if it turns OC into an LA-style Democratic hellhole.
Andrew Do, also a supervisor, long has been backed by the Association of Orange County Deputy Sheriffs. The Orange County Register reported on October 11, 2016, "The union that represents Orange County sheriff's deputies has spent nearly $86,000 over the last two weeks supporting incumbent Supervisor Andrew Do's reelection bid, paying for three direct mailers to voters via its independent expenditure committee.
"The payments come just a few weeks after Do and his fellow supervisors voted unanimously to give deputies an 8.8 percent pay raise over three years, costing taxpayers an extra $62.2 million over that period."
For both Wagner and Do, it pays to wear the Union Label – tattooed across the tush.
By contrast, Moorlach never has taken an FDR dime's worth of lucre from any public-employee union. That's why they hate him – because they can't buy him.
Latest posts by John Seiler
(see all)