1.2 Million Newsom Recall Petition Signatures Validated So Far
Signatures have recorded an 81% validity rate by the state as of March 11th
By Evan Symon, March 19, 2021 8:42 pm
On Friday, a report released by the California Secretary of State revealed that the Recall Campaign against Governor Gavin Newsom has nearly 1.2 million confirmed signatures counted so far out of a total of roughly 1.45 million reviewed so far.
According to the report, which dated the current count up until March 11th, counties are averaging around 81% valid signatures. While the report only reported 1.8 million signatures in total in having been turned in, recall supporters had announced earlier this week that 2.1 million had been turned by the St. Patrick's Day deadline. Should the current valid signature rate hold at around 80%, the campaign should have close to 1.7 million signatures validated in total. This would be far above the 1.495 million needed for the recall to go on the ballot later this year.
The report also confirmed earlier findings reported on by the California Globe, including Los Angeles County voters leading the way in the number of signatures collected for the petition. In the report, 281,775 Los Angeles County voters had signed the petition, with just over 221,000 being verified as of March 11th. Orange County recorded the second most total number of petition signees with 240,000, followed by San Diego County with 207,000 signatures and Riverside County with 161,000 signatures.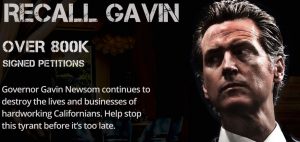 In contrast to the high SoCal figures, San Francisco County, a Democrat bastion and the home of Governor and former San Francisco Mayor Newsom, only recorded a little over 8,000 signatures in total. Alameda County, located right across the bay, only had 20,000 signatures submitted, with scenic Napa County only managing to turn in 3,500 signatures. However, some Northern California counties have higher than expected numbers so far, led by Sacramento County with roughly 80,000 handed in as of March 11th.
The Central Valley also had comparable rates to Sacramento, with Fresno County collecting 73,000 signatures.
Encouraging numbers for the recall campaign
"These are really encouraging numbers for the recall campaign," former lobbyist Harry Schultz, who helped lobby during the 2003 Gray Davis recall, told the Globe on Friday. "As long as those 300,000 other signatures are added in in the next count total, we'll be seeing a recall. I mean, they were getting 400,000 signatures a month. A lot of people can be barely bothered to sign their refund check from the IRS. That tells you how bad it is for many Californians right now. "
As noted in recent Globe article, nearly 1/3rd of all signatures collected so far were from people who identified as a party other than Republican.
"This all tells you a good strategy for them," added Schultz. "You go out out for sure to Republican strongholds in the state. To name a few, the desert, rural areas, the far non-coastal North, Orange County. Those types of areas. But with a significant number of non-Republicans being on board with the recall, and high numbers of signatures coming from the mostly blue Southern California area, recall proponents know that that should be a focus area, as well as the Central and Sacramento Valleys."
"Also, there are a ton of small business owners in these counties, as well as employees who were part of mass lay offs due to Newsom's policies. That should be a huge focus. Naturally there are many other avenues and demographics to look at, such as the surprisingly high number of Latinos who have shown displeasure with Newsom, but there is a viable game plan now. I mean, he told Whoopi Goldberg that he's scared of being recalled right now."
"But now there are hard numbers that both the Newsom campaign and the Recall campaign will be planning around. Who says there are never any interesting elections in odd-numbered years?"
Final valid signature totals are expected to be announced by the Secretary of State's office sometime in April before the counting deadline of April 29th.

Latest posts by Evan Symon
(see all)