AG Bonta and Pasadena At Odds Over SB 9 Housing District Exemption
Pasadena's 'landmark districts' preserve iconic craftsman houses and homes dating back over a century
By Evan Symon, March 16, 2022 4:48 pm
Attorney General Rob Bonta sent a letter to the city of Pasadena and Mayor Victor Gordo stating the city is violating a new housing law with an ordinance that exempts denser housing on Tuesday.
At the center of the supposed violation is SB 9, a law passed last year that allows housing lots to be split to allow up to four more units on the parcel for increased housing. Authored by Senator Toni Atkins (D-San Diego), the bill also makes the denser housing exempt from housing regulations such as the California Environmental Quality Act (CEQA) and the California Coastal Act, as well as more easily conforming to local zoning laws. The overall goal of the bill is to increase the number of units available and to create more affordable options.
Prior to Pasadena, Bonta had targeted other alleged violators including the San Mateo town of Woodside. In January, Woodside halted all new larger housing applications due to declaring the city a Mountain Lion Sanctuary, as a clause in SB 9 prohibits building in endangered species habitats due to the Endangered Species Act. After a week of controversy, Bonta sent a letter in February informing Woodside that they could not do this under the law and that he would file a lawsuit if they didn't pull the ordinance. Upon receiving the letter, the town stopped the mountain lion ordinance almost immediately.
In Pasadena, things are different. In the past, Pasadena has set up "landmark districts," areas of the city set up to preserve the buildings and feel of different areas, such as those with iconic craftsman houses and homes dating back over a century. To date, Pasadena has 23 such districts, each filled with homes and landmarks that are of historic value or exemplify a certain architecture style.
However, Bonta maintained on Tuesday that the districts are in place to keep out denser and affordable housing and that Pasadena's emergency ordinance created only months ago that exempts landmark districts does not exist under SB 9. Bonta also added that Pasadena provides no evidence that SB 9 projects would have a significant adverse impact on public health or safety. In his letter, Bonta gave Pasadena 30 days to comply with SB 9 and reopen those parts of the city to denser housing once again, albeit with Bonta not saying what the recourse would be if not changed.
"Pasadena's urgency ordinance undermines SB 9 and denies residents the opportunity to create sorely needed additional housing, under the guise of protecting 'landmark districts.' This is disappointing and, more importantly, violates state law," said Attorney General Bonta in a statement on Tuesday. "Right now, California is facing a housing crisis of epic proportions, and it's going to take all of us, doing our part, to alleviate its worst effects. At the California Department of Justice, we're in this fight for the long haul. I urge cities to take seriously their obligations under state housing laws. If you don't, we will hold you accountable."
Pasadena maintains being a leader in bringing more affordable housing despite creating historical districts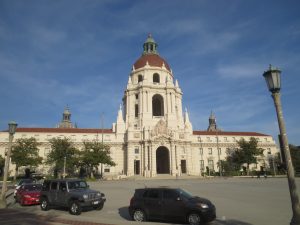 Meanwhile, many Pasadena officials and residents were perplexed by Bonta's letter. While they did pass an ordinance before SB 9 came into effect that exempted landmark districts, the districts were in effect in the city for a long time. Many noted that Pasadena has also been very responsive to affordable housing concerns, going far out of their way to help approve projects with above the state minimum of affordable units in denser housing projects.
"Pasadena's efforts have been progressive and responsive to the housing crisis and we remain committed to doing our part to help address the state's housing issues," said Pasadena Mayor Victor Gordo on Tuesday. "Bonta's letter arrived without any prior conversation regarding the substance of our regulations and how they comply with the law. The city's interpretation appears to differ but we will further review the law and Bonta's letter."
Rob Shelby, a housing inspector who often verifies house age and contributes to architectural and historical importance areas for Californian cities, added, "Pasadena is already going above and beyond what the state has asked of cities. You can see that with projects they have approved in the past."
"But they are also doing it right. Instead of putting denser housing wherever, they are putting mass transit and traffic considerations into effect and approving denser housing for areas near highways and near mass transit stations and stops so other problems, like noise, traffic accidents, and traffic aren't as big. This way, areas with historical houses are saved while areas that can handle more cars and residents are good."
"I don't think Bonta even looked into the nuances of Pasadena's master plan or the genius there of creating an efficient system that boosts affordable housing while also keeping single family houses. They've satisfied both the Yimbys and the Nimbys, or at least don't make each side too mad, which is quite an accomplishment."
"Bonta, he graduated from Yale and has moved up high into government, but for someone so smart he's a complete idiot at seeing the big picture or when affordable housing plans and housing protection actually work for everyone. Pasadena isn't undermining SB 9 at all. If anything, they're showing what a real housing success story can be."
As of Wednesday, it is unknown how Mayor Gordo or the rest of the city will respond to Bonta's letter.

Latest posts by Evan Symon
(see all)