California Becomes Second State With Fast-Spreading COVID-19 Variant Cases
First cases reported in San Diego
By Evan Symon, December 31, 2020 7:45 am
On Wednesday, Governor Gavin Newsom announced that the first case of the quick spreading COVID-19 variant in California has been reported in San Diego.
The variant, known as B.1.1.7, was first reported in the United Kingdom last week. Despite mandatory COVID-19 testing being required for air travel between the US and UK by the CDC last week, the variant strain managed to spread. Earlier this week, the first US case was reported in Colorado, being found in a member of the Colorado National Guard.
The San Diego case was the second in the U.S.; the first was in of Colorado.
Governor Newsom's announcement of the first California case came during a press conference with the Director of the National Institute of Allergy and Infectious Diseases (NIAID), Dr. Anthony Fauci. After Newsom told Fauci the news, Fauci responded that it didn't really come as a surprise due to the high rates being reported and the continuation of travel during the holiday season.
"I don't think Californians should feel this is something odd," said Dr. Fauci on Wednesday. "This is something to be expected.
"We've been hit badly, and unfortunately California has been hit right now, currently, as bad as anyone, if not worse."
"To all of my Californian friends, and I have many, they should realize that this is an RNA virus. In other words, the makeup of it is RNA. RNA viruses, they make a living out of mutating. They love to mutate. The more you replicate, the more you mutate, so when you're a virus that's circulating in the community, it means it's infecting a lot of people, it's replicating a lot, and when you replicate, you mutate. The overwhelming majority of mutations are irrelevant. They don't have any impact on any important function of the virus. Every once in a while, you get a mutation that does impact a function of the virus. It appears, from what we've learned from the UK and what we'll prove here, is that this particular mutation does, in fact, make the virus better at transmitting from one person to another."
Heightened concern over the new COVID variant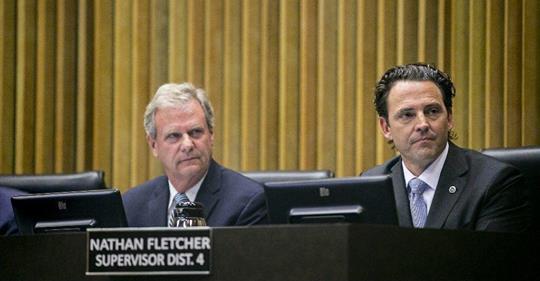 After the conference, San Diego Supervisor Nathan Fletcher gave more details about the California case, confirming that it was a 30-year-old man in San Diego who did not have a travel history. Fletcher also warned that the man was likely not the only one with it.
"We believe this is not an isolated case," noted Fletcher.
Health professionals, already fatigued by the number of cases and facing ICU bed shortages, have said that a new strain that could increase the number of cases would only make the situation in California worse.
"We cannot handle anymore," nurse Sarah McGuire told the Globe. "My hospital has had to turn people away we've had so many COVID cases. And we're facing a shortage of people here now too because some have just up and quit. It's actually a big problem now of nurses and doctors quitting and going to less stressful work.
"The UK is already seeing a large rise in cases due to this new strain. Needless to say, we're very worried about this. We've been running at 120% since March. We don't know how much more we can take."
More new cases of the UK variant are expected to be reported in California in the coming days.

Latest posts by Evan Symon
(see all)