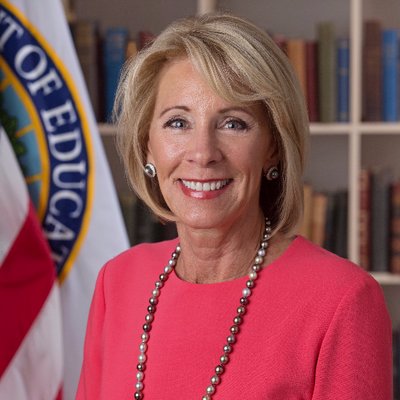 Education Secretary Betsy DeVos Sued By California for Student Loan Forgiveness Program
There has been a 5,000% increase in borrower defense claims since 2015
By Evan Symon, July 15, 2020 5:40 pm
On Wednesday, Secretary of Education Betsy DeVos was sued by a California-led coalition of 23 state and DC Attorney Generals over changes to a student loan forgiveness program.
California, Massachusetts sue Betsy Devos, Department of Education
The lawsuit specifically targets loans that are forgiven if a college or university misled students or violated certain state laws. A revision in 2015 gave full debt relief to students who had been defrauded that way, specifically after a wave of for-profit colleges had shut down or were collapsing amid scandals, most notably ITT Tech. 
However, Secretary DeVos changed the rule over this last year, making it harder to get relief after a huge rise in relief claims. One such rise, from the fall of Corinthian Colleges in 2017, had led to a previous lawsuit by California Attorney General Xavier Becerra against Secretary DeVos. The Department of Education was subsequently forced to grant relief for those students.
Despite the Corinthians decision, the 2019 change was enacted on July 1st. Congress attempted to halt the updated rule last month, but the House was overridden in a veto by President Donald Trump.
"Once again, it shouldn't surprise you," said Attorney General Becerra in a press conference. "It's sort of a bad old B-movie again. The Department of Education, Secretary DeVos didn't follow the rules in trying to promulgate this new rule. They didn't follow the Administrative Procedures Act requirements.
"Her actions are arbitrary and capricious. They rigged the system against students, flat and simple. They rigged the system."
The lawsuit demands that the old protections should be reinstated due to Administrative Procedure Act (APA) violations and unfairly protected colleges that bent rules and went out of business due to bad decisions.
DeVos, DOE defend loan relief changes
The Department of Education and DeVos have spoken out against AG Becerra and the new lawsuit.
"This is yet another grandstanding, politically driven lawsuit meant to grab a cheap headline, and the media seems to always oblige," said the Education Department in a statement. "To any objective observer, our borrower defense rule clearly protects students from fraud, ensures they are entitled to financial relief if they suffered harm and holds schools accountable."
DeVos had clarified her meaning in previous statements, noting that borrower defense claims skyrocketed after 2015 and calling the new regulations "weaponized" and unfairly leveraged against the colleges themselves.
"When borrower defense arrived in 1995, it was little used in the 20 years from 1995 to 2015, fewer than 60 claims were filed," said DeVos in a December 2019 House Committee hearing. "Then the previous [Obama] administration weaponized the regulation against schools it simply didn't like. They applied the law in a discriminatory fashion. So since 2015, there has been a 5,000% increase in borrower defense claims."
Legal experts have said that the lawsuit could be difficult to rule on. 
"The lawsuit by California and Massachusetts has worked before in the Corinthians case, but [the Department of] Education can now really push forward how frivolous or false claims are inundating the Department," explained Attorney Martin Cohen in an interview with the California Globe. "Students shouldn't be taken advantage of and deserve compensation where there is wrong-doing, but we should also make it most accessible to those actually caught up in the middle of it.
"California has the most potential claims here because of the shear amount of colleges like this in the state, specifically for-profit colleges that the regulations had been changed to go after more in the first place.
"There needs to be a good middle ground between protection for students against colleges that do this to them and protection for colleges against students who are looking for an excuse to not pay back loans. People have been genuinely hurt here, so the judge on this lawsuit really has quite a case in front of them."
Commonwealth of Massachusetts, et. all v. Betsy DeVos is due to be heard in the U.S. District Court for the Northern District of California in the coming months.

Latest posts by Evan Symon
(see all)