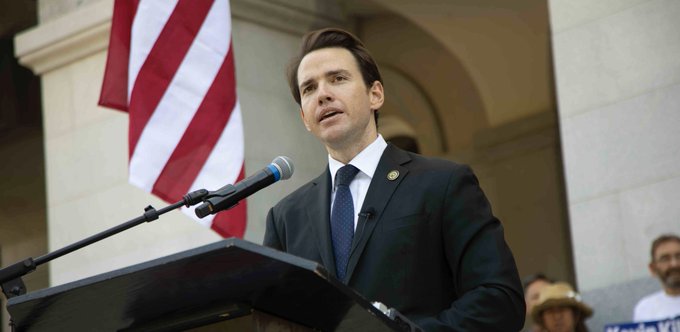 Kevin Kiley Wins CA 3rd District House Race Against Kermit Jones
GOP has now officially held House seat ground on Democrats compared to current Congress
By Evan Symon, November 23, 2022 2:30 am
Assemblyman Kevin Kiley (R-Rocklin) was declared the winner of the 3rd District House race on Tuesday, defeating challenger by over 16,000 votes with 81% reported in.
Following the June primary, Kiley held a large lead over Jones throughout the summer, holding around 55% of the vote, with Jones only at 45%. Jones managed to close that gap up during the late summer in part due to Kiley being tied up in the Assembly, slowly closing the gap to 53.5% to 46.5% in early October, with some race trackers shifting from "Solid Republican" to "Likely Republican" as a result. Jones' strategy of distancing himself away from speaker Nancy Pelosi (D-CA) and calling for her to step down as Speaker also won over many on the fence. However, this momentum was ground to a halt in late October due to a Republican candidate bump across the country caused by inflation and economic issues, nationwide polls showing a greater likelihood of a GOP Congressional takeover, and Republican strategies of reaching out more to minority communities and Spanish speaking populations proving to be effective.
Like many elections on election night, the 3rd District vote counting was slow, with Kiley in the lead the following day, but with only a fraction of votes counted. The large 3rd district, which stretches from Lake Tahoe to Death Valley, has been particularly slow due to mail-in ballots taking a while to come in given the large District, as well as the coordination and counting  logistics of tabulating votes across several counties.
Last Friday, with 72% of the votes in, Kiley led Jones by over 10,000 votes, causing some to declare victory for Kiley. This included Kiley himself. However, Jones was still mathematically in it until Tuesday, when new totals brought Kiley to 148,101 votes, or 52.8% of the vote, and Jones to 132,576 votes, or 47.2% of the vote with a total of 81% of the votes in. With the lead now insurmountable, Jones conceded the election to Kiley late Tuesday.
Kiley wins House seat
"From the bottom of my heart, thank you," said Jones. "To the 1,000 volunteers across 10 counties who have knocked over 160,000 doors — thank you. To the 15,000 individuals who contributed to our campaign — thank you. This was a grassroots effort, and I could be more proud of the coalition we built, of Republicans, Independents and Democrats alike. We were all unified by a vision for our future that's bigger than party politics."
Kiley released a statement after the confirmed victory as well, noting "It is an honor to represent the 3rd District in Congress. I was born and raised in the communities of this district and will fight every day to protect our quality of life. I am looking forward to getting to work right away to get our country back on track."
While Democrats lamented yet another lost House race and a greater GOP majority in the House, Republicans celebrated the victory, noting that the GOP has now tied the number of seats they had in California as the current Congress, with the remaining seat threatening to make an overall gain for Republicans in California.
"Congratulations to Kevin Kiley on his election," said NRCC Chairman Tom Emmer. "Kevin has spent his career advocating for common-sense, conservative policies and I know he'll work tirelessly in Congress for Californians. I look forward to serving with Kevin."
Eastern California pollster Ann White said in a Globe interview, "The GOP has officially held the line in House races in California this year, and may even gain one still. Not only are Democrats humiliated by that, but the GOP doing it's part in California was instrumental in the GOP retaking the House as a whole. Kiley also means that, along with a few others in California, the GOP now has a bunch of young guns now waiting in the wings for long-term House prospects or future higher office."
"Some in the party think it should have gone better, you know, with the red wave failing to materialize, and locally in California with some contested races not going their way. Katie Porter managing to stay in office for example. But they held their ground. It's starting to become more and more obvious that the state hit peak blue in 2018, right during the mid-term Trump backlash. And if [John] Duarte manages to hold on to victory in the 13th district, I think we can safely say that a red shift back is happening. Baby steps, sure, but still happening. Kiley is just more proof of this."
The only undecided House vote left, District 13, is expected to have a winner soon, as well as a likely recount due to less than 1,000 votes separating the two candidates.

Latest posts by Evan Symon
(see all)