LA Mayor Eric Garcetti Begins Congressional Confirmation Hearings For India Ambassadorship
Garcetti faces questions over India experience, sexual harassment misconduct allegations
By Evan Symon, December 14, 2021 12:05 pm
Los Angeles Mayor Eric Garcetti appeared before a Congressional panel Tuesdaylooking into his India ambassadorship nomination in Washington.
Garcetti had been waiting for the hearings to begin since late May, when he was first rumored to have been President Joe Biden's choice for ambassador. While his nomination was then made official in July, Garcetti's nomination, as well as many other Ambassador nominations, have been delayed due to sudden emergencies in the Biden administration, as well as Senate Republicans, led by Senator Ted Cruz (R-TX), protesting the Biden administrations national security and foreign policy stances.
In the meantime, Mayor Garcetti, who has been Mayor of LA since 2013, has faced multiple issues of his own that put his Ambassadorship nomination in danger.
Questions around his never having held an international post before and having few ties to India outside having studied Indian cultural and religious history in college several decades ago have remained consistent. Misconduct allegations surrounding harassment claims by a former bodyguard, with Garcetti reportedly having done nothing when witnessing said harassment, also surfaced again in recent months, leaving the Mayor on edge as the date of the first hearing came closer.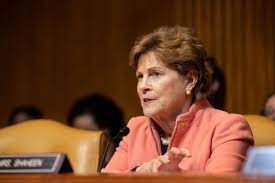 After being introduced by Senator Alex Padilla (D-CA) at the hearing on Tuesday, Garcetti and two other Ambassador nominees, Donald Armin Blome for Pakistan and Amy Gutmann for Germany, fielded questions from Congressional Republicans and Democrats for just under two hours.
Garcetti was particularly grilled on his misconduct allegations, with the most charged questions coming from Senator Jeanne Shaheen (D-NH).
"India is a democracy where the rights of women and sexual assault and sexual harassment against women has been rampant over the years" said Senator Shaheen on Tuesday. "I want to give you the opportunity to respond because I think it's very important that we model the behavior that we want to see in our allies."
In response, Garcetti denied the allegations and reconfirmed his zero tolerance stance on the issue.
"I want to say unequivocally that I never witnessed, nor was it brought to my attention, the behavior that's been alleged, and I also want to assure you if it had been, I would have immediately taken action to stop that," noted the LA Mayor. "Harassment and discrimination have no place in the workplace, no place in our society, and I have zero tolerance for that."
Garcetti and India
In follow up questions, Garcetti also noted that he would push forward human rights issues with India's controversial immigration laws against Muslims, expand U.S. trade with India, and reconfirm America's support for India in defending their sovereignty and borders.
"I will double-down on our efforts to strengthen India's capacity to secure its borders, defend its sovereignty, and deter aggression," added Garcetti. "If confirmed, I will actively raise these issues. I'll raise them with humility. It is a two way street on these issues, but I intend to directly engage with civil society. There are groups that are actively fighting for the human rights of people on the ground in India that will get direct engagement with me. I will endeavor to advance our ambitious bilateral partnership united by a free and open and inclusive Indo-Pacific region."
"India is vital to the future of American security and prosperity."
As there were only a few members at the initial hearing on Tuesday, with many prominent members such as Senator Cruz absent, Committee Chairman Senator Robert Menendez (D-NJ) said that additional questions will be asked in the coming days.
Experts noted on Tuesday that while Garcetti answered questions quite well, many on the committee may question him more thoroughly, especially on his sparse foreign relations background.
"There's still a lot of open questions with Garcetti," Harry Walker, a former lawyer specializing in international law who assisted many ambassadors and consuls in Europe and Northern Africa, told the Globe Tuesday. "India is a very important post and one that usually isn't a patronage due to the broad economic, defense, and other situations in play there, especially with China pushing them too. Notice Garvcetti talked about borders and things like that. We need to be sure of him, and I think asking him specific questions on American policy there and India in general would really help. Ambassadors should know the country and U.S. stances there. Let's make sure."
Garcetti is set to be Mayor of Los Angeles through December 11, 2022. If confirmed beforehand, the LA City Council would either appoint someone to serve less than a year as Mayor or call for a special election.

Latest posts by Evan Symon
(see all)