Live From State Capitol Protest to Re-Open California, #EndtheLockdown
California Globe broadcasting live from the California Capitol protest
By California Globe Staff, May 1, 2020 6:02 am
The protest rally to Re-Open California and #EndtheLockdown at California's State Capitol is one of 11 protests around the state to be attended by people demanding that the stay-at-home orders be lifted.
California Globe editor Katy Grimes will be joining Sacramento radio host Phil Cowan on AM 1380's live broadcast from the rally.
Tune in to 1380 AM The Answer for a special live broadcast beginning at noon that will keep you updated, coordinated and safe.
"And get ready, because this is going to be too big for the media to ignore, so they're likely to attack it instead. Take that as a compliment," the Facebook page says.
"We may not allowed on the beaches this weekend, but today we can turn the tide."
Several other demonstrations are taking place at noon in San Francisco, Los Angeles, and San Diego.
Protesters will not block traffic or break any laws. The rallies are peaceful respectful protests, organizers say.
The protesters will also be socially compliant adhering to six-foot spacing and some will wear masks. Sacramento County does not require masks, while some other cities require masks in public.
Business owners are desperate to get back to work, with some being able to stay open but others forced to close.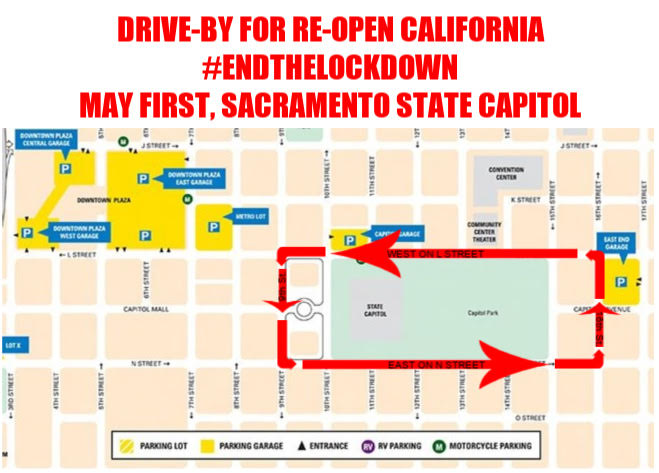 Latest posts by California Globe Staff
(see all)