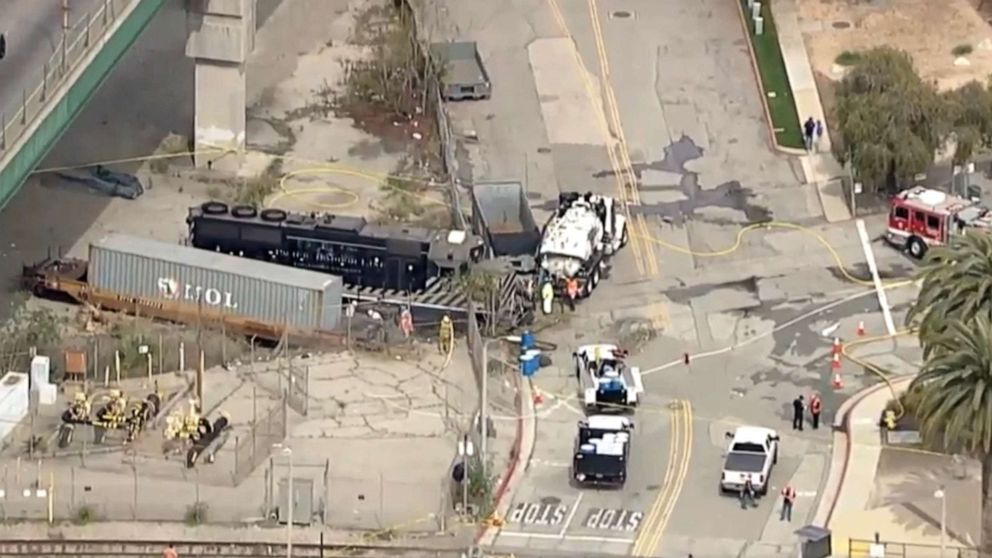 Man Who Derailed Train to Crash Into USNS Mercy Charged In Federal Court
Eduardo Moreno faces up to 20 years for train wrecking
By Evan Symon, April 2, 2020 2:10 pm
On Wednesday, train engineer Eduardo Moreno was charged with train wrecking at the U.S. District Court in Los Angeles over a Tuesday incident in which he tried to crash his freight train into the USNS Mercy.
Moreno now faces up to 20 years in prison according to the federal criminal complaint.
An attempt to crash into the USNS Mercy
According to witness statements by bystanders, including a California Highway Patrol (CHP) officer, Moreno was going at a high speed in his Pacific Harbor Line train near the water front when it derailed. The train proceeded to crash through a concrete barrier, a steel barrier, two chain link fences, and continued to slide before coming to a rest a little more than 250 yards from the USNS Mercy. Moreno attempted to flee the scene, but was then apprehended by a CHP officer who witnessed the crash.
No one was harmed in the attack. The USNS Mercy, in Los Angeles to provide an expected need for beds for people when the COVID-19 coronavirus peaks in the city, was not harmed as well.
In statements given to the Los Angeles Port Police, the CHP, and the FBI, Moreno admitted to the purposeful derailment and attempted crash. Federal prosecutors who charged him on Wednesday say Moreno was suspicious of why the USNS Mercy was in Los Angeles and did not believe that the ship was not there for coronavirus or medical reasons.
"You only get this chance once," said Moreno to the arresting CHP officer in a statement. "The whole world is watching. I had to. People don't know what's going on here. Now they will."
In an interview with the Los Angeles Port Police, Moreno claimed that the USNS Mercy was not in Los Angeles for COVID-19 and was there for a government takeover. He also admitted to acting alone and for getting media attention. In the second FBI interview, Moreno further stated that he wanted to 'wake people up' to the real reason that the USNS Mercy was there, further stating that he didn't believe that 'the ship is what they say it's for.'
Investigating the attempted Mercy attack
The FBI and the Los Angeles Port Police are currently conducting a joint investigation into the incident in full.
"The man who did this picked the wrong time to try something stupid like this," said shipping security consultant Greg Schuler. "To try and attack a Navy ship like that, one that's used solely for peaceful purposes at that, he's lucky he didn't get more charges."
"In LA, they need tracks leading up there to help load and unload ships, that's why he got as close as he did. It was obviously not well thought out, but now everyone is going to try and figure out new safety guidelines."
"It's amazing this was even attempted," added Schuler. "There's so much security there. Even if he just wanted attention."
"Any 'suspicions' he had were also non-starters. The Mercy is 100% transparent in what it does and what goes on on-board. The media is allowed full access to documents and such. It's one of the few naval ships that allows that. It's always been used for disasters and goodwill, and it's one of the few points about the military that both hawks and doves agree on."
"If he had to pick a Navy boat to try and ram, he picked the worst possible one for attention."
Moreno is currently being held in Los Angeles and is awaiting trial on one charge of train wrecking according to the U.S. Attorney's office. A trial date has yet to be set.

Latest posts by Evan Symon
(see all)