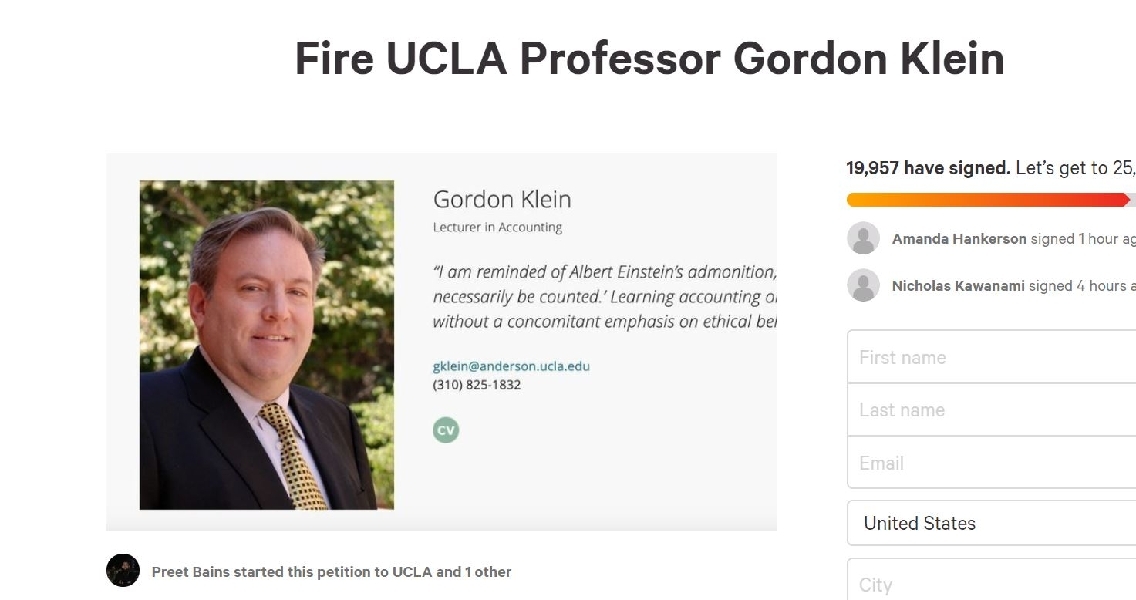 Mob Rule: UCLA Suspends Professor For Refusing to Cancel Finals for Black Students after George Floyd killing
UCLA student asked prof to give black students a 'no harm' final exam that wouldn't affect their grades
By Evan Gahr, June 16, 2020 12:19 pm
The University of California Los Angeles has suspended an accounting professor who mocked a student for demanding that he basically cancel final exams for black students and afford them other leniency in light of the protests over the killing of George Floyd.
The UCLA Anderson School of Management is now investigating the professor, Gordon Klein, for his supposedly racist email to a student seeking leniency for black classmates. He has also received police protection because of the anger he unleashed by basically subjecting the student's request to the kind of rigorous intellectual analysis that you would think universities would want to uphold.
The fracas started when the student asked Klein to give black students a "no harm" final exam meaning it wouldn't affect their grades–so it's basically not really an exam at all.
"We have been placed in a position where we must choose between actively supporting our black classmates or focusing on finishing up our spring quarter," the student wrote the prof.
Staying "neutral in times of injustice brings power to the oppressor and therefore staying silent is not an option," the student argued.
This is "not a joint effort to get finals canceled for non-black students, but rather an ask that you exercise compassion and leniency with black students in our major."
Klein wrote back by asking the student some obvious and pointed questions. And this didn't go over very well in a nationwide atmosphere where anybody who dissents from liberal and leftist racial orthodoxy is deemed racist.
"Thanks for your suggestion in your email below that I give black students special treatment, given the tragedy in Minnesota. Do you know the names of the classmates that are black? How can I identify them since we've been having online classes only? Are there any students that may be of mixed parentage, such as half black-half Asian? What do you suggest I do with respect to them? A full concession or just half?
"Also, do you have any idea if any students are from Minneapolis? I assume that they probably are especially devastated as well. I am thinking that a white student from there might be possibly even more devastated by this, especially because some might think that they're racist even if they are not," he inquired.
"My TA is from Minneapolis, so if you don't know, I can probably ask her. Can you guide me on how you think I should achieve a 'no-harm' outcome since our sole course grade is from a final exam only? One last thing strikes me: Remember that MLK famously said that people should not be evaluated based on the 'color of their skin.' Do you think that your request would run afoul of MLK's admonition?"
The pointed response prompted an online petition on June 2 on Change.org demanding that he be fired for his "extremely insensitive, dismissive, and woefully racist response to his students' request for empathy and compassion during a time of civil unrest."
It got 20,000 signatures.  The next day the Anderson School of Management suspended Klein until June 24 and said in an email to students he would be investigated for "behavior"  that may be "inconsistent" with the UCLA Faculty Code of Conduct, Washington Free Beacon reported.
Actually, UCLA policies prohibits giving preferences to students  based on race.
His classes were assigned to other professors.
The Foundation for Individual Rights in Education (FIRE), which is representing Klein, says that UCLA violated his free speech rights.
In a letter to UCLA general counsel Charles Robinson FIRE said that "the mere initiation of an investigation, even if discipline is not meted out, sends the message that the university may punish protected expression. The chilling effect engendered by that conduct itself violates the First Amendment, and undermines UCLA's laudable commitment to the expressive rights of its faculty members and students."
George Klein declined to comment to the California Globe.
But Glenn Ricketts, spokesman for the National Association of Scholars, which works to protect academic freedom on campuses, said UCLA's action was typical behavior for school administrators who are "often a bunch of banana-spined PC ideologues."
However, on Fox Business Network last week Klein took a more conciliatory note. "I love UCLA and would like to return to what I've done for 39 years" teaching at the school, he said. "My record is pristine when it comes to any accusations relating to alleged discrimination."
Latest posts by Evan Gahr
(see all)