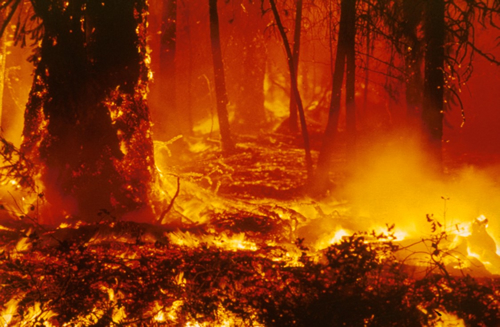 PG&E Pleads Not Guilty To 31 Criminal Counts, Enhancements From 2020 Zogg Wildfire
PG&E, County prosecutors at odds over if company was responsible for the wildfire
By Evan Symon, June 11, 2022 2:31 am
Shasta County Prosecutors announced that utility company Pacific Gas and Electric (PG&E) pled not guilty on Thursday to 31 criminal counts and enhances related to their equipment starting the Zogg Fire in Shasta and Tehama Counties in the fall of 2020.
According to a Cal Fire investigation last year, the Zogg Fire began on September 27, 2020 nearby the towns of Igo and Ono following a grey pine tree falling on PG&E power lines. In the ensuing weeks, the wildfire burned quickly, culminating in 56,338 acres being burned, 204 buildings being destroyed, 4 people being killed and 1 being injured before being fully contained in mid-October. At the wildfire's peak, it came within miles of reaching Redding. However, even before the fire was officially over, PG&E was already under suspicion, with equipment being seized and formal questions coming their way. In November, the investigation began in earnest before reaching their conclusion about the pine tree and the power lines in March 2021.
The Shasta County District Attorney's Office proceeded to build a case and formally sued PG&E in September 2021. The crux of the  argument between the counties and the utility company has been on the gray pine tree that fell. Both Shasta and Tehama Counties have said that PG&E did not remove the tree after it had been marked for being removed in 2018. PG&E has countered that the tree was later determined to have been ok to stay standing.
31 charges, including 11 felonies and 4 counts of manslaughter, were put out against PG&E as a result, with  Shasta County District Attorney Stephanie Bridget noting that there would be a large fine for each person killed in the fire.
"PG&E failed to perform its legal duties. Their failure was reckless and criminally negligent, and it resulted in the death of four people," Bridgett said last September. "A corporation can't go to jail, so we're talking fines, fees, the ability for the court to order remedial and corrective measures. One of our primary functions here is to hold them responsible and let the surviving families know that their loved one did not die in vain."
PG&E officials, while saying the Zogg Fire was tragic, maintained that failing to prevent the fire wasn't a crime.
"This was a tragedy, four people died," expressed PG&E CEO Patti Poppe in September. "And my coworkers are working so hard to prevent fires and the catastrophic losses that come with them. They have dedicated their careers to it, criminalizing their judgment is not right. We accept that conclusion. But we did not commit a crime. I came to PG&E to make it right and make it safe."
PG&E pleads not guilty in fire case
This denial carried over to Thursday, where PG&E maintained that they did no wrongdoing by  declaring themselves not guilty.
"Today we entered a formal not guilty plea to all charges in the 2020 Zogg Fire in Shasta County," said PG&E in a statement. "We accept CAL FIRE's finding that a tree falling into our equipment started the fire, but we do not believe there was any criminal activity."
With PG&E wanting to avoid major repercussions, such as having to pay victims $13.5 billion in March 2020 for it's role in the 2018 Camp Fire which resulted in the destruction of the town of Paradise and the deaths of 85 people, or the more recent $55 million settlement with six counties over two more recent wildfires, the company is taking a more middle of the road path than previous lawsuits.
"Like Camp coming down to that old nearly century old electrical hook, Zogg is coming down to a single pine tree," explained former fire and arson investigator Oscar Chavez to the Globe on Friday. "And it is hard to say who is right, which makes sense because they are in court. You really can't blame the electrical company for a tree falling on the power lines. You know, act of God. But if that tree was leaning or had issues where it was recommended that it go, and then it fell, that can be a real issue.
"I know PG&E is hated by a lot of people in the Northern and Central part of the state, but we honestly need to see this play out in court with the facts. It sounds like both sides, as well as the investigators, did their homework on this, so lets just stick to the facts. Four people dies and many people lost homes and property. They need justice if something wrong was done. You know, I've seen cases where everyone was blaming some teenager for starting a car fire, only for it to turn out he was in a hospital in another state and the real culprit later being found out to be someone trying to get the blame on him for it. Again, we need the facts. We owe those who perished in the fire that."
The suit is expected to progress in Shasta County later this year.

Latest posts by Evan Symon
(see all)