Department of Interior Approves Massive $550 million Riverside County Solar Power Project
The Crimson Solar Project is expected to generate enough power for nearly 90,000 homes
By Evan Symon, May 3, 2021 2:47 pm
The Department of the Interior announced on Monday that a massive solar project was approved for the Southern California desert.
According to the Interior Department, the Bureau of Land Management gave final approval for the Crimson Solar Project, a $550 million project  to be placed on 2,000 acres of land located 13 miles west of Blythe in Riverside County, close to the Arizona border. The site will be developed by Recurrent Energy subsidiary Sonoran West Solar Holdings, and when completed, will give enough power to Southern California Edison to power around 87,500 homes.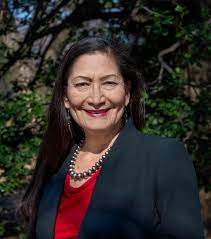 While this will create 650 temporary construction jobs, it will provide only 10 permanent jobs and 40 temporary jobs for operations and maintenance for 30 years.
The project site, which will include a 350-megawatt energy battery storage system, is not expected to go through any more land hurdles due to final approval from the BLM on Monday, and because the land itself is federal and had been previously marked for a renewable energy site last decade by the Obama-era Desert Renewable Energy Conservation Plan, which had set aside tracks of land for renewable energy development.
The Crimson Solar Project is to be a part of President Joe Biden's massive climate change project to have the U.S. be at 100% clean energy by 2035.
"The time for a clean energy future is now," said Interior Secretary Deb Haaland in a statement on Monday. "Projects like this can help to make America a global leader in the clean energy economy through the acceleration of responsible renewable energy development on public lands."
$550 million project may have some detrimental effects
However, the project has received criticism for possible detrimental effects on local wildlife and how the project has been touted as a job creator by the Biden administration despite only bringing in 10 permanent jobs to the Blythe-area.
"This isn't the job creator project that Biden keeps promising," Sam Hirsch, an energy sector engineer who lives in Blythe, told the Globe. "In terms of the environment it makes sense, and you can argue that this is replacing  oil and natural gas, so it would help make up for those losses. But we can't kid ourselves and call this a major job creator. It's several hundred construction jobs, but panels are been pre-fabricated, so those go up fast. It's a handful of jobs at most. 10 permanent, 40 temporary they said. I've helped develop solar projects before. We'd be lucky to have that many."
"Honestly, a better approach would be to have houses and apartment complexes be told by law to put up solar panels, build storage areas across the state to collect excess energy, and let it cycle through, then slowly wean off gas and oil. That way we would need fewer solar farms like this, which provide a lot of problems that the Interior Department is handily leaving out. Like the fact that disposing of old solar panels in 20-30 years time will be a huge environmental issue because of all the toxins in the panels. We actually warn people about it. Wildlife out there is also going to be harmed. I know the BLM approved it and it's not going on federally protected land, but it's still a major concern."
"No energy source will be perfect, but with more solar projects like this going up, we're just pushing those problems to the next generation to solve."
The power from the Crimson Solar Project  is expected to go to the power grid through Southern California Edison's Colorado River substation. No construction start date has been announced as of Monday.

Latest posts by Evan Symon
(see all)