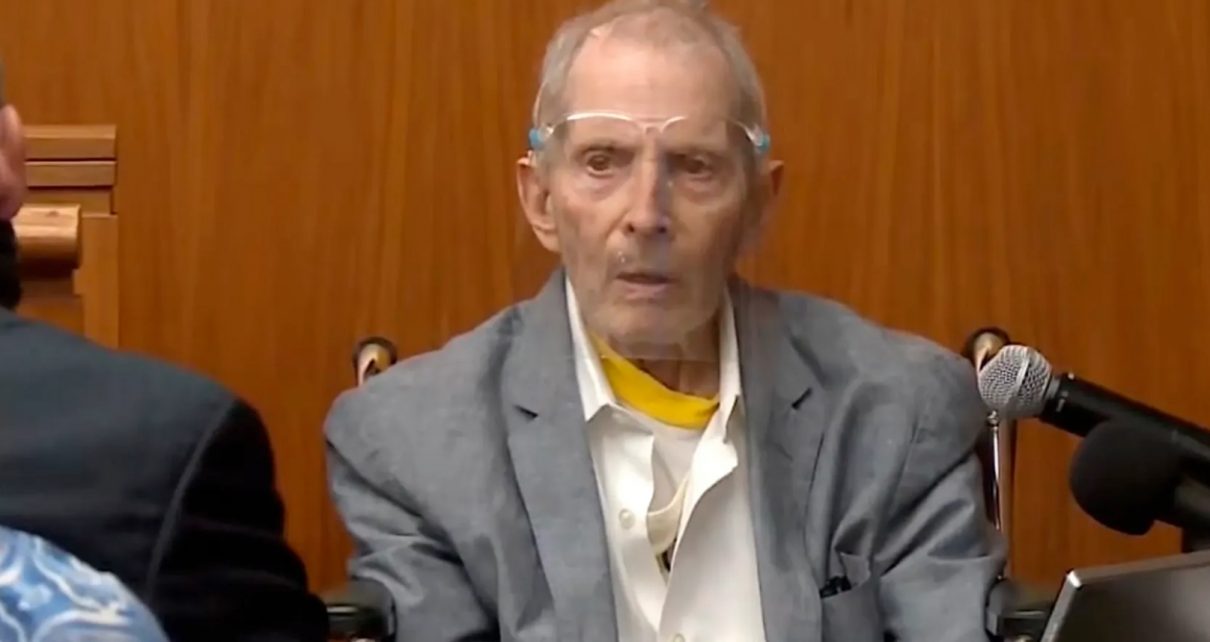 Robert Durst Receives Life Sentence in LA Superior Court Ruling
Real heir sentenced to life with no parole over 2000 murder of Susan Berman
By Evan Symon, October 15, 2021 11:54 am
One of Los Angeles' longest running courtroom sagas came to a close on Thursday when Los Angeles County Superior Court Judge Mark Windham sentenced real estate heir Robert Durst to life in prison with no parole for the murder of journalist and friend Susan Berman over 20 years ago.
On December 24, 2000, Berman, who was also the daughter of a Las Vegas gangster, was found murdered in her Benedict Canyon home in LA. While Beverly Hills police found some evidence tying Durst to the murder, including letters that included letters with misspellings that Durst had previously done elsewhere, nothing was conclusive, and he was allowed to stay in New York.
Independent investigators and those close to the case were soon tying Berman's murder to the disappearance of Durst's first wife in 1982, as well as to a 2001 murder of a neighbor of Durst's in Galveston. Although Durst was acquitted of the latter in 2003, police kept an eye on him and kept Berman's murder investigation open.
Following new evidence and Durst's openness in an HBO documentary on the crimes surrounding Durst in 2015, including an interview where he said that he "killed them all," a Los Angeles judge signed a new arrest warrant, with federal officials apprehending him in New Orleans. Deemed a flight risk due to plans showing that he wanted to flee to Cuba in the documentary, Durst was soon tried and sent to prison over a firearms charge. In 2018, Durst was arraigned in Los Angeles, thus spurring a three-year long trial.
Numerous delays caused by large amounts of evidence, COVID-19, and other factors dragged out the trial, with the misspelling note now becoming a key piece of evidence. During the summer of 2021, court proceedings brought the Durst case out as the "trial of the summer," with Durst himself even taking the stand as one of the last witnesses. The trial concluded last month on the 14th, with the jury only taking 3 days to decide on a guilty verdict. Durst's legal team immediately requested a new trial, but Judge Windham said that that decision would come on the same day as sentencing.
Life without parole
On Thursday, Judge Windham gave Durst life without parole for the murder of Berman, as well as granting him no new trial.
"The prosecution had overwhelming evidence of guilt that was proven many times over in at least five ways, including several admissions Durst made," said Judge Windham on Thursday. "You said the court erred so many times it made me feel self-conscious."
After the trial, Los Angeles County Deputy District Attorney John Lewin noted that, despite the ruling, Durst still had decades out as a free man before the ruling.
"He was a narcissistic psychopath who killed his wife and had to keep killing to cover it up," stated Lewin. "He's 78 years old. He's been walking around for a long time. He had a lot more of a life, you know, Kathie didn't make 30. On balance, considering what he's done, he got a lot more of a life than he was entitled to."
Legal experts note that, despite his advanced age, Durst could be looking at more trials in the near future.
"A lot of potential future political players are made or broken upon the success of these trials," said Los Angeles criminal lawyer Alan Potter to the Globe on Friday. "LA District Attorney Gil Garcetti's political ambitions were sunk following the O.J. trial in the mid 90's, for example, while Rudy Giuliani made a real positive impact in the public eye after the mafia trials in the 80's in New York. So politically, these high profile trials can be important.
"And it's not over, since New York prosecutors now want to get him on a murder charge on his wife in New York 40 years ago. You know, you can argue back and forth all day, but you now need to realize that a jury did find him guilty, so no matter what they decide to do now, they have that extra challenge lingering over them. And the man is in poor health. He was in a wheelchair during the trial. So there's a lot of factors to consider. And for Durst's team, as well as for the prosecutors, this is all far from over."
Dick DeGuerin, the lawyer for Robert Durst, has said that they plan to appeal the ruling soon.

Latest posts by Evan Symon
(see all)