Tim Donnelly Challenges Paul Cook from the Right
Nasty All-GOP race in 8th CD Includes Transphobic Billboard
By Laura Hauther, October 11, 2018 7:15 am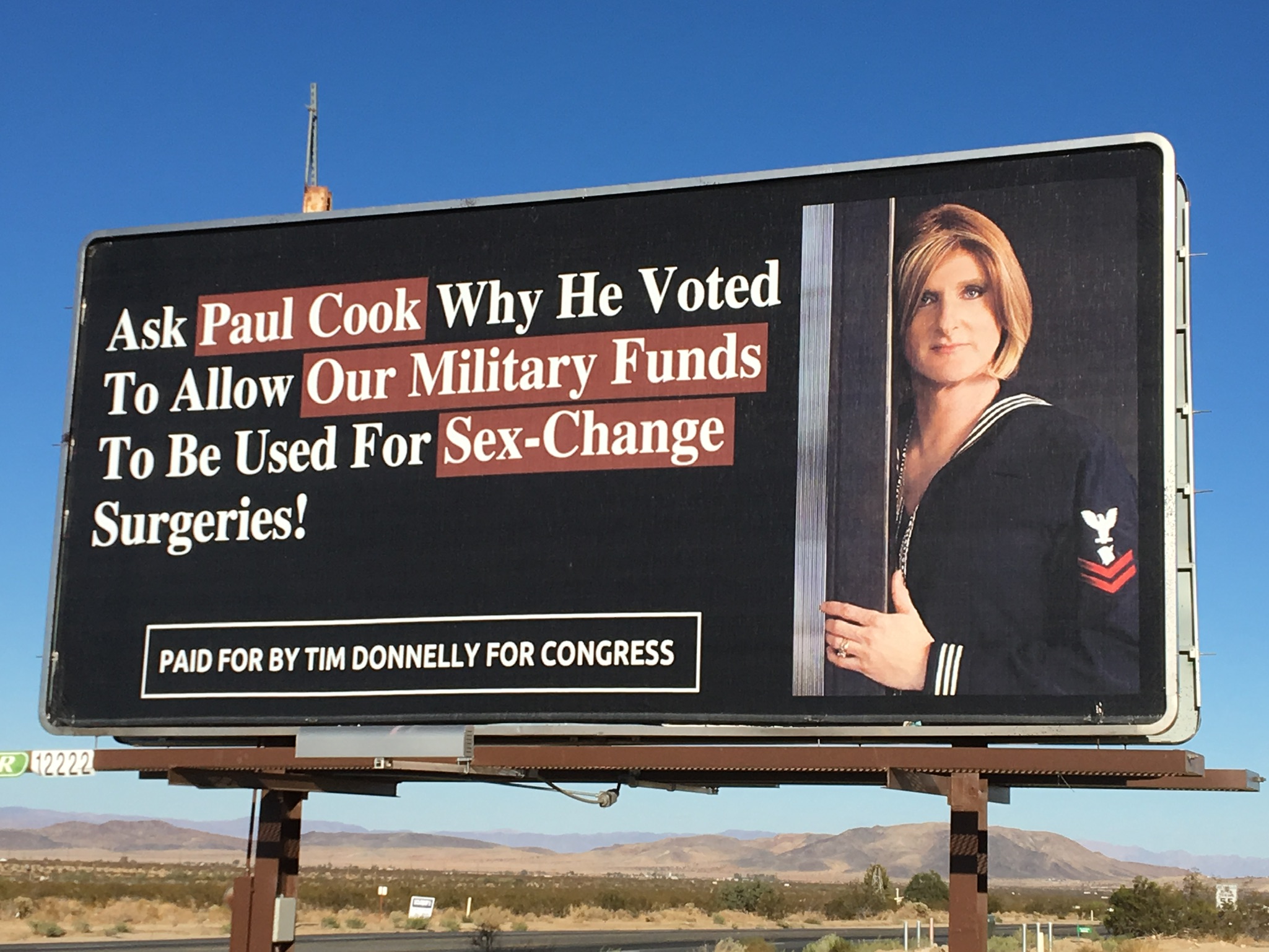 California's "jungle" primary system propels the top two vote-earners to the general election, regardless of party, giving us a House race for District 8 that pits three-term incumbent Republican Paul Cook (who got 40 percent of the primary vote) against challenger Tim Donnelly (who got 22 percent). Despite Cook getting a coveted endorsement-via-tweet from President Donald Trump, Donnelly is busily trying to out-MAGA the incumbent, the latest evidence of which is in the form of a controversial billboard.
On the highway that runs between the artsy enclave of Joshua Tree and the Marine Base in 29 Palms, Donnelly is paying for a billboard that dings Cook for voting against the Hartzler Amendment (from Missouri GOP Rep. Vicky Hartzler) to a military funding bill that would have barred the use of military funds for any gender reassignment treatment for military personnel.
The billboard isn't subtle. It shows a uniformed soldier with a square jaw and a short, blond bob with the message "Ask Paul Cook Why He Voted To Allow Our Military Funds To Be Used For Sex Change Surgeries!"
The image on the ad is that of transgender sailor Allison Hannan from an article on transgender vets in OUT magazine. The Donnelly campaign used the image without permission, according to the Los Angeles Blade. The magazine also argues that using Hannan's picture is deceptive, given that she paid for the transition herself with no help from the military.
Rep. Cook claims he voted against the measure at the direct request of Defense Secretary Jim Mattis, who just wanted to get the National Defense Authorization Act passed without a Democratic filibuster. Cook insists he supports President Trump's executive order directing the Defense Department to cease funding medical treatments related to gender reassignment and cease recruiting openly transgender people.
But Donnelly insisted in an interview on the Erin Cruz Show on Youtube that Cook's excuse that he knew President Trump would issue an executive order to stop the use of military funds for that purpose is a lie. "Look how our veterans are suffering, their wait times are forever, they're not getting the services they need. This goes completely against what the President has laid out as his agenda for the military. He's serious about having the military do military objectives, and not social engineering."
House District 8 in California has a Republican majority, and encompasses the conservative-leaning desert areas bordering Nevada, including most of San Bernardino, Inyo, and Mono counties. The billboard targets the more conservative military communities around the 29 Palms Marine Base but is located on the eastern edge of more progressive-leaning Joshua Tree. Some locals are upset that the billboard is insulting not just to transgender soldiers but all transgender people, according to local businesswoman Susan Burnett, 55. She told California Globe, "My feeling is I want the billboard to come down. We support our LGBTQ community."
Evan Young, MAJ, U.S. Army (Ret.), President of the Transgender American Veterans Association says via email that "TAVA is appalled that a photo of an honorable, patriotic transgender veteran was used in a political attack without permission. Donnelley's actions are deplorable, and we vehemently denounce his attempt to discredit and dishonor this veteran."
Despite the Trump endorsement for his incumbent foe, Donnelly claims he's the true Trumpian choice and that the president was led astray by establishment Republicans. In the Cruz interview Donnelly said, "I don't believe President Trump endorsed my opponent. I don't believe he had any idea who this man was. I believe he was lied to, I believe he was tricked, I believe it was swamp motivated."
Donnelly believes if he could get face time with Trump that he'd be able to talk the president into switching his endorsement; in a district that went 55 percent for Trump, that might matter. Further, Donnelly suspects Rep. Cook might be embarrassed by the president's support, pointing out that Cook never retweeted the endorsement and doesn't even mention it on his campaign website.
Many thought Donnelly was a shoo-in for the tweet of support, given his status as the man who formed the California chapter of the border protection militia group, The Minutemen. His statements and opinions have often veered toward Trump level extremism, like calling then President Obama a secret Muslim and terrorist sympathizer before dubbing him "Ayatolla Obama" on his KIXW-AM radio show in 2015. He is also a staunch anti-vaxxer, and worked to get a statewide referendum on Governor Brown's law mandating childhood vaccinations.
Ann Coulter is an avid Donnelly supporter and issued her own tweet expressing disappointment over Trump's endorsement of Cook. She is one of a handful of conservative Republican allies standing by Donnelly, a group that includes staunch conservatives Sen. Rand Paul (R-Ky.), Sheriff Joe Arpaio and Charlie Kirk, chief of the conservative student group Turning Point USA. Later this month Coulter will be headlining a fundraiser for Donnelly in Victorville. The ticket includes a signed copy of her latest book, a photo op and a chance to "win a Springfield .45 1911 or an XD-9."
Donnelly served two terms in California's state assembly, receiving high scores from the NRA, pro-life groups and the American Conservative Union. But in this race, incumbent Rep. Cook has the endorsement of the NRA, the California Republican Party, San Bernardino County Republican Party and the National Border Patrol Council.  His website touts his 26-year military career where he earned two Purple Hearts and a Bronze Star, appealing to the military communities of 29 Palms Marine Base and Fort Irwin near Barstow.
While Donnelly still enjoys the support of many hard-core conservative Republicans in the district, he is getting hit hard by a raft of personal attacks. A website dedicated to dishing dirt on Donnelly makes claims of infidelity, unpaid loans from former supporters, skimming money meant for a ballot proposition, past brushes with the law, alcohol abuse and campaign violations as reasons to mistrust him. Anna McBride, a major backer for Donnelly's first Assembly run, made a tearful video claiming she's had a hard time getting him to pay back $60,000 in personal loans. How much of this is true may not ultimately matter with the November election right around the corner.
Latest posts by Laura Hauther
(see all)