Gov. Newsom's Key Staff Picks: Angie Wei
AFL-CIO labor leader now doing policy development for governor
By Katy Grimes, February 1, 2019 1:15 am
Gov. Gavin Newsom announced he hired California labor leader Angie Wei as his chief deputy cabinet secretary for policy development. Most recently, chief of staff of the California Labor Federation.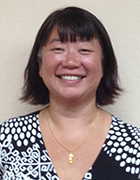 Need we say any more than Capitol Weekly's Top 100 for 2018 already did in ranking her #13?
13. Angie Wei
California's 1,200 AFL-CIO chapters and over 2.1 million union members are represented by the California Labor Federation, which serves as a sort of umbrella group and backbone of the state's organized labor movement. The boots-on-the-ground top foot soldier here is Angie Wei, the Labor Fed's legislative director and chief of staff. Wei's group, among others, was dealt a significant blow with the Janus v. American Federation of State, County and Municipal Employees decision by the U.S. Supreme Court, which said public employees can't be forced to support unions financially. But Wei is calling for a return to old-school grassroots organizing as a way for California unions to stay viable, a strategy she pushed long before the Janus decision. One of the reasons Wei is high on this list is numerical: Her organization gathers an estimated 20,000 volunteers for each election cycle, and that translates into clout when labor sits at the political table to decide issues. Wei also serves as chair of the California Commission on Health and Safety and Workers' Compensation.
In a sacbee.com article, "California Influencers assess Jerry Brown," Wei weighed in:
"California Nurses Association Executive Director Bonnie Castillo strongly praised his decision to extend collective bargaining rights to University of California employees in the 1970s. But in other areas, she was less effusive.
'On health care, Gov. Brown has signed some critical legislation, such as a landmark law to require hospitals to implement workplace violence prevention plans, but his failure to lead efforts to implement guaranteed health care for all Californians leaves millions of our neighbors and family members still uninsured or badly under insured,' she said.
Angie Wei, Chief of Staff of the California Labor Federation, took a similar tack, praising Brown for his climate change agenda but was more critical on economic issues. 'Jerry Brown… missed the opportunity of putting the same emphasis on building a middle-class economy in CA. We have an hourglass economy where the top and the bottom of earnings continue to grow while the middle is hollowed out.'"
Latest posts by Katy Grimes
(see all)