Assembly Feud: Assemblyman Gray Loses Committee Chairmanship; his 6-Month Pregnant Secretary is Terminated
Gray says this is retribution over a water vote earlier this year
By Katy Grimes, December 18, 2020 2:21 pm
The 2021-22 California Legislative Session officially began on December 7, 2020. The two houses' legislative leaders announced lawmakers' committee assignments this week, complete with a few shake-ups.
Thursday the California Globe was informed that with the newly appointed Assembly Governmental Organization Committee Chairman — Assemblyman Adam Gray was removed, Assemblyman Jim Frazier his replacement — some committee staffing changes also took place.
Assemblyman Gray was rather unceremoniously booted from the chairmanship of the GO Committee, and posted a Tweet about how retributively it was done:
As a result of my commitment to my district, Spkr Rendon stripped me of my position as Chair of the Gov. Org. Cmt. No elected official should ever vote for policies which will destroy thousands of jobs & billions in economic opportunity in their district to benefit others. pic.twitter.com/2CsjMnQiXf

— Assemblymember Gray (@AdamGrayCA) December 12, 2020
Initially we were told that the entire committee staff had been let go, but that was not correct. It turns out that one committee staffer will remain, another will be reassigned to another similar committee, and yet another was actually terminated — the week before Christmas, and she's 6-months pregnant.
It's fairly unusual for committee staff to dramatically change with newly appointed chairmen or women, as a lot of committee staff have worked for years on the committee or in similar roles, and have important institutional knowledge.
The Globe reached out to several sources, and contacted Assemblyman Adam Gray office for comment. We did not hear back from Gray's office, but were provided the copy of a letter Friday from Gray to Assembly Speaker Anthony Rendon questioning not only the termination, but the timing and the get-even motive.
Gray said the chairmanship ousting was over his "no" votes on water legislation that would have allowed the State Water Board to undercut on-going negotiations for voluntary agreements between water users, state, and Federal water agencies, Alex Tavlian with the SVJSun reported. "The language… gave the State Water Board staff the authority to implement an even more destructive version of their water grab without review and without even a public vote," Gray said in a statement. "I voted no."
The terminated employee was the committee secretary, and formerly Assemblyman Gray's office manager. Gray writes that she was not only an outstanding employee, but addresses that Speaker Rendon was using her to in a retaliatory way to get even with Gray.
"As a result of my commitment to defend my district, Speaker Rendon has stripped me of my position as Chair of the Assembly Governmental Organization Committee."
Assemblyman Gray states that her termination "is indefensible," and demands she be reinstated immediately, noting her "protected class," and that her benefits will expire the week before she gives birth.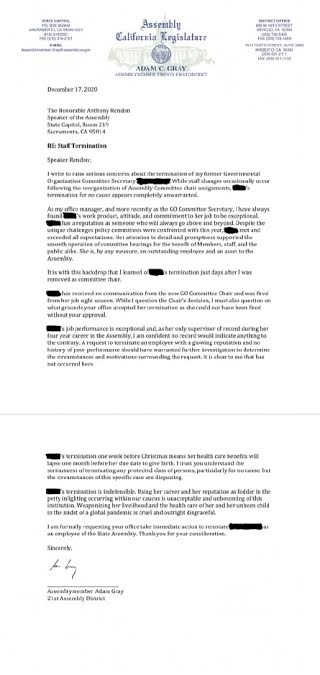 The Globe will follow up as more details arise.
Latest posts by Katy Grimes
(see all)