CAL-FIRE Severing Ties With Ham Radio Operators, Jeopardizing Millions of Californians During an Emergency
With rolling blackouts and power outages 'the new normal' in California, the need for alternate emergency communication is vital
By Michelle Mears, October 15, 2019 2:41 pm
"Your claim that Ham radio is no longer a 'benefit' to the state, is delusional."
Ham radio operators are finding themselves under attack at the same time the largest power company, bankrupted PG&E decided to use rolling blackouts during wildfire season.
Ham operators are a citizen run form of communication that can be mobilized when governments systems go down during an emergency. The FCC created this service to fill the need for a pool of experts who could provide backup to first responders.
A letter was recently sent to California Ham operators from CAL FIRE severing ties between them unless a rental fee was paid. This move is unprecedented in the history of California is and becoming widely criticized by citizens throughout the state.
With power outages "the new normal" in California, the need for alternate emergency communication is vital for the safety and well being of residents.
An attorney from Shasta County, home to the Camp Fire that started on Nov. 8, 2018 that claimed hundreds of lives and destroyed an entire town, has called foul. Radio operators across the state are enraged.
The town of Paradise was the victim to the state's deadliest and most destructive wildfire in California's history. Residents had only moments to escape the fast moving blaze that leveled the town of 27,000 people and killing 48. PG&E was blamed for the disaster.
A letter sent by Technical Services and Lands CAL FIRE Lorina Pisa stated, "With constantly changing technological advances, there is no longer the same benefit to the state as previously provided."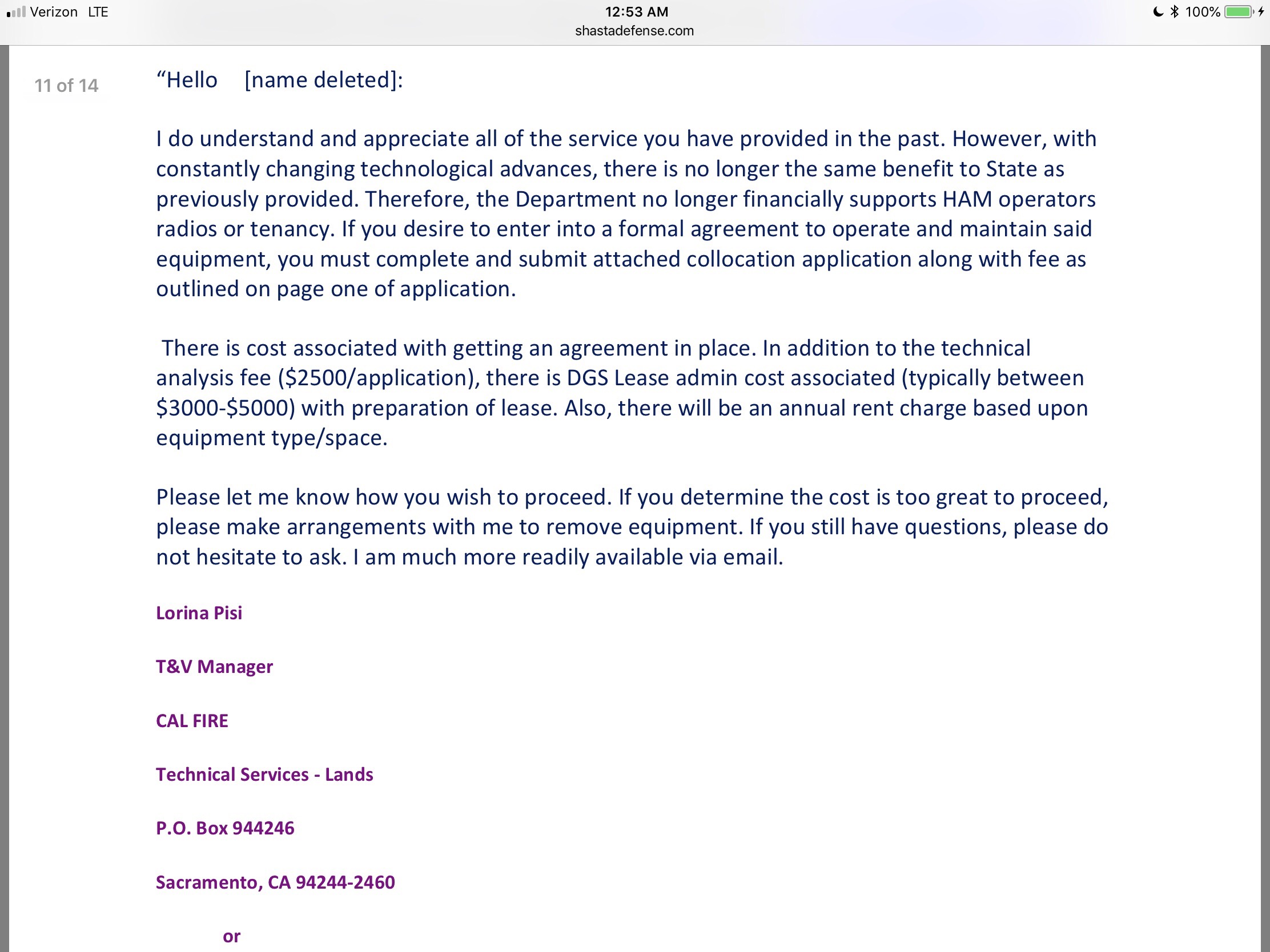 Attorney A. Nathan Zeliff wrote to Governor Gavin Newsom in response to Pisi's letter dated Sept. 23, informing him the action to cut ties with the radio operators throughout California could jeopardize millions of lives. The operators are known to help communities with disasters when other forms of communication are cut off.
"Your claim that Ham radio is no longer a 'benefit' to the state, is delusional," said Zeliff.
CAL FIRE Information Officer Scott McLean said they haven't had to use Ham radio operators since the late 1990's, "My dad used to be a Ham radio operator, I understand what they do," said McLean. "But CAL FIRE has their own repeaters."
Zeliff said, "In February of this year we had no landlines, no internet, no code red, no 911, the only form of communication we had was the Ham radios. We don't want another Paradise where people are not alerted and have no way to communicate."
Zeliff said to refer to his letter where he posted exhibits giving examples of Ham radio operators being used recently to save lives.
"Technology fails. The Ham radios may seem archaic but they work. I just got my landline and internet up this morning after PG&E cut off our power," said Zeliff.
The California Globe asked McLean why limit the Ham radio operations? Wouldn't more communication options be better than less? McLean said he can not comment on speculative situations.
McLean said he did not know who made the decision to charge rent to the Ham operators for equipment they own and operate. It is also unknown how the amount to charge was calculated since the use of the repeaters do not create an expense for the state to operate.
"The lease amount ranging between $2,500 to $7,500 says to me someone wanted to remove the Ham radios from operation. It is a strategy used in business to push someone or something out by making the cost too high and unreasonable," said Zeliff who is also a trained Ham radio operator.
Who would want to remove Ham operators and why, is a question Zeliff does not know the answer to.
"I am hoping we can resolve this situation in a peaceful manner and realize whoever thought this was a good idea is wrong and we can move forward," said Zeliff. "There are CAL FIRE people on our side. We need to work this out in a positive manner."
The California Globe has sent emails and left multiple messages with Pisi about the letter she wrote. Pisi has not responded. McLean was asked what expense the current repeaters have created to justify leasing the use of the vaults. McLean said he can not speculate on the need to charge radio operators.
"People will die without us," said Ham radio operator Joel Persinger. "The people of Shingletown know the dangers of forest fires and formed a militia like group of radio operators who are trained when the other systems fail."
Attorney Zeliff wrote:
"…your actions will serve to eviscerate the SHINGLETOWN EMERGENCY RADIO PLAN (SER PLAN), and directly expose residents of Shingletown (and other areas) to increased risk of being trapped by raging wildfires as well as subjecting residents to increased risk of loss of life from disasters. The result will be the same for all areas throughout the Entire State of California if this Cal Fire "DISASTER IN THE MAKING" is not IMMEDIATELY TERMINATED AND RENDERED PERMANENTLY – DEAD ON ARRIVAL!"
During blackouts the only form of communication may be from Ham radio operators. The operators are also relied on by police and fire during emergencies. They perform drills practicing how to aide first responders, handle earthquakes, utility and hazard reporting, rapid fire watch, procedures for locating unknown sources of smoke, mapping, fire and ember watch, disabled or elderly person checks and traffic delays.
Sheriff Tom Bosneko of Redding, California wrote a letter to Attorney Zeliff stating he was unaware of the order sent to Ham operators and neither were multiple other emergency departments, like the California State Sheriff Association, State Senator Dahle, Senator Nielsen, and Shasta County Fire Chief Bret Gouvea.
"Please be advised that this matter is being investigated," wrote Boseneko to Zeliff. "Please be advised for emergencies in Shasta County such as an evacuation due to fires it is the responsibility of the Sheriff's office."
Zeliff pointed out that the order to hinder Ham operations is hypocritical.
CAL FIRE sent out brochures to residents advising them to have a "Wildfire Action Plan – for the purpose of Saving Lives and Property through Advance Planning," that included having a backup communication plan that includes a portable radio or scanner.
"Communities will have no communications. They will not be able to advise neighbors that the exit to a subdivision is blocked by a fallen tree. They will not be able to ask others to bring chainsaws and trucks to open up the exit. There will be no actual ability to coordinate or communicate. You can't effectively warn your neighbors about a fire at 2:00 A.M., without communications," wrote Zeliff.
The Shasta County Webpage for Emergency Services tells residents, "Don't depend on government to assume responsibility for your disaster preparedness. Be prepared."  This seems to contradict the decision to charge Ham radio operators a leasing fee that makes it financially cumbersome to operate.
McLean said the Department of General Services is the agency that made the decision to lease the use for repeaters. He also said the Office of Emergency Services is involved with charging fees for repeaters to use the vaults.
"We haven't removed any repeaters at this time," said McLean. "We would like to keep this local. Each community has different needs and we suggest the Ham radio operators meet with their local CAL FIRE headquarters and see what solutions can be worked out.
Zeliff said a repeater was set to be removed until his letter caught the public's attention.
"I have been told public officials will get back to me by October 18 with a response to the situation," said Zeliff who hopes the response will be a common-sense solution.
"We use Ham radio all the time out here in Shingletown whether it is a snowstorm, car accident, criminal activity, fire or an earthquake," said Zeliff. "I sleep well at night because I have Ham radios in my home and we use them." 
CAL-FIRE Ham radio lawyer

Latest posts by Michelle Mears
(see all)