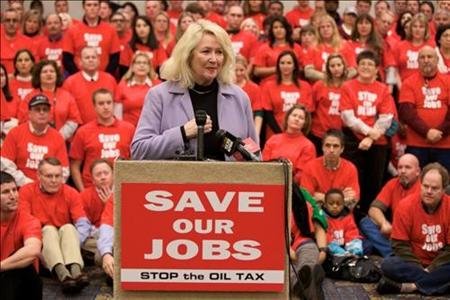 Former Assembly Leader Connie Conway, DWR Manager Lourin Hubbard To Faceoff in Race For 22nd Congressional Seat
None of the 6 candidates in the Fresno/Tulare County race reached a 50% plurality on Tuesday
By Evan Symon, April 7, 2022 2:28 am
The special election election to fill in the 22nd Congressional district seat vacated by former Congressman Devin Nunes earlier this year failed to reach a 50% plurality on Tuesday, forcing a run-off election this June between Republican former Assembly Leader Connie Conway and Democrat California Department of Water Resources (DWR) operations manager Lourin Hubbard.
As of Wednesday evening, none of the 6 candidates reached even the 35% mark of votes in the District covering parts of Fresno and Tulare counties. Conway, who served in the Tulare County Board of Supervisors from 2000 to 2008,  the California Assembly from 2008 to 2014, including as the Republican Minority Leader, and was appointed by President Donald Trump to serve as the California Executive Director of the United States Department of Agriculture's Farm Service Agency from 2019 to 2021, is currently in a commanding lead with 22,175 votes, or 34.8% of the total. Coming in second place was Hubbard, a former Fresno County Department of Social Services before his current position in the DWR, with 12,546 votes, or 19.7% of the vote.
Eliminated on Tuesday were four other candidates who were 3,000 or more votes behind Hubbard. These included Republican former Navy pilot Matt Stoll with 15.1% of the vote, Democrat Marine Corps veteran Eric Garcia with 15% of the vote, Republican aviation business owner Michael Maher with with 8.9% of the vote, and Republican former U.S. House staffer Elizabeth Heng coming in with 6.5%.
Republicans and Conway supporters noted on Wednesday that Conway's commanding lead not only previews a win in June and what the GOP will do in National election sin November, but it also shows the District's continued GOP support.
"Voters in the 22nd Congressional District know that Conway is the right candidate to represent their values in Washington," said California Republican Party Chairwoman Jessica Millan Patterson. "We look forward to Conway's victory in June as a welcome preview of what November will bring when the path to the GOP majority in the House will run straight through our state."
Meanwhile, Democrats used Hubbard's second place finish to show that the Democratic party was still strong in the District and may show a surprise come elections in November with redrawn district lines.
"Conway won the battle last night, but she may just lose the war in a few months," explained an unnamed Hubbard volunteer to the Globe on Wednesday.
Conway, Hubbard to face each other in June for seat
The battle for the open 22nd District seat began in earnest in December when Congressman Devin Nunes announced that he would be resigning as Congressman to become the CEO of  the Trump Media and Technology Group (TMTG). By the time he formally left in January, several candidates had announced their intention to run. Conway, the only candidate with any elected experience and only one year out of a Presidential appointment, quickly became the frontrunner in the race, with the other five quickly scrambling to become the second-place finisher. Democratic supporters pushed their candidates, while supporters of other Republican candidates boosted funding in the hopes of an all GOP special election in June, providing that Conway didn't outright win in April.
With Conway and Hubbard to square off in June, political experts in the District have noted that, despite Hubbard showing a surprising second place showing on Tuesday, the race is still Conway's to lose.
"Combine all of the GOP candidates together," Amy Stack, a Visalia-area pollster, told the Globe on Wednesday. "That's over 60% of the vote right there. Even if you factor in more people voting in the primary and any natural shifts, that's a great margin to have two months before the deciding election. Hubbard has really gone after Nunes, but Nunes is still pretty popular out here, so it only strengthened his base without bringing on anyone new. And saying that someone is pro-Trump has not had the same type of blow to candidates so far in 2022. It worked in 2018 and 2020, but over a year into the Biden administration and that is cooling. That's why Conway is doing this well."
"June will be interesting to see, but it looks like Conway will be in as the caretaker Congresswoman until January. After that, she'll have a higher office under her belt and she can weigh her options. If Hubbard manages to get a victory, the Democratic party will really need to review their future with him, because you don't exactly kick a guy who won a surprise win for you to the curb. But, chances are, it will be Conway."
The run-off election for the 22nd District is to be held on June 7, 2022.

Latest posts by Evan Symon
(see all)