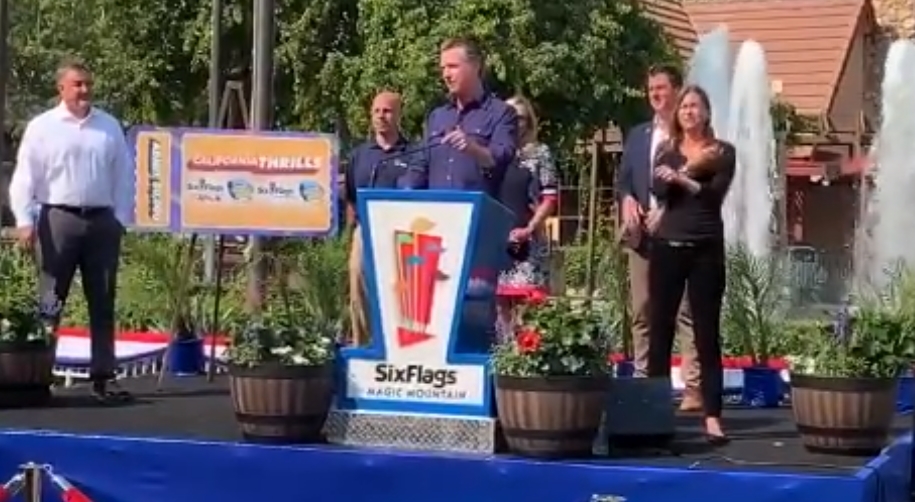 Gov. Newsom Announces More Incentive Programs To Help Reach 70% Total Vaccination Figure
'They're trying to get the high vaccination percentages; it's becoming less about saving lives'
By Evan Symon, June 17, 2021 11:30 am
Governor Gavin Newsom announced at a press conference at Six Flags Magic Mountain on Wednesday that the next 50,000 Californians to be vaccinated at participating clinics would be receiving a free Six Flags ticket.
Press play to hear a narrated version of this story, presented by AudioHopper.
For several weeks, the Governor has ramped up efforts to vaccinate younger people and minority communities, both groups have have seen lower vaccination figures in the state. In late May, Newsom began the $116.5 million 'Vax-A-Million' program. While millions were reserved for the 'Vax for the Win' lotteries, culminating in 10 Californians winning $1.5 million on Tuesday, $100 million was reserved to give the next 2 million Californians ages 12 and up $50 gift cards. Earlier this week, free food offers from both Taco Bell and Chipotle for showing your vaccination card, as well as discounts from  many professional sports team stores, were also announced by the Governor, as were promises to pay some missed utility bills during the pandemic.
"Anybody that's impacted by this pandemic that can't pay their rent and can't afford their water bill, or their utility bill, California will pay those bills, 100%," noted Newsom earlier this week. "Going back to April of last year and going forward to September of this year. I need to say that because no one believes it."
The Governor's announcement on Wednesday only continued the trend of youth and minority focused vaccination efforts.
"Four and a half million dollars in free tickets. Seemingly the staff here is enthusiastic about this but not the press. The press needs to be enthusiastic about this as well," said Newsom on Wednesday at the Valencia theme park. "50,000 free tickets at 65 locations. You get a single dose of vaccine at one of these 65 locations in 13 different counties. You will get a free ticket. You cannot sell that ticket, it is not transferrable. Bottom-line is that we are encouraging you to get vaccines beyond yesterdays announcement."
Newsom has not correlated his latest incentives to either race or age groups, but for many experts, it has been obvious whom he is targeting next.
In California, only 4% of the total number of vaccines have gone to black residents, with only 29% going to Latinos despite having 63% of all cases and 40% of the population in the state. Both white and Asian communities have seen high rates proportional to their population percentage in the state. And, while age groups 50 and above have reached above the 70% vaccination goal, younger ages groups have been hitting figures below that amount, pushing Newsom for more vaccinations in those demographics.
Incentives to to reach 70% vaccination totals, winning back favor with theme parks hard hit by COVID-19 restrictions
"While younger people are less at risk at contracting COVID-19, they still can. The CDC even found them more likely to transmit the virus in more recent months. It's still much, much below the risk posed by older people, but it's there," explained explained Mary Tomlinson, a COVID-19 vaccination researcher covering several Western states, in an interview with the Globe on Thursday. "The bigger thing has been going after minority communities in California, especially the hard hit Latino community.
"That's where we've been seeing all of these incentives tailored to them. Both Albertson's and Kroger own a lot of grocery stores in poorer areas and minority communities in California, hence why those gift cards were specifically named. Taco Bell and Chipotle target younger groups, even pre-teens, so they were chosen. And now Six Flags today. Amusement parks attract younger people. Oh, and look at where those participating clinics are. Most are located within and/or serve heavy minority populations."
"He's aiming for the hard to get people now, giving them bonuses while not giving the people who have already vaccinated anything besides a lottery that only rewarded a few dozen people tops. We actually had a follow up survey for vaccinated people in California and other states where these incentive plans have been in effect, and a lot of people are mad that they didn't wait to get these or said that they would have waited."
"And that tells you something. They're trying to get the high vaccination percentages, pure and simple. It's becoming less about saving lives. If it was, they would have gone to Latino communities and offered these things from the get-go. The lop-sided statistics kind of point that way. It's not about hesitancy, but about being able to get it. No, right now it's about getting that 70% nationwide figure. States want to curry favor with the Biden administration since Biden promised that number. Not just 70% adults. 70% everyone."
"We've been hearing that number at a lot of places we've been calling, including California. You know 'Gotta reach that 70%', so that's why there has been this push, including these small incentives in California. They want that shine of being the largest state and still managing to beat out states that didn't reach that mark. Is it about saving people? Yes, from day one, save as many as possible through vaccinations. But there is a percentage goal now, and many states are doing anything to reach it."
"Plus, a lot of Governors are scrambling to make things right with groups they pissed off last year due to restrictions. Newsom nearly bankrupted many theme parks last year. Now look. It's all smiles."
However, the success of the new incentive programs have been mixed. While 2 million doses have been given since the programs start in late May, a large jump from the previous span of several weeks, it has only added another 840,000 new people receiving the vaccine. And of the 2 million gift cards, only 924,000 have been given away so far, well behind schedule.
Other incentive programs are likely to start up later this week and next week before July 4th.

Latest posts by Evan Symon
(see all)